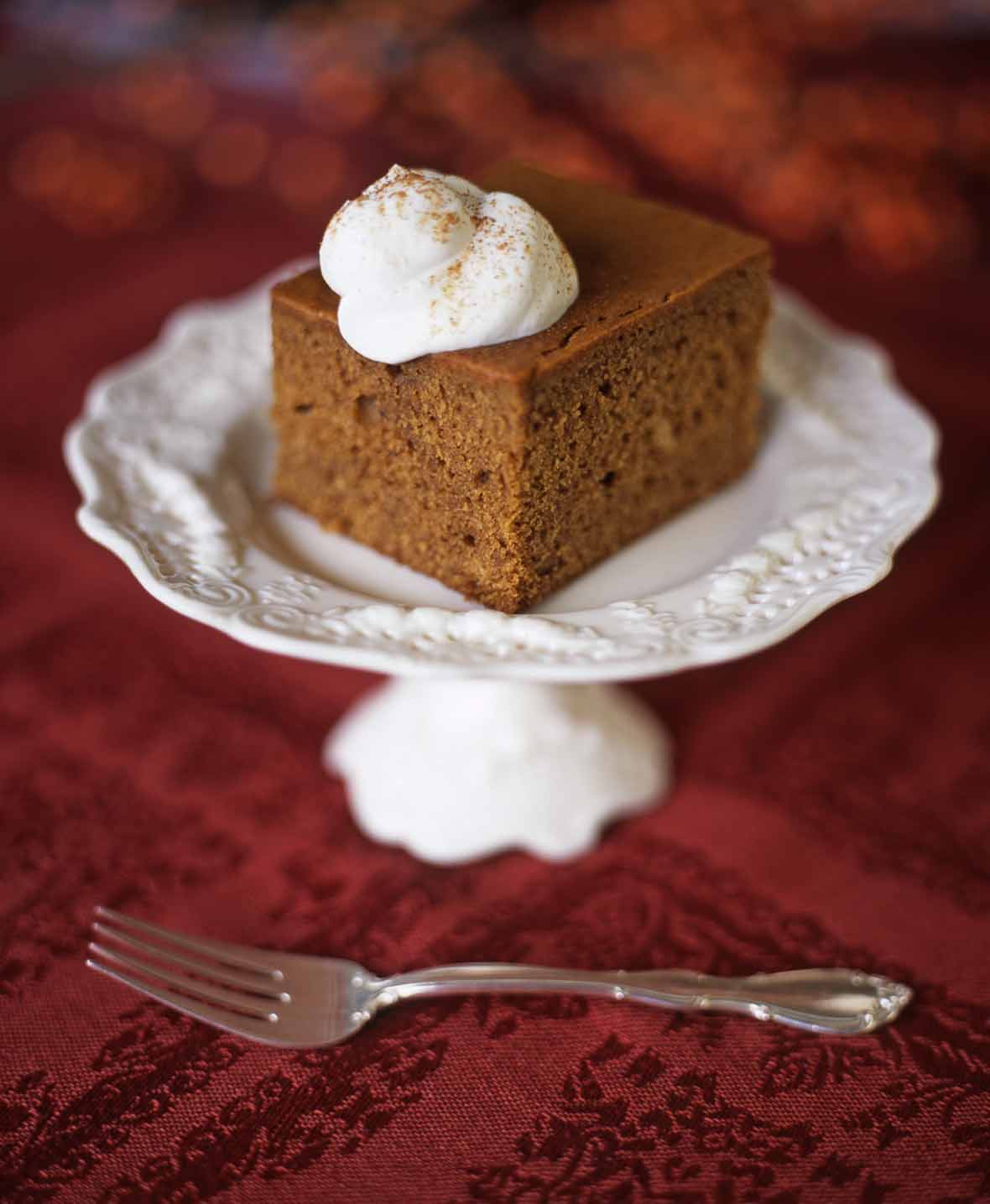 How often do we forget the memory of the joys of eating gingerbread warm from the oven as children? The baking cake would fill our house with the scent of exotic spices and make us salivate. It was torture to have to wait long enough for it to cool so it wouldn't become a burning mass in our mouths. We couldn't get enough whipped cream and would pile dollop after dollop on top of our fragrant warm brown squares before my mother would pull it away from us. Fresh ginger adds a pungent note to this sweet bread, much more so than using only powdered. Grate the ginger on the fine side of a grater and try to leave most of the fibers behind when taking away the juice and the pulp. This gingerbread also bakes beautifully in a small decorative pans such as a fancy bundt.–Maria Helm Sinskey
Pan Note
For this recipe, avoid using a dark-colored pan. It browns the sides and bottom of the cake too much.
Fresh-Ginger Gingerbread with Soft Cream
Quick Glance
25 M
1 H, 25 M

Serves 8 to 10
Ingredients
Email Grocery List
For the gingerbread

2 1/2 cup all-purpose flour

2 teaspoons baking powder

1 teaspoon baking soda

1 teaspoon ground cinnamon

1 1/2 teaspoons ground ginger

1/4 teaspoon ground cloves

1 teaspoon salt

12 tablespoons unsalted butter (6 oz), room temperature

1/2 cup granulated sugar

1/2 cup dark brown sugar

3 tablespoons grated fresh ginger, with juice but without tough fibers

2 large eggs, room temperature

1/4 cup molasses

1 cup buttermilk (either low-fat or full-fat)

Confectioners' sugar (optional)

For the soft cream (optional)

1/2 cup chilled heavy cream

2 teaspoons confections sugar, optional

1/4 teaspoon pure vanilla extract

Ground cinnamon
Directions
Make the gingerbread

1. Preheat the oven to 350 degrees. Butter and lightly flour a 7-cup loaf pan or a square 9-by-9-by-3-inch cake pan. Set aside.

2. In a small bowl, mix together the flour, baking powder, baking soda, cinnamon, ground ginger, cloves, and salt. Set aside. In a stand mixer fitted with the paddle attachment, cream the butter and sugars until fluffy, about 2 to 3 minutes. Scrape down the sides of the bowl. Add the grated ginger and beat well for 15 seconds. Add the eggs, one at a time one, beating well after each addition.

3. In a small bowl, whisk together the molasses and buttermilk. Add the flour and molasses mixtures to the butter mixture in two parts, beating after each addition until the ingredients are just combined.

4. Scrape the batter into the prepared pan, smooth the top with a spatula, and bake for 45 to 50 minutes, or until a knife inserted in the center comes out clean. Cool the pan on a rack for 10 minutes. Remove the cake and cool completely.

Make the soft cream (optional)

5. Whip the heavy cream, confectioners' sugar, if using, and vanilla, until softly mounded. Place a dollop on top of each serving of cake.

Serve the gingerbread

6. If desired, sprinkle the cake with confectioners' sugar or serve with a generous dollop of soft cream and a sprinkle of cinnamon.
Recipe Testers Reviews
I don't know what prompted me to ask how anyone would feel if I made a gingerbread dessert, but the response was unanimously positive, so I went in search of a gingerbread recipe that called out to me. Who could resist this one with fresh ginger and soft cream? Certainly not me! I was especially attracted to the three tablespoons of grated fresh ginger, which proved to be a big plus. The gingerbread had a lovely texture and added an appealing zing that sweet gingerbread can lack. My fginger was young, fresh, and tender, and had almost none of the fibers it was suggested to leave behind. My baking time was 49 minutes. It was hard to wait to taste this after baking. Cool completely simply did not happen! I served it with both plenty of whipped cream and also a dish of lingonberry preserves. I would always prefer my whipped cream without the addition of either or both the confectioners' sugar or the vanilla, but everyone else preferred it with both of these additions. While I have a Bundt pan collection, I was not traveling with a Bundt pan. I had both suggested pans available to me and selected the 9-inch square over the loaf pan. Apart from serving the cake with the whipped cream on the side, my gingerbread looked just like the accompanying photo.
Fresh-Ginger Gingerbread with Soft Cream Recipe © 2003 Maria Helm Sinskey. Photo © 2003 Emily Sandor. All rights reserved. All materials used with permission.
If you make this recipe, snap a photo and hashtag it #LeitesCulinaria. We'd love to see your creations on Instagram, Facebook, and Twitter.