Crab cakes with Ritz crackers are a lush take on doughy crab cakes of days past. These crab cakes are mostly crab—as they should be—with some celery, heavy cream, and seasoning. It's true! The Ritz crackers make a crunchy, buttery crust for the luscious little cakes. Finish it all off with a buttery lemon and white wine sauce.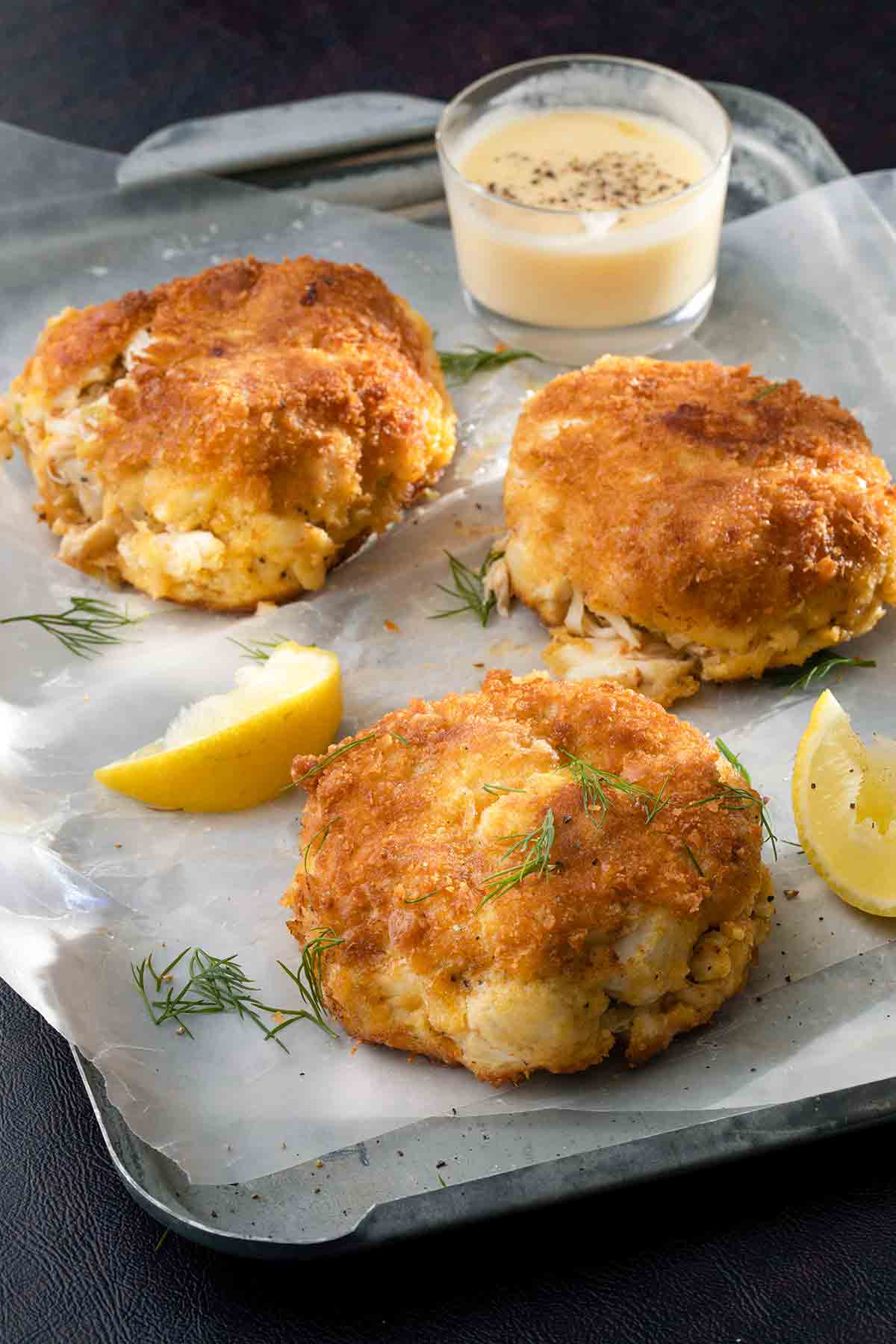 Adapted from Mitch Benjamin | BBQ Revolution | Harvard Common Press, 2021
I am passionate about crab cakes and rarely, if ever, order them out as I'm almost always disappointed. They're too often filled with some gooey, doughy filler. (I'm not into eating anything referred to as "binder.") I can smell it on the plate before it gets to me, and I know it's bad. Herein lies the problem: I love crab cakes and I want to eat only the best ever made.
During a spring break trip with our kids a few years back, I found what I believed to be a perfect crab cake at Bud & Alley's in Seaside, Florida. They had a golden crust covered in a lemon sauce. They smelled amazing—amazingly like crabmeat. The cakes were packed with lump crabmeat and there appeared to be no filler at all—just great buttery, lump crab flavor and heaps of it! I begged the waiter to tell me how they did it, but he didn't know. I went back three more times and asked every time. Eventually, I gathered the basics: they mixed the crab with heavy whipping cream and froze the patties to keep them together—eliminating the need for the doughy filler/binder in the first place. Genius! So, I went to work. After several attempts, I refined the seasoning and landed on a recipe that will kick up your taste buds even as it accentuates the packed lump crabmeat.–Mitch Benjamin
Crab Cakes with Ritz Crackers
Here is exactly how to make the best crab cakes ever!
Ingredients
For the crab cakes
1

stick plus 1 tablespoon (4 1/2 oz)

unsalted butter

2

medium (3 oz)

celery stalks

minced

1/2

medium (4 oz)

yellow onion

minced

1/2

teaspoon

freshly ground black pepper

preferably toasted, plus more as needed

1

teaspoon plus 1 tablespoon

Old Bay Seasoning

1

tablespoon

store-bought or homemade hot sauce

2

pounds

jumbo lump crabmeat*

6

tablespoons

heavy cream

3

large

eggs

30

Ritz crackers

crushed

Mild vegetable oil

for pan-frying

2

tablespoons

chopped fresh flat-leaf parsley

2

lemons

cut into wedges for garnish
For the lemon beurre blanc sauce (optional)
1/4

cup

chopped yellow onion

1

cup

dry white wine

such as Sauvignon Blanc or Pinot Grigio

1

sprig of fresh thyme

Finely grated zest of 1 lemon (about 1 tablespoon)

preferably organic

1/4

cup

fresh lemon juice

1

tablespoon

heavy whipping cream

1 1/2

sticks (6 oz)

unsalted butter

sliced and chilled

1/2

teaspoon

kosher salt

1/4

teaspoon

freshly ground white pepper
Directions
Make the crab cakes
In a small saucepan over low heat, melt one stick of butter until the solids separate. Skim off the white foam that rises to the top with a little ladle and pour the clear butter into a small bowl. Let cool.

In another small saucepan over medium-low heat, melt the remaining 1 tablespoon (14 g) of butter. Add the minced celery, onion, black pepper, and 1 teaspoon of Old Bay seasoning. Cover and gently cook until the vegetables are nice and soft, 8 to 10 minutes. It's going to smell amazing.

Remove the veggies from the heat and let cool for 10 minutes.

In a large bowl, combine the cooked vegetables, cooled clarified butter, and hot sauce. Add the crab and cream and mix gently. I repeat, gently! The worst thing you could do here is overmix the crab and break up the fat lumps you just paid a premium for!

Cover and place this mixture in the freezer for at least 30 minutes. You want the mixture to be well chilled but not frozen.

Remove from the freezer and use your hands to gently form the mix into 5-ounce (140 g) patties. Place on a plate, cover with plastic wrap, and return to the freezer for at least 4 hours or up to overnight.

In a small bowl, whip your eggs with a crack of freshly ground black pepper. In another medium bowl, combine the crushed crackers with the remaining 1 tablespoon of Old Bay seasoning.

Preheat the oven to 350°F (178°C). If searing the crab cakes on the grill, prepare your grill for medium-high heat.

Remove the frozen crab cakes from the freezer and dunk them in the egg and then into the seasoned Ritz crumble mix, taking care to cover the crab cake completely. Repeat with the remaining crab cakes.

Get about 1/8 inch (3 mm) of your vegetable oil ripping hot in a cast-iron pan over coals on the grill. I like to cook these crab cakes outside in order to keep the oil smell from taking over the kitchen. There's nothing better than a cast-iron skillet over hot coals. Okay, if you must, place over your gas stove at home. Get it hot. I like to drip water droplets in to see when the oil is hot enough. The droplets will sizzle and pop, and that's how you know it's ready.

Carefully place the crab cakes in the skillet and fry until you have made a perfect golden crust (don't burn the outside), 4 to 5 minutes per side.

Move the entire cast-iron skillet to the oven and bake for 20 minutes. If desired, you can use a fish spatula or a slotted spoon to transfer the cakes to a rimmed baking sheet—and leave the oil smell outside.
Make the lemon beurre blanc sauce (optional)
While the crab cakes are baking, in a small saucepan over medium-high heat, combine the onion, wine, thyme, lemon zest, and lemon juice, bring to a boil. Cook it down until it is almost dry, 5 to 10 minutes. Remove the thyme sprig.

Add the cream to the saucepan and heat until it bubbles up. Remove from the heat and let cool for 30 seconds.

Remove the diced butter from the fridge and whisk into the sauce, one or two slices at a time. Whisk fast; we're making a fancy emulsion here.

Continue to add the butter slices and season with salt and white pepper. The sauce should be rich and velvety. Set aside in a warm, but not hot place—or even in a little Thermos—until you are ready to serve. Your sauce will break if it gets too hot or too cold. If this happens, just warm up a little more heavy whipping cream and then slowly whisk into the broken sauce. It should come back together!

Divvy the cooked crab cakes between serving plates. You can serve the lemon beurre blanc on the side or ladle it directly on top of the cakes, sprinkle some parsley all over. Drop a few lemon wedges on the plate and devour.
Notes
*What is jumbo crab meat?
This recipe asks, specifically, for jumbo lump crab meat. How is that different from crab meat, and lump crab meat in particular? The large piece of muscle that connects the powerful back swimming legs of a crab is called the lump meat. The largest of these pieces are the jumbo pieces. Everything else is lump meat—the smaller pieces if you will. Jumbo crab meat is more expensive because of the size, which is precisely why Mitch Benjamin asks you to be careful with them. Jumbo lump is better for preparations like this one, where the crab is the star. Lump meat is better for dips and casseroles where you don't want big chunks.
Show Nutrition
Serving:
1
cake
Calories:
731
kcal
(37%)
Carbohydrates:
17
g
(6%)
Protein:
33
g
(66%)
Fat:
56
g
(86%)
Saturated Fat:
33
g
(206%)
Polyunsaturated Fat:
4
g
Monounsaturated Fat:
15
g
Trans Fat:
2
g
Cholesterol:
287
mg
(96%)
Sodium:
1613
mg
(70%)
Potassium:
501
mg
(14%)
Fiber:
2
g
(8%)
Sugar:
3
g
(3%)
Vitamin A:
1825
IU
(37%)
Vitamin C:
31
mg
(38%)
Calcium:
159
mg
(16%)
Iron:
3
mg
(17%)
If you make this recipe, snap a photo and hashtag it #LeitesCulinaria. We'd love to see your creations on Instagram, Facebook, and Twitter.
Originally published June 15, 2021
Recipe © 2021 Mitch Benjamin. Photo © 2021
Isaac Alongi
. All rights reserved. All materials used with permission.
If you make this recipe, snap a photo and hashtag it #LeitesCulinaria. We'd love to see your creations on Instagram, Facebook, and Twitter.