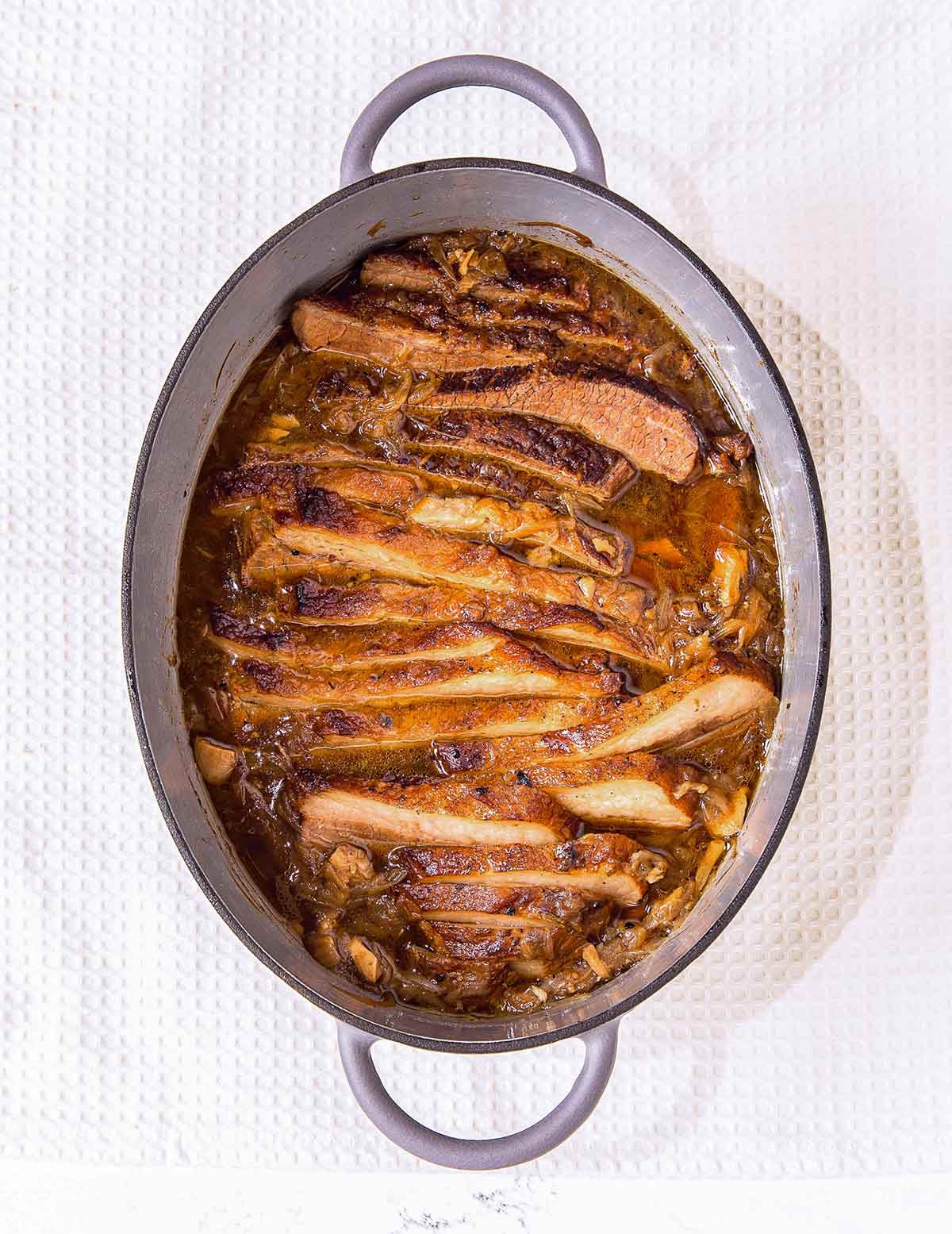 I grew up in a tomato household, where anything other than a crimson braise would be damn near blasphemy. However, as the one who now cooks any holiday feast, I took a trip to the dark side and converted my family with a new take on the centerpiece dish. That's when French onion brisket was born. Tons and tons of caramelized onions provide the same sweetness as tomatoes, and a glug of sherry wine adds the acidity you need to cut through the richness of the meat.–Jake Cohen
WHAT CAN I DO WITH LEFTOVER BRISKET?
Straight from the author's mouth, although we couldn't agree more, Jake Cohen says "these recipes are delicious, but while everyone is fighting over the meat, I'm just thinking about the sauce. I save all the braising liquid, packed with lil' bits of fallen-apart meat, and use it as the king of pasta sauces. It's truly better than any ragù or Sunday gravy you could dream of. Simply cook pasta (rotini is my go-to!) until it's just al dente, then drain and drop into a simmering pot of a few cups of the leftover braising liquid to finish cooking and let the liquid reduce down to coat the noodles. If you're feeling wild, finish it off by making it rain Parmesan!
French Onion Brisket
This recipe is my way of taking poetic license with brisket, drawing inspiration from French onion soup for a braising liquid of caramelized onions and garlic, deglazed with apple brandy.
Ingredients
1

(5 to 6 pound)

beef brisket,

fat cap intact

Kosher salt and freshly ground black pepper

3

tablespoons

mild vegetable oil

5

large (2 1/2 lbs)

sweet onions

,

thinly sliced

12

garlic cloves

,

smashed and peeled

1

cup

Calvados or dry sherry

3

cups

canned chicken broth or homemade chicken stock

6

sprigs

fresh thyme

4

sprigs

fresh sage
Instructions
Preheat oven to 325°F (165°C).

Season each side of the brisket with 2 heavy pinches each of salt and pepper. In a large Dutch oven over medium-high heat, warm the oil. Add the brisket to the Dutch oven and sear, turning it occasionally, until golden brown all over, 15 to 20 minutes. Move brisket to a platter.

Reduce heat to medium, then add the onions and garlic to the Dutch oven. Cook, stirring often, until softened and beginning to caramelize, 20 to 25 minutes.

Pour in the Calvados or sherry, then stir continuously with a wooden spoon for 1 minute to scrape up any browned bits on the bottom of the pot.

Stir in the stock and 2 heavy pinches each of salt and pepper, then return the brisket to the Dutch oven.

Tie the thyme and sage sprigs together with a small piece of butcher's twine (tying is optional, but it makes it much easier to remove the herbs after cooking) and nestle the herb bundle in the pot.

Bring to a simmer, then cover the Dutch oven and move it to the oven. Cook until very tender when pierced with a fork, about 3 1/2 hours.

Remove from the oven and let cool completely, then refrigerate overnight.

The next day, skim off and discard any fat, if desired, and discard the herbs. Transfer the brisket to a cutting board and cut it across the grain (perpendicular to the fibers you'll see running through the brisket) into 1/4-inch (6-mm) thick slices.

Return the meat to the sauce and heat over medium heat until warmed through.

☞ TESTER TIP: While rewarming the meat, give it a nudge every so often to make sure the onions aren't burning on the bottom of the Dutch oven.

Taste and adjust the seasoning with salt and pepper, then serve.
Nutrition
Serving:
1
serving
Calories:
425
kcal
Carbohydrates:
11
g
Protein:
50
g
Fat:
17
g
Saturated Fat:
6
g
Polyunsaturated Fat:
1
g
Monounsaturated Fat:
8
g
Cholesterol:
141
mg
Sodium:
211
mg
Potassium:
979
mg
Fiber:
1
g
Sugar:
6
g
Vitamin A:
30
IU
Vitamin C:
8
mg
Calcium:
48
mg
Iron:
5
mg
Nutrition information is automatically calculated, so should only be used as an approximation.
Recipe © 2021 Jake Cohen. Photo © 2021 Matt Taylor-Gross. All rights reserved.
---
Recipe Testers' Reviews
Making this French onion brisket will transport you through time. For us, it brought back memories of arriving at my grandmother's house after hours in the car. She'd welcome us into the house and you were greeted by the smell of slow cooking beef, often times a pot roast, and that seductive smell was the only thing you could think about until dinner. Cooking this took me back to being that little kid at grandma's house.

It is a testament to why everyone needs to know how to braise: with just a handful of ingredients (ok, maybe a lot more than just a handful of onions) and a few simple steps, it showcases how time can transform something humble into something memorable. It is a pot full of love and comfort, meltingly-tender beef and jammy onions, and was exactly what we needed on this cool September evening. We served it with buttermilk mashed potatoes and green beans.

When distributing leftovers throughout the neighborhood, one of my neighbors with a long history of brisket making inquired for the recipe to replace theirs. It's just that good.
Although I have never prepared a brisket, I decided to try my hand at this recipe because we bought a butchered cow this year, and, well, we have brisket now!
Warning: this recipe is a two-day recipe, so keep that in mind when your kitchen gives off a delicious, savory aroma that will leave you wanting (because you can't eat the brisket until the next day people!). However, don't let the time frame scare you, although it's a lengthy time frame, it isn't a complicated recipe.
As far as ingredients go, I recommend using real Sherry as opposed to cooking Sherry and homemade broth (if you are using store-bought, grab a low sodium option as this recipe is salty enough without all the added sodium in broth). I did not tie the spices with twine, and I found that their flavors were plenty prevalent (but not overpowering) in the finished product. Speaking of the finished product, it was delicious! I served this dish to my family with stuffing and green beans with iced tea to drink.