The most important element in this stuffing is the bread. This is the time to use up those small bits and pieces hiding out in the refrigerator or freezer or sitting around in bakery bags. The better the quality of bread you use, the better the final stuffing will be. We like to use a wide variety of bread for this stuffing—bits of chopped up baguette, sourdough, pumpernickel, white bread, whole wheat, ciabatta—quite literally, anything and everything we have around.
There is enough stuffing here to fill a 10-to-12-pound turkey (or several chickens) and have enough leftover to fill a good-sized baking dish. The stuffing can be made several hours ahead of time, but you should never stuff a bird until just before you are ready to roast it.–Jonathan King, Jim Stott, and Kathy Gunst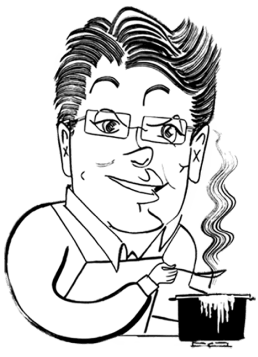 Why Our Testers Loved This
Our testers praised this bread stuffing for being quick and easy to make, endlessly adaptable, and great for novice and seasoned cooks alike.
Notes on Ingredients
Onions–You can use red, yellow, or white onions here.
Bread–Feel free to use multiple types of bread here. Any artisan, Italian, sourdough, or regular bread will work fine. Avoid very soft bread as it may result in mushy stuffing.
How to Make This Recipe
Sauté the vegetables and herbs. Cook the onions and garlic in the butter until softened, then add the thyme, celery, and half of the basil and parsley. Continue to cook until the celery is just softened.

Make the stuffing mixture. Combine the bread with the remaining herbs and the cooked vegetable mixture.

Moisten the stuffing. Pour the milk over the stuffing mixture, season well, and toss to thoroughly moisten.

Cook the stuffing. Stuff your turkey or chicken or place the stuffing in a baking dish. Cook until heated through, or until the internal temperature reaches 165°F, if cooking inside a bird.
FAQs
Can I make this in advance?
Yes, you can make this up to 1 day ahead, however, you cannot stuff the bird with it until you're ready to roast. Store it in an airtight container or your prepared baking dish in the fridge until you're ready to cook your turkey.
Can I add anything to this stuffing?
You sure can! Here are some of our favorite variations:
– Add 1 pound coarsely chopped shucked fresh oysters to the skillet when the celery is nearly done and cook for about 2 minutes.
– Add 1 cup toasted chopped walnuts or your favorite nuts when you add the celery.
– Add 1 cup thinly sliced peeled, freshwater chestnuts when you add the celery.
– Add 1/2 cup coarsely chopped dried cranberries, cherries, or raisins when you add the celery.
– Add 1 pound sausage meat, removed from the casing, when you add the onions to the skillet.
– Substitute cubed cornbread for regular bread.
– Sprinkle a tablespoon of Bell's Seasoning into the celery mixture.

Helpful Tips
Store leftover heels and slices of bread in the freezer so that you always have a variety of bread ready to make this stuffing.
This bread stuffing with celery has no eggs in it, making it suitable for people with egg allergies or those following an egg-free diet.
Leftover stuffing can be stored in a sealed container in the fridge for up to 4 days or in the freezer for up to 3 months. Drizzle with a little milk or chicken stock before reheating to keep it moist.
Write a Review
If you make this recipe, or any dish on LC, consider leaving a review, a star rating, and your best photo in the comments below. I love hearing from you.–David
Herbed Bread and Celery Stuffing
This herbed bread and celery stuffing, made with celery, onion, thyme, basil, and parsley, is a sort of basic blank canvas of a stuffing that will satisfy you as-is or make a terrific foundation for your other embellishments. Lovely with chicken as well as turkey.
Ingredients
2

tablespoons (1 oz)

unsalted butter

1

tablespoon

olive oil

3

medium

onions

,

chopped

6

garlic cloves

,

thinly sliced

2

tablespoons

chopped thyme leaves

,

or 2 teaspoons dried, crumbled

Salt and freshly ground black pepper

5

stalks

celery

,

chopped

1/2

cup

very thinly sliced basil leaves

1 1/2

cups

chopped flat-leaf parsley leaves

10

cups

cubed bread

1

cup

milk

,

preferably whole
Instructions
In a large skillet over medium-low heat, warm 1 tablespoon of the butter and the oil. When the butter has melted and begins to sizzle, add the onions and garlic and cook, stirring, until the onions are softened, about 8 minutes.

Season with half the thyme and some salt and pepper. Add the celery and half of the basil and half of the parsley and cook, stirring frequently, until the celery is just beginning to soften, about 5 minutes. The celery should still have somewhat of a crunch.

Meanwhile, place the bread in a large bowl and mix in the remaining thyme, basil, and parsley. Pour the celery mixture from the skillet on the bread and gently toss to combine.

Place the skillet back over low heat, add the milk and the remaining tablespoon butter, and simmer for 2 to 4 minutes, using a spatula to scrape up any bits and pieces clinging to the bottom of the skillet.

Pour the hot milk mixture over the bread and toss. The stuffing should seem somewhat moist. Season with salt and pepper to taste.

If you prefer to stuff your turkey, cram the stuffing into the cavity and roast the stuffed hen according to your recipe, ensuring that you check the internal temperature of the stuffing for doneness by inserting a probe thermometer into the center of the stuffing. If possible, baste the stuffing with some of the turkey juices from the bottom of the turkey pan to keep the stuffing moist. If you prefer to not stuff your turkey, pile the stuffing in a lightly buttered baking dish or casserole dish and bake it at 350°F (175°C) for 15 to 20 minutes, or until hot throughout.

Serve the stuffing warm. Accept accolades.
Notes
Make in advance–The stuffing can be prepared up to 1 day in advance. Store in a baking dish or sealed container in the fridge and bake just before serving. Do not stuff your turkey until just before cooking.
Dietary–This stuffing is suitable for people with egg allergies or those following an egg-free diet.
Storage–Leftovers can be stored in the fridge for up to 4 days or frozen for up to 3 months. Drizzle with a little chicken stock or milk before reheating to keep the stuffing moist.
Nutrition
Serving:
1
portion
Calories:
547
kcal
Carbohydrates:
85
g
Protein:
19
g
Fat:
15
g
Saturated Fat:
6
g
Polyunsaturated Fat:
3
g
Monounsaturated Fat:
5
g
Trans Fat:
1
g
Cholesterol:
19
mg
Sodium:
811
mg
Potassium:
768
mg
Fiber:
9
g
Sugar:
16
g
Vitamin A:
2750
IU
Vitamin C:
45
mg
Calcium:
366
mg
Iron:
7
mg
Nutrition information is automatically calculated, so should only be used as an approximation.
Recipe © 2006 Jonathan King | Jim Stott | Kathy Gunst. Photo © 2020 Elena Veselova. All rights reserved.
---
Recipe Testers' Reviews
This is what I'd call a good beginner's stuffing. For the uninitiated or first-time turkey maker, this is a great little recipe to start with. It's easy to make, forgiving if you don't have something on the ingredients list, or if there is something else you want to add into the mix. For those of us who have been making turkeys or chickens with stuffing or dressing for many years, we've already added our own spins and additions to this basic type of stuffing.
It was the first time I'd used milk in a recipe like this and it wasn't bad. I usually use butter and broth and I would do it again. I leaned a little more heavily on the seasoning at the end as I felt it was needed. I would, however, heartily recommend any of the suggested additions, such as the water chestnuts or dried cranberries, to give it a little more oomph in taste and texture and perhaps increase the amount of the herbs to give them a stronger flavor.
The end result was stuffing that tasted very nice, was moist but not mushy, and went well with the roasted turkey we had for dinner. I used a combination of a good Italian white bread and a sturdy multigrain bread for texture. I would recommend that soft "pappy" bread not be used as I think it would result in mushy stuffing. I used a 13-by-13-inch deep ceramic baker and it was pretty full.
I like this bread stuffing recipe for its infinitely adaptable (and adjustable) size and flavor, which I think is a great thing to have around on the holidays. This simple recipe turns out a mild, moist, altogether good accompaniment for Thanksgiving dinner—I see it as a kind of blank-canvas recipe that would go with anyone's holiday table, and could easily be dressed up with other ingredients. A solid Thanksgiving dish, if a bit plain unadorned (but still tasty). And so fast!
So I was highly skeptical of this recipe for bread stuffing with celery. There's not enough butter, there's no chicken stock, turkey drippings, or eggs. It only uses a bit of milk to moisten it. But it's still surprisingly good.
I used red onions, a seeded Italian loaf for the bread, and whole milk. I baked it in a 9-by-13-inch baking dish and the recipe easily serves 8 to 10. Fifteen minutes was sufficient to heat the whole thing through, but 20 minutes gives the crisper bits on the top that I really enjoy.
While I still prefer my own recipe with a stick of butter (yes, really!), this is a healthier alternative to the fat-laden traditional.