Ok. So the turkey's been roasted, perfectly carved, and served. Everyone has dug into our classy and classic green bean casserole, smooth-as-silk mashed potatoes, and, well…you get the idea.
So now the real eating begins! Because there's nothing better than Thanksgiving leftovers. And not just reheated leftovers but reinvented, re-imagined leftovers.
One of The One's and my favorite leftover dishes is Thanksgiving-dinner pot pie. It's simple to make.
Layer a deep-dish pie plate with chunks of turkey, gravy, mashed potatoes, chopped-up green-bean casserole, cranberry sauce, and more turkey and gravy. (Of course, you can tailor your pie using whatever you've made.)
Roll out an easy-peasy pie dough, cover the whole thing, and bake it in a 425°F (220°C) until the crust is golden brown and the filling is bubbly.
Prefer something else? I dare you to resist the dishes below. Yup, I dare you!
Happy Leftover Day!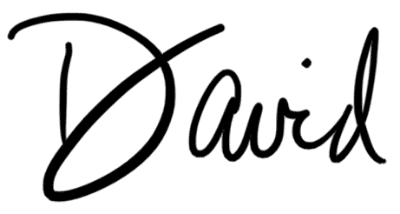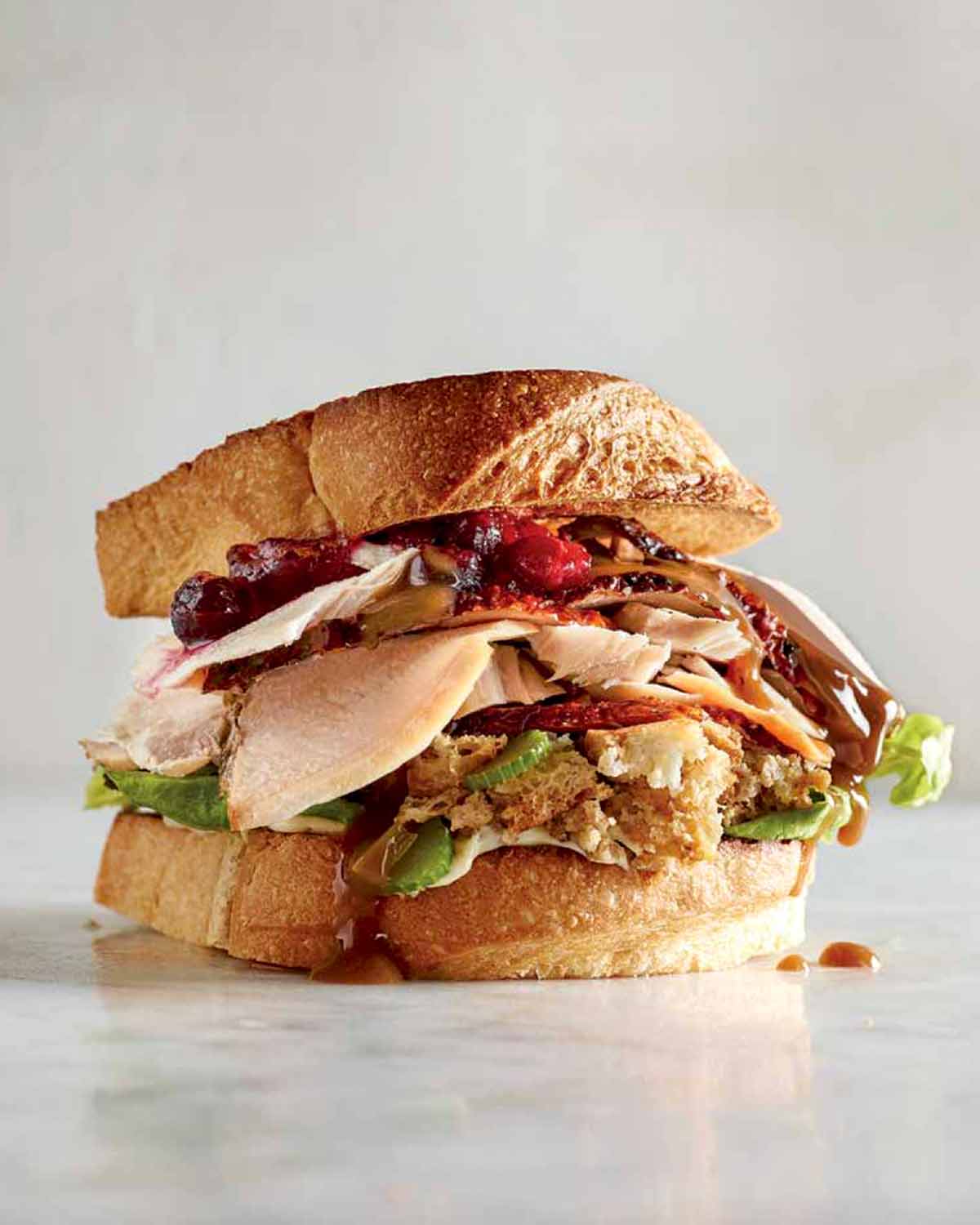 Turkey Cranberry Sandwich with Stuffing
This turkey cranberry sandwich with stuffing is a classic post-Thanksgiving must. Slices of sturdy bread, mayo, cranberry sauce, turkey, stuffing, and gravy. The best part of Thanksgiving…besides the people at the table.
Recipe
Leftovers Turnovers
These Thanksgiving leftovers turnovers are filled with cold turkey, mashed potatoes, stuffing or dressing, cranberry sauce, whatever leftovers are lurking in your fridge. An easy supper solution that'll earn you accolades.
Recipe
Hot Brown Sandwich
A hot brown sandwich is an easy and iconic excuse to smother leftover turkey with bacon and a bubbling hot cheese sauce. Maybe Thanksgiving should come more than once a year.
Recipe
Sweet Potato Patties
A simple coating of panko and a few minutes in a hot pan transforms these sweet potato patties into a marvelous side dish or vegetarian main. It's also a great way to use up leftover mashed sweet potatoes.
Recipe
Thanksgiving Leftovers Muffins
These Thanksgiving leftovers muffins make magnificent use of all of your holiday extras by layering stuffing, gravy, turkey, and mashed potatoes in a muffin tin for a savory and surprising day-after nosh.
Recipe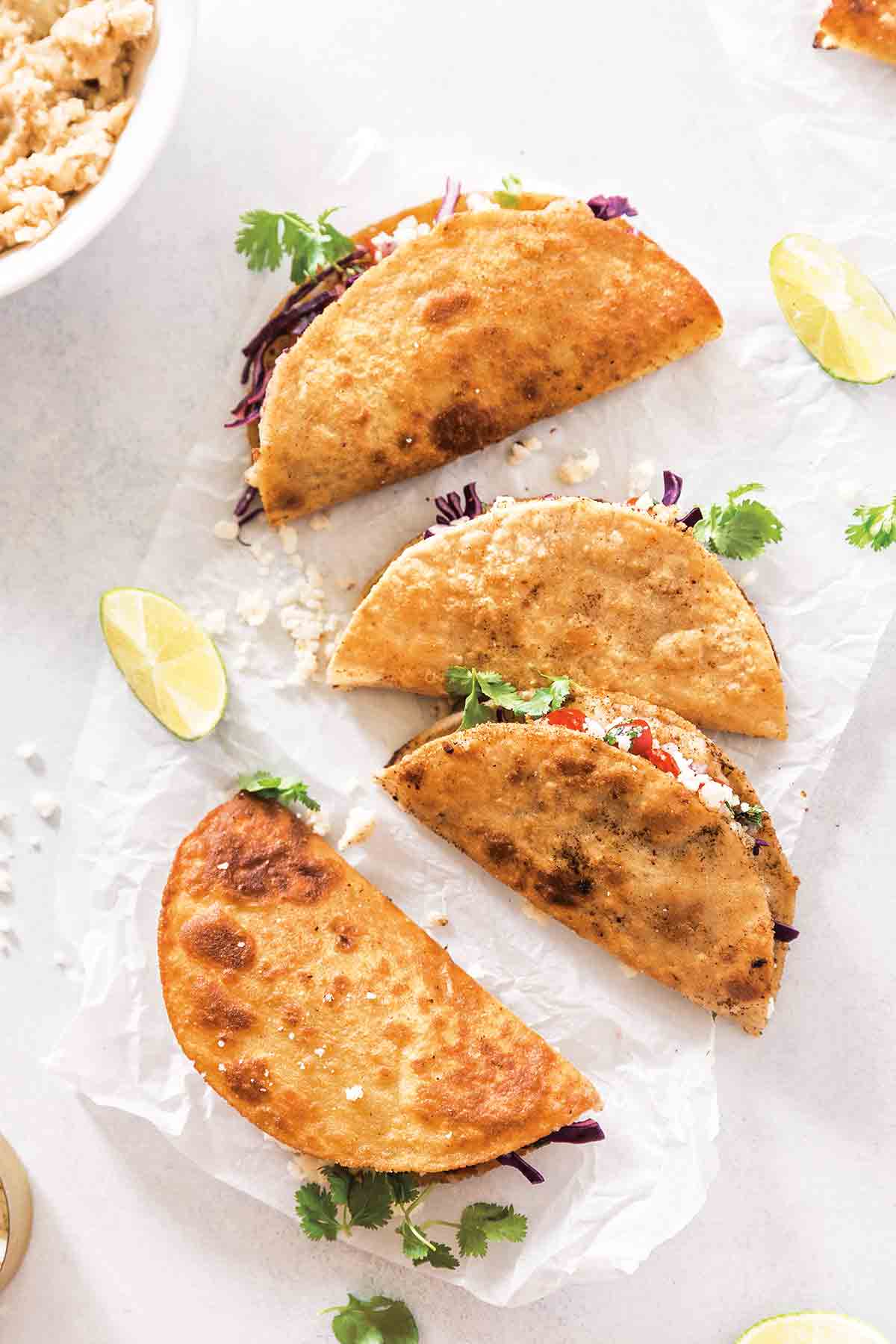 Crispy Mashed Potato Tacos
These crispy mashed potato tacos, filled with crunchy cabbage, creamy mashed potatoes, fresh pico de gallo, and cilantro, are unconventional yet absolutely delicious.
Recipe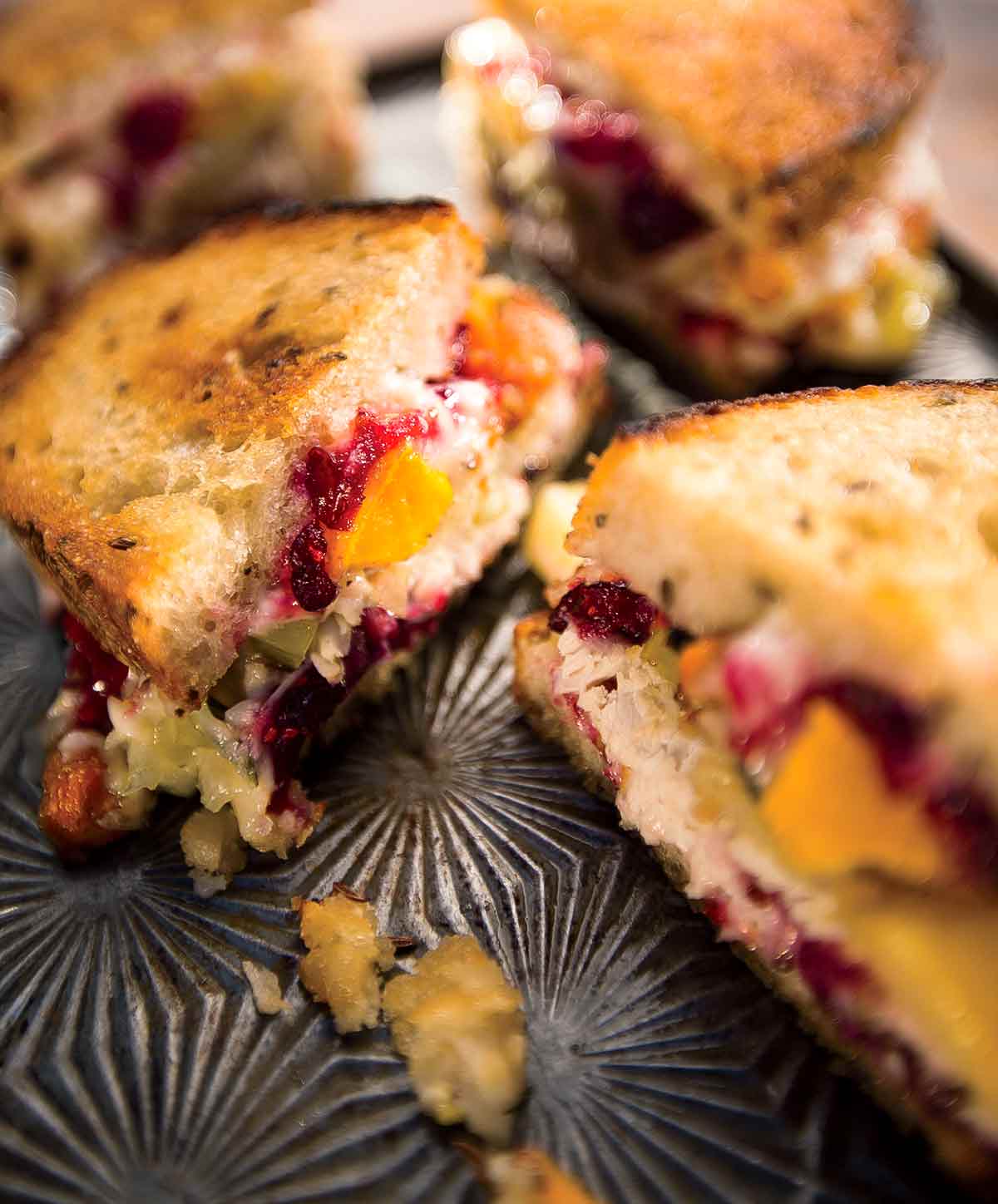 Hot Turkey Sandwich
I make these whenever my daughter comes for lunch. I usually grill them and sometimes add avocado to make them even moister.
Recipe
Ground Lamb and Potato Patties
These ground lamb and potato patties from Nik Sharma encapsulate spiced ground meat in a fluffy mashed potato shell that's coated with bread crumbs and pan-fried until golden brown.
Recipe
FAQs
How long can I safely keep leftovers?
We recommend that you use or freeze your leftovers within 4 days of cooking. Leftovers should be refrigerated within 2 hours of preparation and kept refrigerated in sealed containers.
Which Thanksgiving leftovers freeze well?
Cooked turkey, mashed potatoes, leftover cranberry sauce, and gravy all freeze very well. Cooked vegetable sides tend to become mushy after freezing, so we'd recommend using them up and skipping freezing.
What types of leftovers can I feed to my dog?
You can safely feed your dog cooked turkey meat, pumpkin, or sweet potato. Don't share the turkey carcass, desserts, or fatty foods with your furry friend.
If you're still looking for ways to use up those leftovers and can't bear the thought of another turkey sandwich, give one of these Thanksgiving leftovers recipes a whirl.
Swap chicken for turkey in these easy chicken enchiladas.
Mash up and combine any leftover sweet potatoes and carrots for this sweet potato and cranberry strudel.
Pile your leftovers on top of tater tots for a Thanksgiving-inspired plate of totchos.
Substitute turkey in your favorite butter chicken recipe.
Put that turkey carcass to good use in this easy soup.
Toss your leftover turkey into this carrot soup.
Spoon cranberry sauce over cheesecake or swirl it into yogurt and top with granola.
Use finely chopped turkey in place of the ground turkey in this turkey taco salad.
Use up leftover gravy in your favorite poutine recipe.
Pile all your leftovers into a pie plate, top with a pie crust, and bake until golden. Voilà! Thanksgiving turkey pot pie.
Stuff peppers with turkey, stuffing, and vegetables. Top with cheese and bake until tender.
Leftover dessert? You don't need our help in figuring out what to do with that.