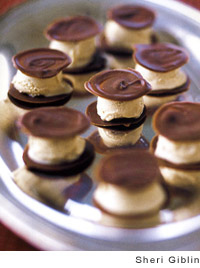 Chai drinks began as a fad but have quickly become a mainstay in American food culture. Made popular by coffeehouses serving variations of chai lattes, chai can now be found on dessert menus across the country. Often, you see or hear the phrase "chai tea," which is redundant, since chai means "tea" in India.
Chai is black tea prepared with spices, such as green cardamom, ginger, cinnamon, and cloves. It has an intriguing balance of flavors that is both sophisticated and comforting; it pairs well with the smoothness of milk chocolate. These delicate sandwiches capture that flavor and are so tiny you can pop one in your mouth in one bite.–Emily Luchetti
Milk Chocolate-Wafer and Chai-Ice Cream Dots
Quick Glance
1 H
9 H, 45 M

Makes 36 mini-sandwiches
Special Equipment: Ice cream maker
Print Recipe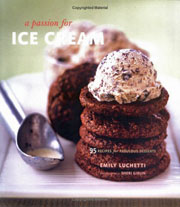 Ingredients
For the chai ice cream

5 green cardamom pods

1 cup whole milk

2 cups heavy cream

2/3 cup sugar

4 whole cloves

2 cinnamon sticks

1 1/2 tablespoons black tea leaves

1 1/2-inch piece ginger, cut into 4 pieces

3 large egg yolks

1/8 teaspoon kosher salt

For the milk chocolate wafers

4 ounces milk chocolate, finely chopped
Directions
Make the ice cream

1. Preheat the oven to 325°F (160°C).

2. Place the cardamom pods on a baking pan and crush them with the side of a knife. Toast in the oven for 5 minutes.

3. In a medium, heavy saucepan, combine the milk, cream, 1/3 cup of the sugar, the cardamom, cloves, cinnamon sticks, tea, and ginger. Cook over medium heat, stirring occasionally, until almost simmering. Turn off the heat and cover the pan. Let the spices and tea steep for 10 minutes.

4. In a medium bowl, whisk together the egg yolks, the remaining 1/3 cup sugar, and the salt. Slowly pour the hot liquid into the egg mixture, whisking as you pour. Return the liquid to the pan and cook over medium-low heat, stirring constantly with a heat-resistant, plastic or wooden spatula, until the liquid reaches 175°F (80°C) and lightly coats the spatula. Strain through a fine-mesh sieve into a bowl, discard the spices and tea, and cool over an ice bath to room temperature. Refrigerate for at least 4 hours or up to overnight. Churn in an ice cream maker according to the manufacturer's instructions. Freeze until scoopable, about 4 hours, depending on your freezer.

Make the wafers

5. Melt the chocolate in a double boiler over hot water. Remove from the heat and stir until smooth. Place scant 1/4 teaspoonfuls of melted chocolate about 2 inches apart on 2 parchment-lined baking sheets. As you go, use the back of the spoon in a circular motion to spread the chocolate into 1-inch circles. There will be extra circles in case they break. You will need 72 circles.

6. Let the chocolate sit at room temperature until hard, at least 1 hour. (If your kitchen is very hot, place the pan in the refrigerator briefly.) Carefully remove the circles from the baking pan with an offset spatula.

Assemble the sandwiches

7. Place half of the chocolate circles bottom side up in a single layer on parchment or wax-paper-lined baking sheets. Using a very small melon baller or scoop, about 1 inch in diameter, place a scoop of slightly softened ice cream on top. (If the ice cream is too hard, the chocolate circles will crack.) Cover with a second circle and very gently press down to adhere the circles together. Serve immediately, or freeze until ready to serve.
In advance
The sandwiches can be assembled 2 days in advance. Wrap well in plastic wrap and store in the freezer.
Recipe Testers Reviews
Milk Chocolate-Wafer and Chai-Ice Cream Dots Recipe © 2006 Emily Luchetti. Photo © 2006 Sheri Giblin. All rights reserved. All materials used with permission.
If you make this recipe, snap a photo and hashtag it #LeitesCulinaria. We'd love to see your creations on Instagram, Facebook, and Twitter.