This parmesan chicken recipe is made from chicken, Parmesan, egg, and nothing else. A great weeknight dinner from the pantry.
This satisfying weeknight supper is a simple chicken recipe. Just roll chicken cutlets in grated Parmesan may not win you any points with your stodgy, fine-china-and-silver-every-night-of-the-week mother-in-law. But we find it to be a superlative solution when it's 10 minutes past when the kids started bellyaching that they're hungry for dinner and you finally yank open the refrigerator and there seems to be nothing in there. Take a glance at this recipe and then look in the fridge again.
Though this chicken recipe is best complemented by summery tomatoes, indecent amounts of olive oil, and, if you have them in the fridge, some floppy salad greens or fresh basil, we've yet to have people not ask for seconds even when we've just plunked the Parmesan chicken plain on their plates.–Renee Schettler Rossi
LC Take the Time To Read This! Note
We know you're in a hurry. But a word to the wise. Actually, a few words. First, don't ignore the instructions in the chicken recipe below to pound the chicken breasts to an even thinness. It may take a few more moments that you swear you don't have, yet it ensures the chicken cooks quickly and evenly, saving you time (and running out for take-out) in the long run. Another thing to be careful of is to grate the Parmesan finely—use those really tiny holes on the grater–as tiny shreds of cheese have a stick-to-itiveness that larger pieces just can't muster, which means the cheese stays put on the chicken, not the pan. Last, if you'd rather not heat up the kitchen, rather than bake the chicken in the oven you can sear it in a well-seasoned cast-iron or nonstick skillet that's just barely slicked with olive oil. All you need is a thin metal spatula (trust us on this) and impeccable timing so as to flip the cutlet the moment the cheese crust goes from gooey to crisp.
Parmesan-Crusted Chicken
Quick Glance
15 M
30 M

Serves 4
Print Recipe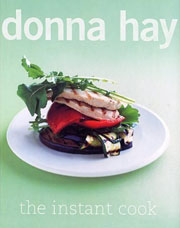 Ingredients
2 egg whites or 1 whole egg

4 boneless, skinless chicken breasts, pounded to an even thinness (may use chicken tenders)

2 cups very finely grated Parmesan cheese

Cracked black pepper, if it suits you

Rocket (arugula) or basil leaves or summer lettuces (optional)

2 summer tomatoes, cut into slices or wedges (optional)

Extra-virgin olive oil (optional)
Directions
1. Preheat the oven to 400°F (200°C). Line a baking sheet or baking dish with parchment paper.

2. Place the egg whites or whole egg in a shallow dish and beat lightly. Place the Parmesan on a plate and, if you like pepper, add some to the Parmesan and toss to coat. Dip the chicken breasts first into the egg, allowing any excess to drip off, then drop it in the Parmesan and turn it to coat, pressing the Parmesan onto the chicken to make it stick. Place the Parmesan-crusted chicken on the parchment.

3. Bake until the chicken is golden and cooked through, about 15 minutes. Slide onto plates immediately. If desired, serve with a simple salad of greens or herbs and tomato dressed with olive oil.
Parmesan-Crusted Chicken Recipe © 2004 Donna Hay. Photo © 2004 Con Poulos. All rights reserved. All recipes and photos used with permission of the publisher.
If you make this recipe, snap a photo and hashtag it #LeitesCulinaria. We'd love to see your creations on Instagram, Facebook, and Twitter.