This lemon pull-apart coffee cake is made of layers of yeasted dough sandwiched together with a sweet, buttery filling fragrant with citrus zest. Once out of the oven, it's brushed with a lemon cream cheese icing and fairly falls apart although it's much funner to gently pull it apart.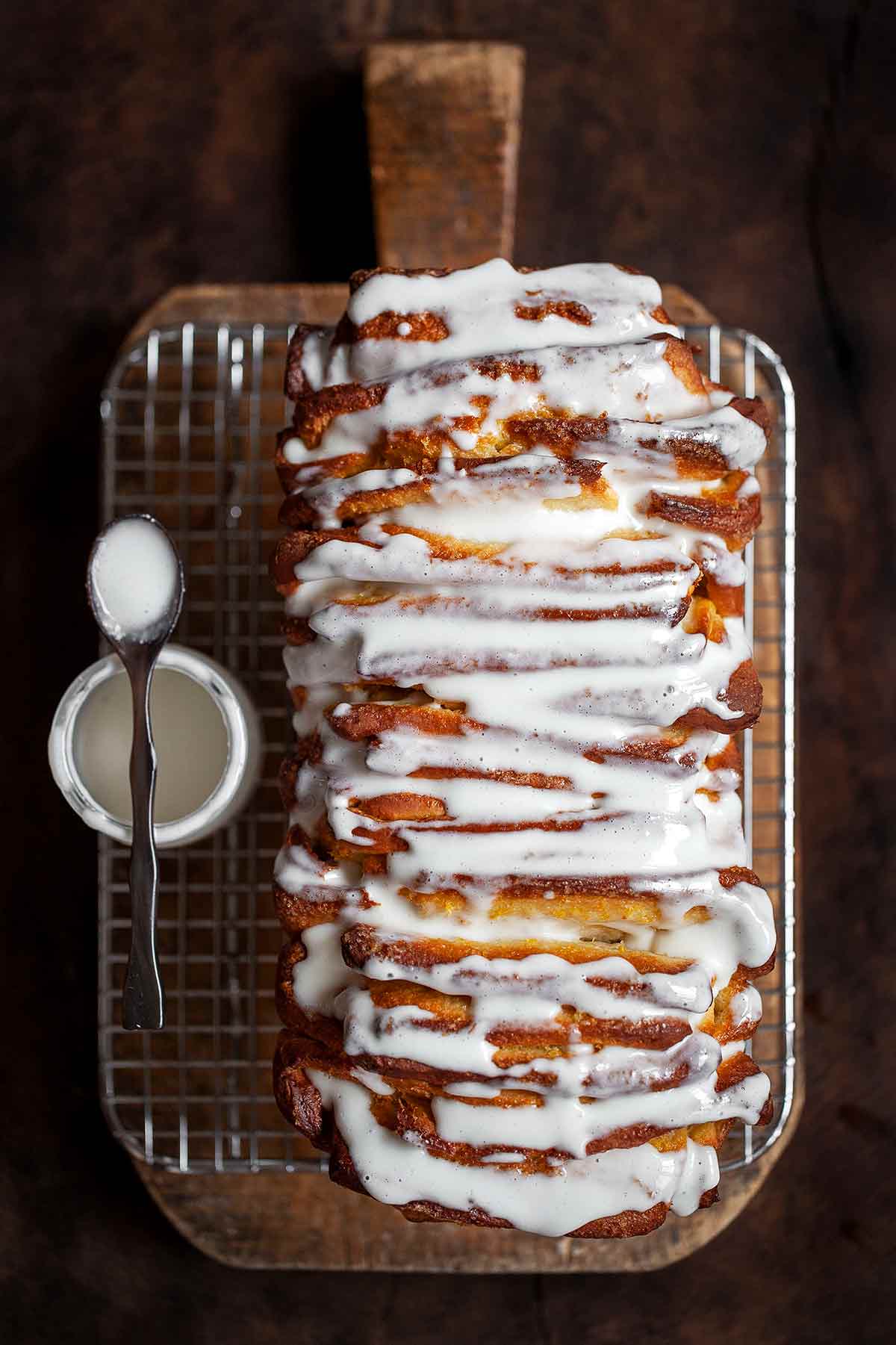 Lemon and cream cheese have long been classic companions in American baking, and this fun-to-assemble, sweet-tart filled coffee cake makes it easy to see why. Showcasing the lively flavors of fresh citrus, the sweet, buttery filling is made with fluffy, fragrant lemon and orange zest. The warm loaf is brushed with a cream cheese icing, whose tangy flavor marries marvelously with the citrus.–Flo Braker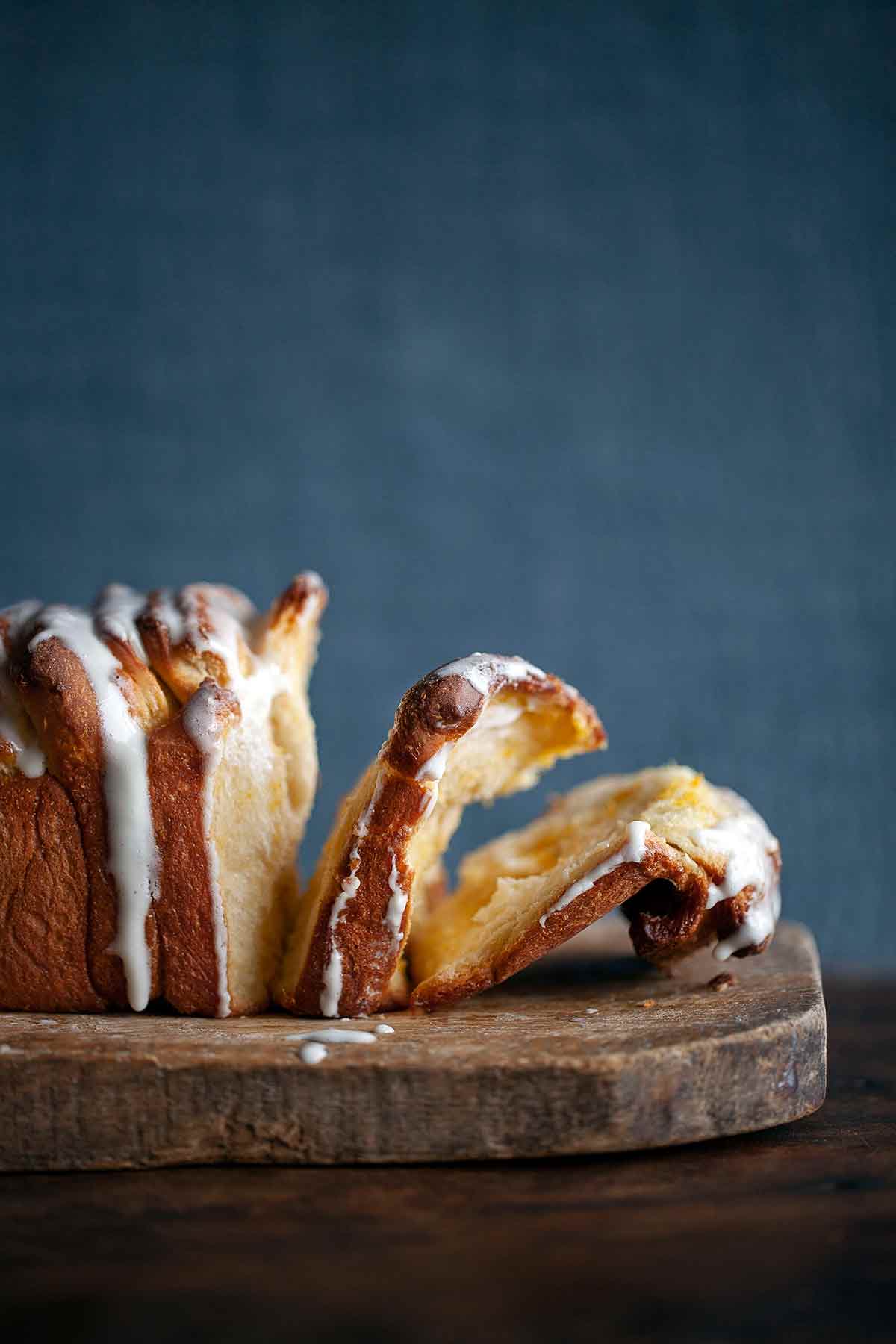 Lemon Pull-Apart Coffee Cake
This lemon pull-apart coffee cake is made of layers of yeasted dough sandwiched together with a sweet, buttery filling fragrant with citrus zest. Once out of the oven, it's brushed with a lemon cream cheese icing and fairly falls apart although it's much funner to gently pull it apart.
Ingredients
For the pull-apart sweet dough
About 2 3/4

cups

all-purpose flour

plus more for kneading

1/4

cup

granulated sugar

2 1/4

teaspoons

instant yeast (1 envelope)

1/2

teaspoon

salt

1/3

cup

whole milk

4

tablespoons (2 oz)

unsalted butter

1/4

cup

water

1 1/2

teaspoons

vanilla extract

2

large

eggs

at room temperature
For the lemon filling
1/2

cup

granulated sugar

3

tablespoons

finely grated lemon zest

(from 4 to 6 lemons), preferably organic)

1

tablespoon

finely grated orange zest

preferably organic

2

ounces

unsalted butter

melted
For the cream cheese icing
3

ounces

cream cheese

softened

1/3

cup

confectioners' sugar

1

tablespoon

whole milk

1

tablespoon

fresh lemon juice
Directions
Make the pull-apart sweet dough
In the bowl of a stand mixer, stir together 2 cups (9 ounces) of the flour, the sugar, yeast, and salt.

In a small saucepan, heat the milk and butter over low heat just until the butter is melted. Remove from the heat, add the water, and set aside until warm (120 to 130°F [49 to 54°C]), about 1 minute. Add the vanilla extract.

Pour the milk mixture over the flour-yeast mixture and, using a rubber spatula, mix until the dry ingredients are evenly moistened. Attach the bowl to the mixer, and fit the mixer with the paddle attachment. With the mixer on low speed, add the eggs, 1 at a time, mixing just until incorporated after each addition. Stop the mixer, add 1/2 cup (2 1/4 ounces) flour, and resume mixing on low speed until the dough is smooth, 30 to 45 seconds. Add 2 more tablespoons flour and mix on medium speed until the dough is smooth, soft, and slightly sticky, about 45 seconds.

Sprinkle a work surface with 1 tablespoon flour and turn the dough onto the flour. Knead gently until the dough is smooth and no longer sticky, about 1 minute, adding an additional 1 to 2 tablespoons flour only if the dough is unworkably sticky. Place the dough in a large bowl, cover the bowl tightly with plastic wrap, and let the dough rise in a warm place (about 70°F [21°C]) until doubled in size, 45 to 60 minutes. Press the dough gently with a fingertip. If the indentation remains, the dough is ready for the next step.
Make the lemon filling
While the dough is rising, in a small bowl, mix together the sugar, lemon zest, and orange zest. Set aside. (The sugar draws out moisture from the zests to create a sandy-wet consistency, so don't be alarmed when you see this.)
Assemble the coffee cake
Adjust the oven rack to the center position and preheat the oven to 350°F (175°C). Lightly butter a 9-by-5-by-3-inch loaf pan.

Gently deflate the dough. On a lightly floured work surface, roll the dough into a 20-by-12-inch rectangle with a short edge facing you. Using a pastry brush, spread the melted butter generously over the dough. Cut the dough crosswise into 5 strips, each about 12 by 4 inches. (A pizza cutter is helpful here.) Sprinkle 1 1/2 tablespoons of the zest-sugar mixture over 1 of these buttered strips. Top with a second strip and sprinkle it with 1 1/2 tablespoons of the zest-sugar mixture. Repeat with the remaining strips and zest-sugar mixture, ending with a stack of 5 rectangles. Work carefully when adding the crumbly zest filling, or it will fall off when you have to lift the stacked pastry later.

Slice the stack crosswise through the 5 layers to create 6 equal strips, each about 4 by 2 inches. Fit these layered strips into the prepared loaf pan, cut edges up and side by side. (While there is plenty of space on either side of the 6 strips widthwise in the pan, fitting the strips lengthwise is tight. But that's fine because the spaces between the dough and the sides of the pan fill in during baking.) Loosely cover the pan with plastic wrap and let the dough rise in a warm place (70 °F [21°C]) until puffy and almost doubled in size, 30 to 50 minutes. Press the dough gently with a fingertip. If the indentation remains, the dough is ready for baking.

Bake the coffee cake until the top is golden brown, 30 to 35 minutes. Place on a wire rack and let cool in the pan for 10 to 15 minutes.
Make the cream cheese icing
In a medium bowl with a rubber spatula, vigorously mix the cream cheese and sugar until smooth. Beat in the milk and lemon juice until the mixture is creamy and smooth.

Tilt and rotate the pan while gently tapping it on the counter to release the cake sides or simply slip a thin knife or spatula between the coffee cake and the pan. Invert a wire rack on top of the coffee cake, invert the cake onto the rack, and carefully lift off the pan. Invert another rack on top, invert the cake so it is right side up, and remove the original rack.

Slip a sheet of waxed paper under the rack to catch any drips from the icing. Using a pastry brush, coat the top of the warm cake with the icing to glaze it. (Cover and refrigerate the leftover icing for another use. It will keep for up to 2 days.)

To serve, you can pull apart the layers, or you can cut the cake into 1-inch-thick slices on a slight diagonal with a long, serrated knife. If you decide to cut the cake rather than pull it apart, don't attempt to cut it until it's almost completely cool.
Show Nutrition
Serving:
1
portion
Calories:
427
kcal
(21%)
Carbohydrates:
60
g
(20%)
Protein:
9
g
(18%)
Fat:
17
g
(26%)
Saturated Fat:
10
g
(63%)
Polyunsaturated Fat:
1
g
Monounsaturated Fat:
5
g
Trans Fat:
1
g
Cholesterol:
89
mg
(30%)
Sodium:
206
mg
(9%)
Potassium:
140
mg
(4%)
Fiber:
2
g
(8%)
Sugar:
25
g
(28%)
Vitamin A:
586
IU
(12%)
Vitamin C:
5
mg
(6%)
Calcium:
48
mg
(5%)
Iron:
2
mg
(11%)
Originally published December 28, 2020
Recipe Testers' Reviews
GOOD GRAVY! THIS RECIPE IS DANGEROUS! I made this yesterday on a whim. I didn't have any expectations. I like lemon desserts but don't love them. I'm great at making enriched dough, but it isn't my favorite to make. But I had an abundance of lemons and needed something sweet.
I initially missed the part in the recipe where you only put 270g of flour in the dough first. So I had to start over. No biggie, that was on me. The directions were clear (especially when you take the time to read them thoroughly). And really the only thing resembling a criticism that I may have was that it took 6 lemons to get the required 3 tablespoons of zest. And less zest than that wouldn't give it the gorgeous punch of flavor that this recipe has.
After my earlier flour mishap, I made certain to review all of the directions. They were all completely accurate. The timing was perfect! And while I wouldn't describe this as an easy recipe, if you follow the instructions, it is very straightforward and well written.
When this came out of the oven, it took all of my inner discipline to not try to start eating it right away. I managed to wait the hour or so needed to avoid burning the heck out of myself. And then came the real danger...NOT eating the whole thing in one sitting. My husband and I finished our portions and both said aloud, we really shouldn't have any more. I didn't listen to either of our better judgments and did devour a bit more, with no regrets! He has declared this a perfect 10, and you will hear no argument from me. I think I am in love!
I did need extra flour. This is a sticky, sticky dough, but wonderful. The assembly instructions were a little intimidating. But if you read them twice (at least I needed to) and go step by step, it comes together well.
This is the perfect not-too-sweet coffee cake for afternoon tea or even breakfast, especially if served warm! The flavor of the citrus comes through nicely, and the overall appearance is impressive. Although there are many steps, the recipe is straightforward and manageable.
A few suggestions to streamline things: Be sure to read the entire recipe ahead of time, especially the rolling and cutting directions. For the icing, be sure your cream cheese is fully softened before proceeding. I needed a generous extra squeeze of lemon juice in order to thin it out. When rolling out the dough, my rectangle was not very precisely measured. As a result, my strips of dough were not exactly to size. This did not seem to matter at all in the end as the rising dough filled in the gaps. It was a challenge to use all 4 tablespoons of the butter for spreading over the dough, and I ended up using most of the leftover spooned over the top just before baking. I would not bother preheating the oven until 15 minutes before the end of the second rise, which for me took 45 minutes.
I baked it in a glass Pyrex pan for 30 minutes. In order to release the cake from the pan, I used a small spatula to loosen the sides. This worked great, and did not require me to bang a glass pan on the counter! Mixing the icing was straightforward. It was easily mixed with a spatula, though a wooden spoon would probably have been easier. I added a bit more lemon juice as it appeared rather thick. Rather than making extra icing, I wonder if the recipe could be more exact so as not to produce any leftover. Also, I do not usually use instant yeast, and would like to see directions if using active dry.
Although I may not yet be ready for the Great British Bake Off, this recipe gave me a great opportunity to up my game!
Recipe © 2008 Flo Braker. Photos © 2020
Cenk Sönmezsoy
. All rights reserved. All materials used with permission.
If you make this recipe, snap a photo and hashtag it #LeitesCulinaria. We'd love to see your creations on Instagram, Facebook, and Twitter.