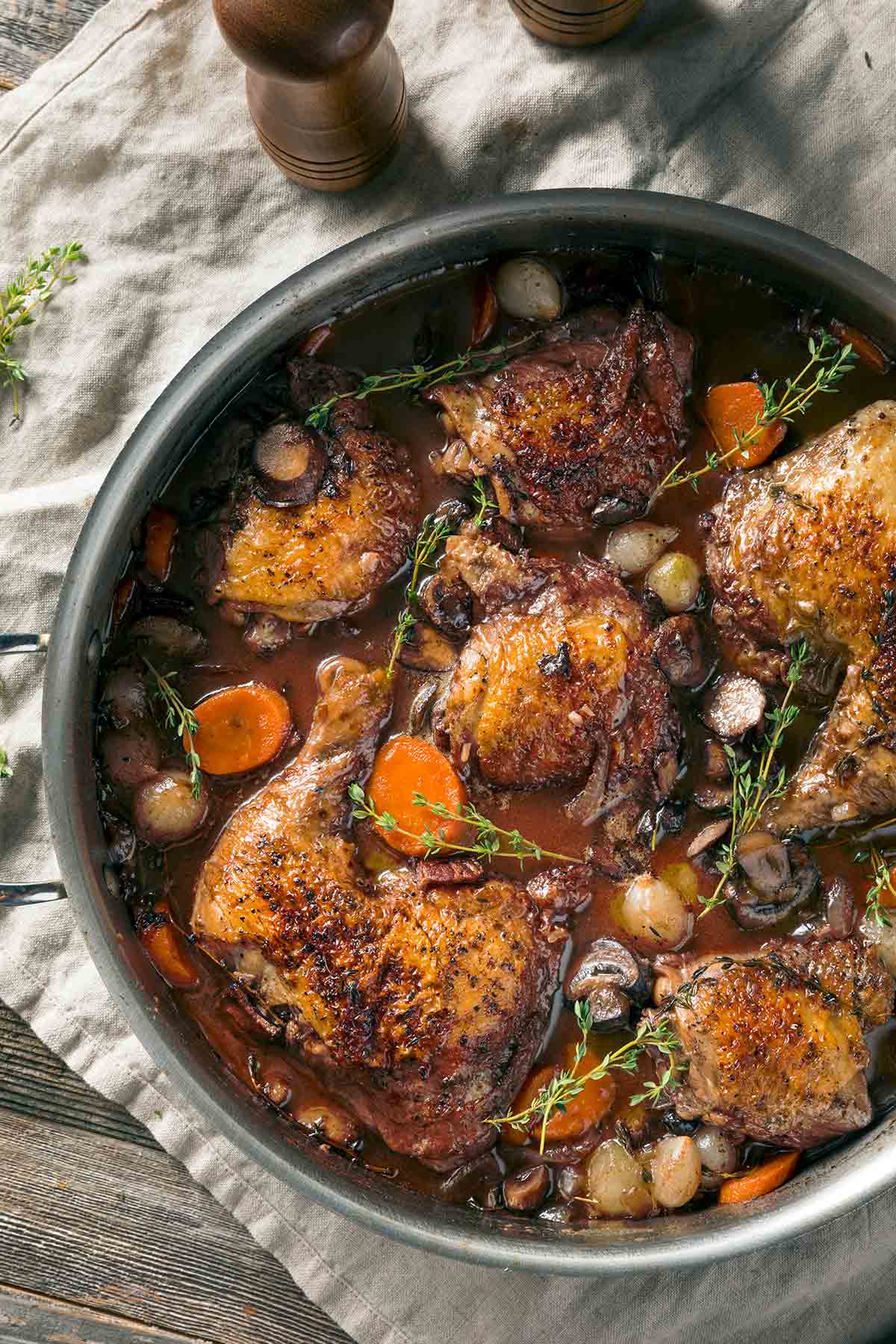 Coq au vin didn't originate on the 1960s TV show "The French Chef" but that's where Julia Child made good on Herbert Hoover's promise of a "chicken in every pot." She translated the original recipe into the simple dish that it currently is, made with mushrooms, onions, bacon, red wine, and (natch) chicken. Since then, it has been recreated in millions of kitchens thanks to Julia.
Many versions of coq au vin floating around when Madame Child was learning to cook in Paris were based on ancient recipes that called for a rooster or cock (coq) well past his crowing days. A rooster who's no longer cock of the walk has flesh that's incredibly flavorful. The cockscomb, feet, head, and kidneys were tossed in for good measure, too. Blood was also added to the pot for a little thickening power.
Julia knew (actually, I'm assuming she knew this, I don't actually know this for certain, but I like the familiarity of calling her "Julia" and so I'm going with it) that getting an old rooster and a cup o' blood ain't exactly easy. So she tried to squeeze as much flavor as possible into this recipe, published in Mastering the Art of French Cooking, as well as the rendition published in the redux years later.
She smartly calls for brown chicken stock, which is a homemade stock made more robust in taste and color by first searing the raw chicken pieces before gently simmering them for hours. It's a simple and easy way of adding extra depth and complexity to whatever contains it. Considering you'll be sitting down to a rooster-less, bloodless coq au vin, it's still pretty darn tasty.–David Leite
Julia Child's Coq au Vin FAQs
How do you make authentic French coq au vin?
With all due respect to the inimitable Julia Child, that doyenne of all things French, there are more authentic versions of the classic French chicken and wine stew than her recipe. But the beauty of Julia was that she was especially conscious of translating fussy French recipes for American masses in need of manageable cooking techniques.

As such, a couple of common, though not compulsory, flavor-making steps were omitted in the making of her version of the French classic. You can consider incorporating them back into your coq au vin routine to imbue it with layer after layer of complexity.

First, uncork that bottle of red and douse the bird, allowing it to take an overnight bath in the fridge to infuse the meat with a subtle but certain depth of flavor—not to mention a slightly freakish maroon hue. Drain the chicken then pat it dry and continue with the searing, reserving the wine to use during cooking.

Another easy trick? Sauté those teensy pearl onions in the rendered bacon drippings prior to adding them to the stew for what we think are obvious reasons. Same goes with the mushrooms.

And never, ever serve the stew straight away from the stovetop; rather, let it cool and then refrigerate it 'till the next day, skimming any fat from the surface and heating the coq au vin gently—and we do mean gently—over low heat until warmed through. And you thought you didn't know how to speak French.
What should you serve with coq au vin?
You're going to want to sop up every last drop of that beautiful sauce, so we highly recommend serving this with mashed potatoes, or some artisan bread.
What type of wine should I use?
Julia would recommend that you use a full-bodied red Burgundy, Cotes du Rhone, or Beaujolais, and we heartily agree. That said, select a wine that you enjoy drinking, as you'll have some left over to enjoy while your chicken is simmering away.
Can I add carrots?
Although it's not traditional, we have had many requests for how to make coq au vin with carrots added to it. We've tried it, and have found the best way is to add 1-inch chunks of carrot to the pot in step 6, along with the bacon, garlic, and tomato paste.
Julia Child's Coq au Vin
This coq au vin recipe strays a little from the original but I don't think that's to its detriment. This updated version of the simple French chicken stew uses a robust brown chicken stock, mushrooms, onions, bacon, and red wine.
Equipment
Slow cooker (if following the slow cooker method)
Ingredients
1/2

cup

lardons (or very thickly sliced bacon)

,

cut into 1/4- by 1 1/2-inch (6- by 36-mm) strips (optional)

2 or more

tablespoons

olive oil

3 1/2 to 4 1/2

pounds

chicken

,

cut into parts (or all one kind of part), thoroughly dried

1/4

cup

Cognac or Armagnac

Salt and freshly ground black pepper

1

bay leaf

1/4

teaspoon

dried thyme

20

pearl onions

,

peeled

3

tablespoons

all-purpose flour

2

cups

red wine

,

preferably Burgundy, Côtes du Rhône, or pinot noir

About 2

cups

homemade chicken stock, or beef stock,

preferably brown chicken stock (see headnote above)

1 or 2

garlic cloves

,

mashed or minced

About 1

tablespoon

store-bought or homemade tomato paste

3/4

pound

fresh mushrooms

,

trimmed, rinsed, and quartered

Fresh thyme sprigs

,

for garnish (optional)
Instructions
To make the coq au vin in your slow cooker, see the Slow Cooker Variation below. To make the coq au vin on your stovetop, pour enough oil in a large pot to reach a depth of 1/8 inch if you're not using lardons or bacon. If you are using lardons or bacon, toss them in a heavy-bottomed casserole or pot along with 2 tablespoons oil over medium or medium-high until lightly browned, about 2 minutes. Transfer the lardons or bacon to a plate, leaving the drippings in the pot.

Heat the drippings or oil remaining in the pot over medium-high heat. Add the chicken, being careful not to crowd the pieces. (You may need to work in batches). Cook the chicken, turning frequently, until nicely browned on all sides. (If working in batches, return all the chicken to the pot.)

Carefully pour the Cognac or Armagnac into the pot and wait until it becomes bubbling hot. If desired—and if you're brave—ignite the sauce with a match. Let it flame for a minute, gently tilting the pot by its handle and swirling the sauce to burn off the alcohol. To extinguish the flames, simply cover the pan with its lid.

Season the chicken with salt and pepper. Add the bay leaf and thyme to the pan and then nestle the onions around the chicken. Cover the pot and let the chicken simmer gently, turning the pieces once, for about 10 minutes.

Uncover the pot, sprinkle the flour over everything, and turn the chicken and onions so the flour is absorbed by the sauce. Cover and cook, turning once or twice, for 3 to 4 minutes more.

Remove the pot from the heat and gradually stir and swirl in the wine and enough stock to almost cover the chicken. Add the lardons or bacon, garlic, and tomato paste to the pot, cover, and gently simmer for 25 to 30 minutes.

Test the chicken for doneness (there should be no trace of pink and the juices should run clear when the meat is pierced with a knife). Grab some tongs and transfer the chicken pieces to the plate when they're done. Continue to cook the rest of the chicken a few minutes longer.

If the onions are not quite tender, continue cooking them in the sauce, then return the chicken to the pot, add the mushrooms, and simmer 4 to 5 minutes.

The sauce should be just thick enough to lightly coat the chicken and vegetables. (If the sauce seems too thin, bring it to a boil and cook until the sauce is reduced to the desired consistency. If the sauce is too thick, thin it with spoonfuls of stock.) Taste the sauce and correct the seasoning accordingly.

Serve immediately, garnished with thyme sprigs, if desired, or let it cool, cover, and refrigerate overnight. To reheat, skim any fat that has congealed on the surface of the stew and place the pot of coq au vin over medium-low heat. Garnish with thyme sprigs before serving, if desired.
Notes
Slow cooker coq au vin variation
Yes, you can make Julia Child's coq au vin recipe in a slow cooker. Just understand that the complexity of this French classic relies in large part on the caramelization that comes from searing or sautéing various ingredients in a hot skillet prior to jumbling them all together to simmer. Making coq au vin in a slow cooker still turns out a lovely and worthwhile stew, albeit one with just slightly less depth of flavor. There are almost as many ways to adapt this recipe for the slow cooker as there are cooks and slow cookers.
We opted for the following approach, which worked swell. If using the lardons (or bacon), follow step 1 of the instructions above. Place the lardons (or bacon) and their drippings in the slow cooker and add the remaining ingredients except for the oil and the flour, using only 1 cup stock (not 2 cups as instructed above).
Cook on medium heat for 5 1/2 to 6 hours, until the chicken is tender. Transfer the chicken to a platter or a serving dish.
Heat the olive oil in a saucepan over medium-high heat, stir in the flour, and cook until it forms a paste and just begins to turn brown at the edges. Stirring constantly, very slowly strain the liquid from the slow cooker into the saucepan and simmer until it has reduced to a consistency that's thick enough to coat the back of the spoon.
Transfer the onions to the platter or dish with the chickens and discard the bay leaf. Pour the reduced sauce over the chicken and onions.
[Editor's Note: Bear in mind, no two slow cookers are exactly alike, just as no two cooks are exactly alike. This slow-cooker approach worked really, really well for us, although if you have a different slow cooker with certain quirks with which you're intimately familiar, you may want to tweak the cooking technique accordingly. And, natch, we'd love if you'd share it with us in a comment below.] Curious to hear more about working magic with your slow cooker? Peruse our entire selection of slow cooker recipes.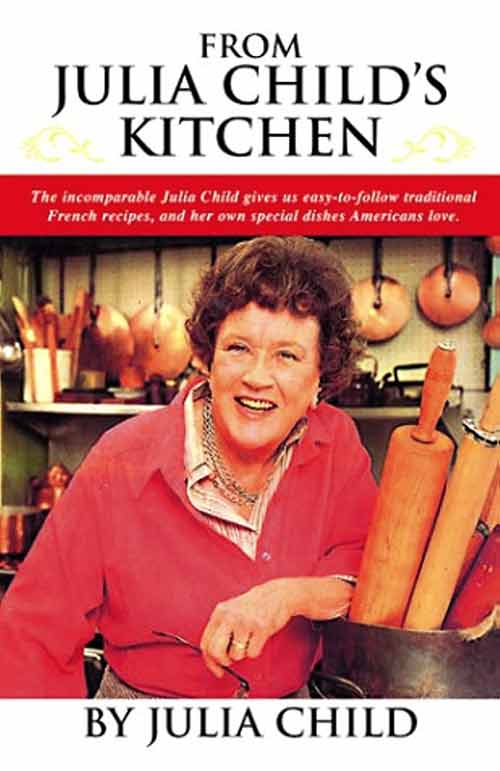 Nutrition
Serving:
1
portion
Calories:
1081
kcal
Carbohydrates:
30
g
Protein:
49
g
Fat:
71
g
Saturated Fat:
22
g
Polyunsaturated Fat:
12
g
Monounsaturated Fat:
33
g
Trans Fat:
0.2
g
Cholesterol:
195
mg
Sodium:
426
mg
Potassium:
1236
mg
Fiber:
4
g
Sugar:
11
g
Vitamin A:
379
IU
Vitamin C:
18
mg
Calcium:
82
mg
Iron:
4
mg
Nutrition information is automatically calculated, so should only be used as an approximation.
Recipe © 1979 Julia Child. Photo © 2022 Brent Hofacker. All rights reserved.
---
Recipe Testers' Reviews
Wonderful recipe, Julia! Great layers and depth of flavors.
I made this using 9 skin-on, bone-in chicken thighs. I seasoned the thighs with salt and pepper before browning them in a Dutch oven because that seemed to make more sense than seasoning them afterward. After browning the chicken thighs in batches, I browned the pearl onions in the bacon grease mixed with the fat from the chicken thighs. There was too much chicken fat left in the pot, as well as a charred buildup, so we cleaned the pan before adding the Armagnac, igniting it, and proceeding with the recipe.
I used 2 cups Syrah for the red wine, since Syrah is one of the grapes used in Côtes du Rhône. When it came to finally simmering the chicken, the thighs were done after 20 minutes. The onions were not quite done at this point, so I removed the chicken, added the mushrooms, and simmered for about 3 to 4 minutes more. I allowed everything to cool down, put the chicken back into the pot, and put the pot into the refrigerator.
The next day I took the pot out a couple of hours before dinner to let everything come up to room temperature before reheating. There was no congealed fat on the surface of the stew. I think that cleaning out the pot after browning the chicken and the onions was the way to go. I let everything warm up very, very slowly on a simmer setting. I made mashed potatoes using a ricer so that they were extremely silky and creamy.
Julia Child's coq au vin served over the mashed potatoes was, in a word, succulent. By the way, I added more mushrooms and pearl onions than the recipe called for, and we hungered for even more. This was a beautiful dish served with multi-colored baby carrots.
We had an Oregon medium-bodied pinot with this dish. It was a good choice, because it let the coq au vin shine on its own. A bigger wine would've overpowered it.
I adapted Julia Child's coq au vin recipe for a slow cooker.
I put all the ingredients except the olive oil and the flour in the slow cooker and cooked it on medium heat for 6 hours. I omitted the bacon/lardons. I used the full 2 cups wine but only 1 cup broth. I used bone-in skin-on chicken legs and thighs (about 4 pounds). When the chicken was tender, I transferred it to a bowl, heated the olive oil in a pot, added the flour and cooked it, and stirred in the entire amount of liquid from the slow cooker and reduced it so that it was thick enough to coat the chicken.
The chicken was incredibly juicy, tender, and flavorful. I could perhaps have reduced the cooking time to about 5 1/2 hours and been just fine. This worked really well for me.