These easy mashed potatoes are a must for home cooks on those nights when work and home are crazy, and you need a comforting side dish that almost magically materializes in minutes. Simple enough for weeknights. Stunning enough for weekend dinner parties.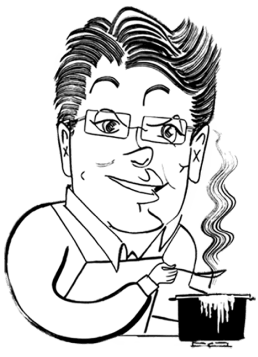 Why Our Testers Loved This
Our testers were delighted with how easy it was to make the recipe and that these mashed potatoes turned out "creamy and fluffy, not gluey."
Notes on Ingredients
Yukon Gold potatoes–The creamy texture of Yukon Gold potatoes is perfect for this recipe. We find that russet potatoes are too starchy, so don't be tempted to substitute them.
Salt–Regular table salt works great for these creamy mashed potatoes. If you only have kosher salt on hand, that will be fine, too.
Milk–You can use any type of milk here, though the higher the fat content, the creamier your potatoes will be.
Unsalted butter–You can substitute salted butter here, but cut back on the amount of salt you add to the finished potatoes initially, and check the seasoning.
How to Make This Recipe
Cook the potatoes. Cook the potatoes in boiling salted water until tender. Drain and let cool.

Peel and mash the potatoes. Use your fingers or a peeler to slip the skins off the potatoes then pass through a ricer or mash.

Add milk, butter, and seasoning. Stir in warm milk, butter, and season to taste. Serve.
Recipe FAQs
Why are the potatoes cooked with their skins on?
Cooking the potatoes with their skins on prevents the spuds from becoming waterlogged and gummy. It's also a great time-saver as the skins of the cooked potatoes should just slip right off.
How can I make these potatoes ahead of time?
The cooked mashed potatoes can be made and stored in a sealed container in the fridge for up to 2 days. To reheat, cover your container with plastic wrap (or transfer to a microwave-safe container if necessary), poke a few holes in the wrap, and microwave until heated through.

If you want to make your potatoes a few hours before serving, set the bowl of mashed potatoes over a saucepan of barely simmering water, and partially cover with a lid. When ready to serve, give them a good stir, adding a bit more milk or butter, if desired.
Helpful Tips
Be sure to add your butter first before stirring in the milk. The butter will coat the potatoes in fat, which prevents them from becoming gluey.
If you don't have a potato ricer, you can use a masher, or even a slotted spoon to press the potatoes against the side of the pan. If you prefer very smooth potatoes, you can blitz them briefly in a food processor.
This recipe is suitable for a gluten-free diet.
Write a Review
If you make this recipe, or any dish on LC, consider leaving a review, a star rating, and your best photo in the comments below. I love hearing from you.–David
Make-Ahead Mashed Potatoes
These basic mashed potatoes are exactly as described. Simple, easy, and oh-so-comforting.
Ingredients
1 3/4

pounds

Yukon Gold potatoes

,

scrubbed and halved

1

teaspoon plus 3/4 teaspoon

salt

1

cup

milk

,

preferably whole

2

tablespoons

unsalted butter

,

plus more for the top

1/2

teaspoon

freshly ground pepper
Instructions
Place the potatoes in a medium saucepan and add enough cold water to cover by 1 inch. Add 1 teaspoon salt and bring to a boil over high heat. Reduce the heat to a simmer and cook until the potatoes are easily pierced with a knife, about 20 minutes.

Drain the potatoes and let them cool enough to handle.

Slip the peels off the potatoes with your fingertips or, if that's challenging, peel them. Push the potatoes through a ricer or food mill and put them back in the saucepan or mash them with a masher in the pan.

☞ TESTER TIP: If you don't have a ricer or food mill or masher, you can also press the potatoes against the side of the pan with a slotted spatula.

Heat the milk in a small saucepan or in the microwave. Add the butter, 3/4 teaspoon salt (or to taste), and the pepper, then add as much warm milk mixture to the potatoes as needed to create the desired consistency, stirring until well combined.

Scoop the mashed potatoes into a bowl, top with more butter, and serve immediately.
Notes
Storage–The cooked mashed potatoes can be stored in a sealed container in the fridge for up to 2 days. To reheat, cover it with plastic wrap and poke a few holes in it. Microwave until warmed through.
Keep warm–If you need to keep your potatoes warm for only a few hours before serving, set them over a pan of barely simmering water, partially covered. Stir in a little extra milk or butter before serving, if desired.
Dietary–This recipe is suitable for a gluten-free diet.
Nutrition
Serving:
1
portion
Calories:
230
kcal
Carbohydrates:
38
g
Protein:
6
g
Fat:
6
g
Saturated Fat:
4
g
Polyunsaturated Fat:
0.3
g
Monounsaturated Fat:
2
g
Trans Fat:
0.2
g
Cholesterol:
18
mg
Sodium:
617
mg
Potassium:
938
mg
Fiber:
5
g
Sugar:
4
g
Vitamin A:
298
IU
Vitamin C:
39
mg
Calcium:
103
mg
Iron:
2
mg
Nutrition information is automatically calculated, so should only be used as an approximation.
Recipe © 2013 Susan Spungen. Photo © 2013 Evan Sung. All rights reserved.
---
Recipe Testers' Reviews
This is my new go-to easy mashed potatoes recipe. Mashing potatoes can be a bit of work, but this recipe cuts down the prep work by peeling the potatoes after they're cooked. The resulting mashed potatoes were creamy and fluffy, not gluey.
The flavor was comforting, rustic, and amazing. While I could eat a bowl of these without any enhancement, these would make an incredible meal topped with cheese and bacon.
I didn't have a ricer or food mill, so I used a potato masher. While I was peeling the potatoes, I warmed the milk in the microwave for about 2 minutes on 80% power. I used the entire cup of milk.
This simple recipe for make-ahead mashed potatoes is simply delicious! This isn't one of those intensely buttery, rich, potato purée recipes. These mashed potatoes are far more casual and far less rich, but still yummy and a great weeknight side.
I found that not peeling the potatoes and chopping them up before they were boiled was a helpful time saver. Removing the potato skins after boiling was super easy. Just make sure to let the potatoes cool down a bit. It took 10 to 15 minutes before I could handle the potatoes with my bare hands. The skin slips off so easily—this approach was so much better than peeling potatoes beforehand!
I made this recipe twice. The second time I had to improvise since I didn't have a ricer or masher available. I ended up pushing the potatoes through a slotted metal spatula. The results were a bit chunkier, but my husband preferred them this way.
Since the potatoes do cool off a bit before you mash them, make sure to heat the milk as that helps warm them up again.
These basic mashed potatoes were deliciously creamy and comforting. I loved using Yukon Gold potatoes versus russets as they seemed to yield a creamier texture.
Instead of pushing the potatoes through a food mill, I simply combined the ingredients in the blender. The consistency was so creamy that it resembled a savory pudding. Next time, I'll add some grated Parmesan to further enhance the flavor.
While I followed the directions to peel the potatoes after cooking, I was left with these questions. Why peel after cooking instead of before? Does doing this lessen the amount of water absorbed by the potatoes? Do the skins add flavor? Whatever the answers, I loved the end result and definitely plan to make these potatoes again!