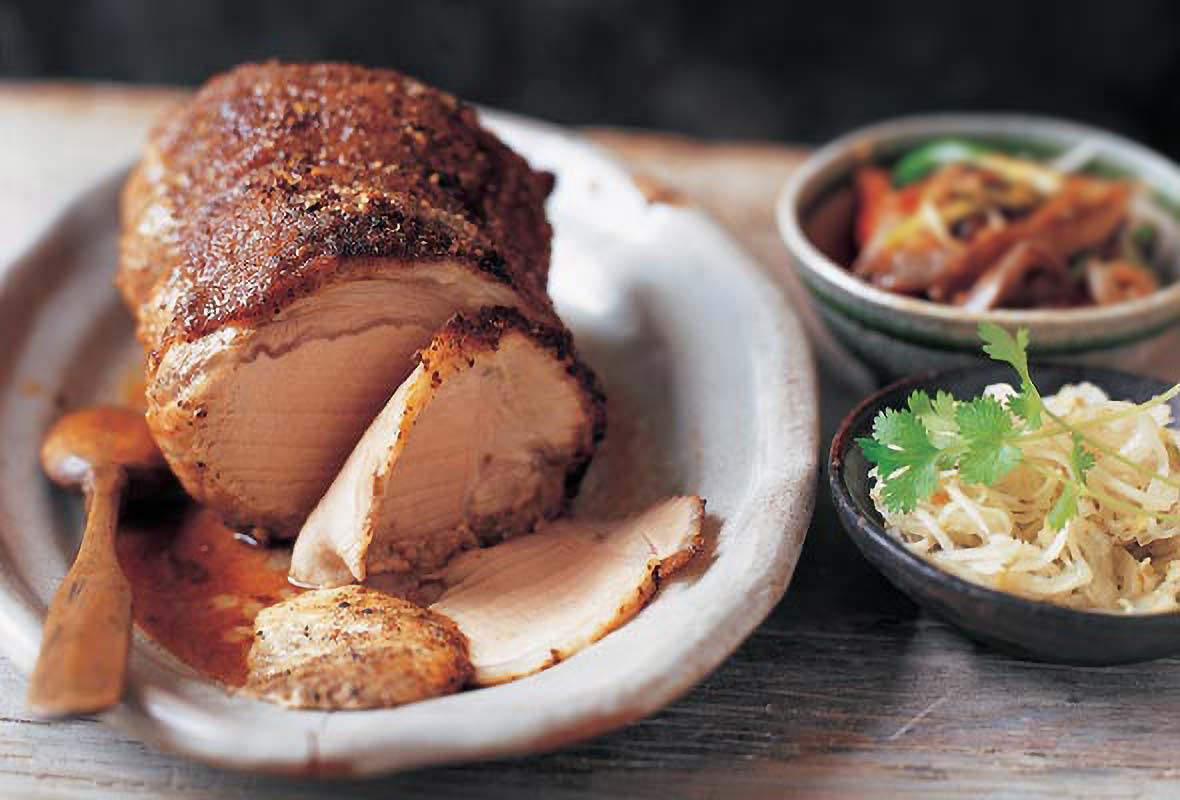 At New Year's and other celebrations, pork and sticky rice are the main foods for the Lisu, one of many distinctive cultural groups who live in the mountains of southwestern Yunnan province, in China. The combination of peppery fresh nutmeg and Szechuan pepper makes a knockout spice rub. The meat is roasted over coals then served on a large communal platter and accompanied by mounds of steamed sticky rice.
We adapted this recipe for charcoal-grilled szechuan spice-rubbed pork as a roast in an oven, calling for a little lard to compensate for the leaner pork that is now standard in North America. The roast comes out of the oven with a deliciously salty spiced crust and moist interior. You can also use this Szechuan spice rub on lamb.–Jeffrey Alford and Naomi Duguid
Author's Grilled Rather Than Roasted Note
You can come closer to the original fire-cooked pork of the Lisu by grilling rather than roasting the meat. Slice the pork crosswise into 3/4- to 1-inch-thick slabs. Rub on both sides with the Szechuan spice blend, then grill slowly over medium heat until it is cooked through, 20 to 30 minutes, depending on the thickness. Turn the pork once partway through and baste it occasionally with a little lard or oil to keep it moist. Let stand for at least 5 minutes. Thinly slice before serving.
Szechuan Spice-Rubbed Pork
Quick Glance
10 M
1 H, 15 M

Serves 4
Print Recipe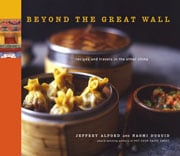 Ingredients
About 2 tablespoons lard or bacon drippings

About 1 1/2 pounds boneless pork butt or loin, no more than 2 inches at it's thickest

2 teaspoons freshly grated nutmeg

1 1/2 teaspoons dry roasted Szechuan peppercorns, ground

1/2 teaspoon freshly ground black pepper

1 teaspoon salt
Directions
1. Place a rack in the center of the oven and preheat the oven to 350°F (176°C). Use a little of the lard or bacon drippings to grease the bottom of a roasting pan.

2. Rinse and dry the pork.

3. Place the nutmeg, ground Szechuan and black peppers, and salt in a small bowl and mix well. Using your fingertips, rub the spice blend all over the pork. Place the pork in the roasting pan and, using your fingers or the back of a spoon, dab the remaining lard or drippings over the top of the meat.

4. Roast until cooked through, 50 to 60 minutes, depending on the thickness. Let stand at room temperature for at least 5 minutes. Thinly slice the roast crosswise and transfer to a platter. If you wish, deglaze the roasting pan with a little water and pour the pan gravy over the slices of pork.
Szechuan Spice-Rubbed Pork Recipe © 2008 Jeffrey Alford and Naomi Duguid. Photo © 2008 Richard Jung. All rights reserved. All recipes and photos used with permission of the publisher.
If you make this recipe, snap a photo and hashtag it #LeitesCulinaria. We'd love to see your creations on Instagram, Facebook, and Twitter.