Drunken pumpkin bourbon tart. Exactly the sort of Thanksgiving dessert that will make the relatives a heck of a lot more tolerable.
This drunken pumpkin bourbon tart instead of the traditional pumpkin pie is something of a party trick. See, "drunken" is something of a misnomer, unless you're referring to the Thanksgiving cook who's kicked back one too many bourbons as she bakes to ease her nerves Thanksgiving morning. (Good luck pronouncing this pie to guests if this cook is you. Drunken pumpkin? Punken drumkin? Drumpin punkdrunk?!) But really, drunken isn't what you can expect of guests after dessert, at least not on account of this pie. Unless you think they'll get tipsy off less than a teaspoon of bourbon, which is tantamount to what each slice contains. Maybe just "merry." 'Tis the season, after all.–Renee Schettler Rossi
Drunken Pumpkin Bourbon Tart
Drunken pumpkin bourbon tart. Exactly the sort of Thanksgiving dessert that will make the relatives a heck of a lot more tolerable.
Ingredients
1

recipe

for a single-crust pie crust

refrigerated for at least 30 minutes

1

egg wash

(just blend 1 egg yolk, a teensy splash of water, and a pinch of salt together)

1

pie pumpkin

any size

3

large

eggs

1/2

cup

light brown sugar

1

cup

heavy cream

2

tablespoons

bourbon

1

teaspoon

vanilla extract

1

teaspoon

kosher or sea salt

2

tablespoons

molasses

2

teaspoons

ground cinnamon

1/2

teaspoon

ground ginger

1/4

teaspoon

ground cloves

1/4

teaspoon

ground nutmeg
Instructions
Preheat the oven to 375°F (190°C).

Place the pastry dough on a lightly floured work surface and roll the dough outward from its center into a 12-inch circle about 1/8-inch thick. Loosely fold the crust into quarters and transfer it to a 9-inch tart pan with a removable bottom. Delicately unfold the crust and gingerly press it into the tart pan, letting the excess crust hang over the edge of the pan. Trim off the excess dough by running your rolling pan over the top of the tart pan. Refrigerate the crust for at least 20 minutes. Line the tart pan with a double layer of foil or parchment paper and fill it with pie weights, old dried beans, or pennies. Bake for 20 minutes. Remove the parchment paper and pie weights and lightly brush the bottom, sides, and edges of the tart with egg wash. Return the tart pan to the oven and bake another 10 minutes, or until golden and nearly fully set. Place the tart pan on a cooling rack. Keep the oven on.

While the crust is baking and cooling, split the pumpkin in half and scrape out the pulpy seeds. Turn the pumpkin halves, cut-side down, on a rimmed baking sheet lined with aluminum foil or parchment paper and bake about 45 minutes, until the flesh is soft to the touch and beginning to implode. (Note: If you bake the pumpkin and tart shell simultaneously, place the pumpkin below the crust.) When the pumpkin is done, let it cool.

Reduce the oven temperature to 350°F (176°C).

Scoop 2 cups of the cooled roasted pumpkin flesh from the pumpkin halves and place it in a large bowl. Using a hand-held mixer on medium speed, blend the pumpkin for 2 minutes until smooth. Add the eggs and brown sugar and blend together, still on medium speed, until fully incorporated, about 1 minute. Add the remaining ingredients and continue to blend until fluffy, aerated, and completely incorporated.

Place a rimmed baking sheet on the center oven rack, pull out the rack slightly, and then place the tart pan on the baking sheet. Carefully pour the custard into the tart crust, filling it no more than 1/4 inch from the top of the tart crust. (Note: If you have a bit of custard left over, pour it into a small oven-proof bowl or ramekin and bake it along with the tart until it's set. It makes a wonderful midnight custard snack!) Bake the tart for 15 minutes. Reduce the heat to 325°F (163°C) and continue to bake for about 30 minutes, until the custard has just set and quivers slightly to the touch. Transfer the tart to a wire rack and let it cool completely. Serve at room temperature or cover and refrigerate for up to overnight before slicing and serving.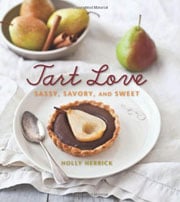 Nutrition
Serving:
1
slice
Calories:
331
kcal
Carbohydrates:
31
g
Protein:
5
g
Fat:
20
g
Saturated Fat:
10
g
Polyunsaturated Fat:
2
g
Monounsaturated Fat:
7
g
Trans Fat:
1
g
Cholesterol:
131
mg
Sodium:
445
mg
Potassium:
177
mg
Fiber:
1
g
Sugar:
17
g
Vitamin A:
581
IU
Vitamin C:
1
mg
Calcium:
65
mg
Iron:
1
mg
Nutrition information is automatically calculated, so should only be used as an approximation.
Recipe © 2011 Holly Herrick. Photo © 2011
Hélène Dujardin
. All rights reserved.
---
Recipe Testers' Reviews
The pie itself was amazing. Now, this is not your normal pumpkin pie taste. At least, not what I was used to. I am not a fan of bourbon, yet a hint of its taste, along with the spice combination and the fresh pumpkin, blended tremendously well. It was less sweet than most other pumpkin pies I have tried before, which I liked. Actually, I think a glass of port to go along with this pie would be a perfect combination. In terms of fresh pumpkin quantity, I forgot to measure the pumpkin prior to cutting it, but I used exactly half of a large pumpkin, so hopefully this will help. Baking is not my strength, so I was really worried about making the crust. But the explanations were very helpful, and I was actually able to make it to perfection.
My in-laws are coming for Thanksgiving and pumpkin pie is their favorite, and they are very hard to make happy. You may have heard the comment before, "If mama ain't happy…" Well, in this family, when Mimi ain't happy, we all suffer. Well, not this year! Thanks to this pie, we are going to have a great holiday. I used a pie pumpkin about the size of a cantaloupe and had plenty to make the pie. If you have not done this before, it is so easy, you will never go back to canned. The bourbon is just enough to compliment the molasses, pumpkin, and spice flavors but not so much that the first thing you think is, "This pie has bourbon." The texture is perfect—light and creamy. I am so excited to have this on Thanksgiving day and see the reactions. Thanks for a great recipe.