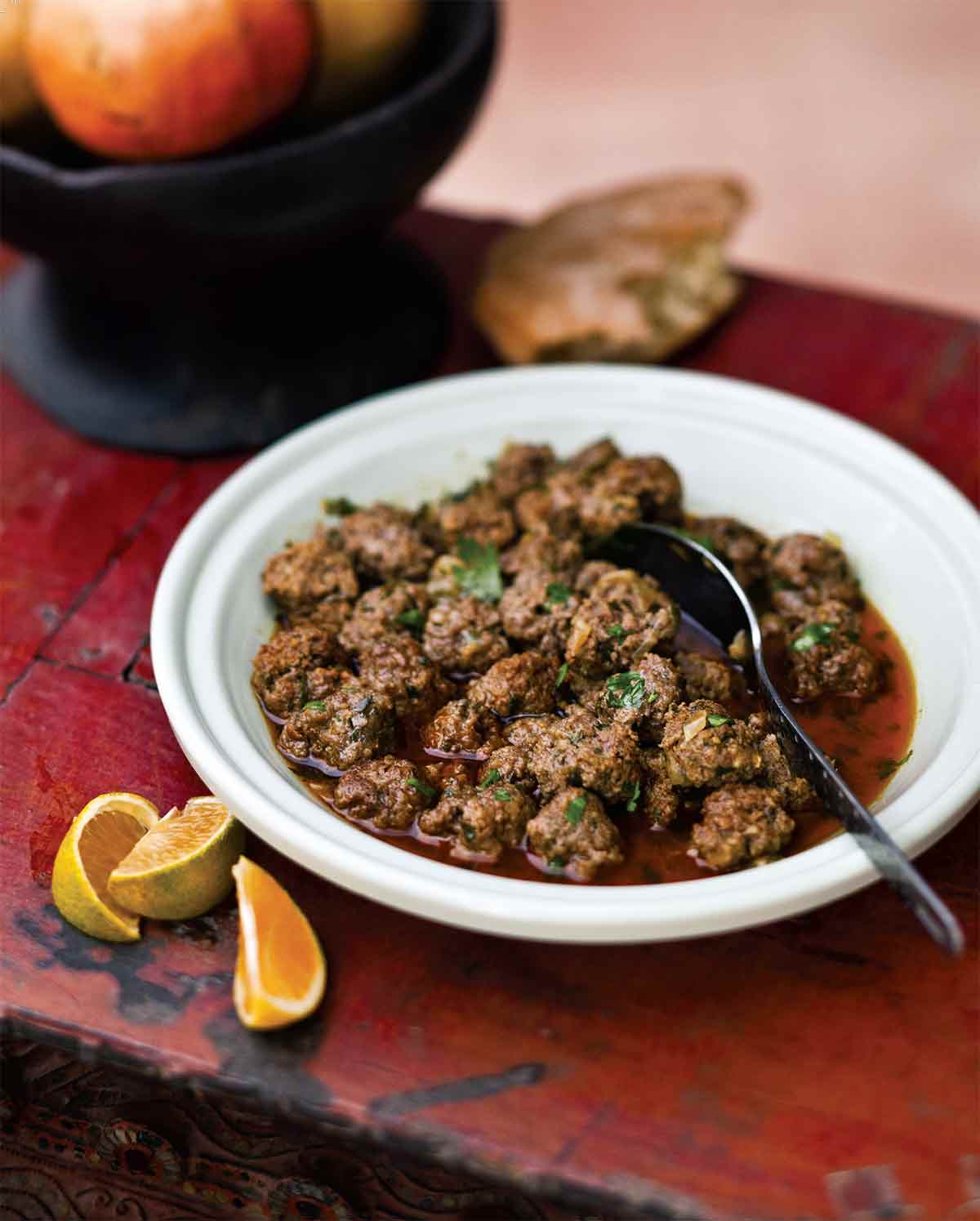 Kefta is the savory spiced ground meat of Morocco, served in meatball form or used as stuffing. Serve the kefta directly from the tagine or pot, with warm slices of toasted bread for mopping up the sauce. In some Moroccan homes where fiery dishes are appreciated, a whole dried red pepper is added to the sauce.–Paula Wolfert
What's so special about the sauce?
Cookbook author and Mediterranean cooking monarch Paula Wolfert does something in this recipe that came as something of a surprise to us. First, she soaks saffron threads in hot water. The elixir, which Wolfert dubs "saffron water," summons more of the spice's aroma and flavor than simply crumbling a few dry strands into a dish, she explains. Given its seeming superpowers, saffron water isn't just a clever cooking technique, it's a savvy spendthrift tactic when you consider the justifiably steep price of a stash of saffron. "In fact," she continues, "I've discovered that if I soak all the ground spices called for in a recipe in a little saffron water before adding them to the dish, their combined flavors are intensified and better distributed." But actually, that wasn't what surprised us. What was new to us was how she keeps a stash of extra saffron water on hand for everyday use. Although she didn't go into detail as to what those uses are, here's how we'd have our way with it:
Use it as part of the liquid when making rice or any rice dish;
Stir it into cream sauces;
Sip it as a warm tonic (saffron is quite the restorative, you know);
Toss it into a vegetable or seafood soup;
Pour it into that roasting pan when you deglaze it;
Dump over partially cooked sliced carrots and allow it to reduce down to a glaze with a dribble of honey;
Whisk into a vinaigrette (bet a lemon and honey vinaigrette would be just lovely with this);
Turn it into a hot toddy with a splash of brandy or bourbon or….
Moroccan Meatballs ~ Kefta Tagine
These Moroccan meatballs, or kefta tagine, are made with spiced ground beef or lamb, and bathed with a buttery saffron-cilantro sauce.
Ingredients
For the saffron water (you will only need to use 1/4 of this in the recipe; see the LC Note above for other uses)
1/2

teaspoon

crumbled saffron strands

1

cup

hot water
For the kefta
1

pound

lean ground lamb or beef

3

tablespoons

crème fraîche or grated beef suet

2

teaspoons

sweet paprika

1

teaspoon

ground cumin

,

preferably Moroccan

1

teaspoon

ground coriander

3/4

teaspoon

ground cinnamon,

preferably Ceylon

1/4

teaspoon

grated nutmeg

1/4

teaspoon

cayenne

Salt and freshly ground black pepper

2

tablespoons

roughly chopped flat-leaf parsley

2

tablespoons

roughly chopped cilantro
For the sauce
1

medium

red onion

,

grated

2

tablespoons (1 oz)

unsalted butter

1/4

cup

saffron water

1

teaspoon

sweet paprika

1/2

teaspoon

ground cumin

,

preferably Moroccan

1/4

teaspoon

ground ginger

1/4

teaspoon

freshly ground black pepper

,

or to taste

2 to 3

pinches

cayenne

Pinch

of ground turmeric

1/2

teaspoon

salt

,

or to taste

1

cup

roughly chopped cilantro

1/2

cup

hot water

2

tablespoons

fresh lemon juice
Instructions
Make the saffron water
Toast the saffron strands in a warm, but not hot, skillet for just a minute or so. Crush again.

Soak the crushed, toasted saffron strands in the hot water and store in a small jar in the refrigerator for up to a week. Pour out 1/4 cup saffron water for use in this recipe and reserve the remaining 3/4 cup for another use (see LC Note above). For longer storage of the saffron water, quadruple the recipe quantities above, pour the saffron water into a plastic ice cube tray, and freeze into cubes. Once they are frozen, shake out the cubes and store in a freezer bag. Each cube will be equivalent to 2 tablespoons saffron water or a good pinch of dried saffron threads.
Make the kefta
Combine the ground lamb or beef, crème fraîche or beef suet, paprika, cumin, coriander, cinnamon, nutmeg, cayenne, salt and pepper, parsley and cilantro in a food processor and blend until a paste forms. Transfer to a bowl, cover, and refrigerate for at least 30 minute or until ready to cook.

Shape the meat mixture into 24 olive-size balls and place on a plate. If you think you may not have seasoned the meatballs sufficiently with salt and pepper, pinch off a tiny bit of a meatball, sizzle it up in a skillet, and taste it. Season the meat mixture accordingly.
Make the sauce
Place an 11- or 12-inch tagine or cazuela or Dutch oven on a heat diffuser, if you have one, over medium-low heat. Add the grated onion, butter, saffron water, spices, salt, 3/4 cup of the cilantro, and hot water.

Slowly raise the heat and bring to a boil, then reduce the heat to medium-low, cover, and simmer gently to blend the flavors, about 10 minutes.

Add the kefta, or meatballs, to the sauce and poach, covered, for 30 minutes, turning them midway through the cooking.

Add the lemon juice to the sauce. Taste and correct the seasoning with salt and pepper. Transfer the hot pot to a wooden surface or a folded towel placed on a serving plate and garnish with the remaining 1/4 cup cilantro.

Spoon the kefta and sauce directly from the pot onto plates, with warm slices of toasted bread for mopping up the sauce.
Nutrition
Serving:
1
portion
Calories:
372
kcal
Carbohydrates:
6
g
Protein:
24
g
Fat:
28
g
Saturated Fat:
14
g
Polyunsaturated Fat:
1
g
Monounsaturated Fat:
10
g
Trans Fat:
1
g
Cholesterol:
96
mg
Sodium:
388
mg
Potassium:
521
mg
Fiber:
2
g
Sugar:
2
g
Vitamin A:
1638
IU
Vitamin C:
9
mg
Calcium:
50
mg
Iron:
4
mg
Nutrition information is automatically calculated, so should only be used as an approximation.
Recipe © 2011 Paula Wolfert. Photo © 2011 Quentin Bacon. All rights reserved.
---