It's best to cook the potato gnocchi as soon as you've made them. If you don't want to eat them right away, the gnocchi can be cooked and then frozen in individual serving size plastic bags. Do not thaw before cooking.–The Silver Spoon Kitchen
LC Gnocchi Note
We don't know all there is to Italian cooking, but we do know where to turn when we're not certain and there's no nonna around: The Silver Spoon. It's yet to disappoint. Take these pillowy little poufs of potato-y perfection—gnocchi. We think you, too, will be quite far from disappointed.
Potato Gnocchi
Quick Glance
25 M
1 H

Serves 6 to 8
Print Recipe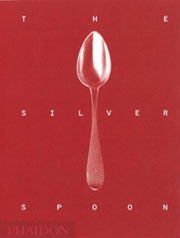 Ingredients
2 1/4 pounds potatoes, preferably russets, peeled and cut into 1 1/2-inch chunks

1 to 1 3/4 cups all-purpose flour, plus more for dusting

1 large egg, beaten

Salt, to taste

Butter, melted, or a simple tomato sauce
Directions
1. Set up a steamer over boiling water. Steam the potatoes until tender, about 25 minutes. While the potatoes are still hot, mash them with a potato masher or press them through a potato ricer and return them to the empty pot, turn them into a large bowl, or plop them on a clean work surface.

2. Dump 1 cup flour, egg, and a pinch salt into the potato mixture. Knead the mixture until a soft, smooth, elastic dough forms, adding just enough of the remaining 3/4 cup flour to keep the dough from sticking. (Be careful with the ratio of potato to flour: If there is too much flour, the gnocchi will be hard; if there is too much potato, the gnocchi will tend to fall apart while cooking.) Taste a little dough to make sure there's enough salt. If not, work in a little more salt with your hands.

3. Shape the dough into about 6 long ropes, each just over 2/3 inch in diameter. Cut each roll into 1/2- to 3/4-inch lengths. Using the floured thumb of 1 hand, press each length to make a dimple in the center, then, if desired, gently roll it against the face of a fine grater to imprint the pattern on the underside. (Alternatively, hold a fork at a 45° angle with the curved side facing you and the tips of the tines touching your work surface. Working with 1 length at a time, roll it down the back side of the tines, pressing gently with your thumb, to make ridges on 1 side. The gnocchi may curl slightly but that's okay.) Place the gnocchi in a single layer on a clean dish towel dusted with flour or a baking sheet lined with wax or parchment paper. (You can freeze the gnocchi in individual-serving-size plastic bags. Do not thaw the gnocchi before cooking.)

4. To cook the gnocchi, bring a large pot of slightly salted water to a boil. Add the gnocchi to the water, a few at a time, and cook until they float to the surface. Do not overcook the gnocchi or they'll fall apart. Use a slotted spoon to remove the gnocchi as soon as they rise to the surface, allowing any excess water to fall back into the pot. Transfer the gnocchi to a warm serving dish or platter and add the butter or sauce. Serve immediately.
Potato Gnocchi Recipe © 2011 The Silver Spoon Kitchen. Photo © 2011 Edward Park. All rights reserved. All recipes and photos used with permission of the publisher.
If you make this recipe, snap a photo and hashtag it #LeitesCulinaria. We'd love to see your creations on Instagram, Facebook, and Twitter.