This barbecue beef brisket recipe–made with brisket, barbecue sauce, and a coffee and chile rub–is true Texas-style brisket.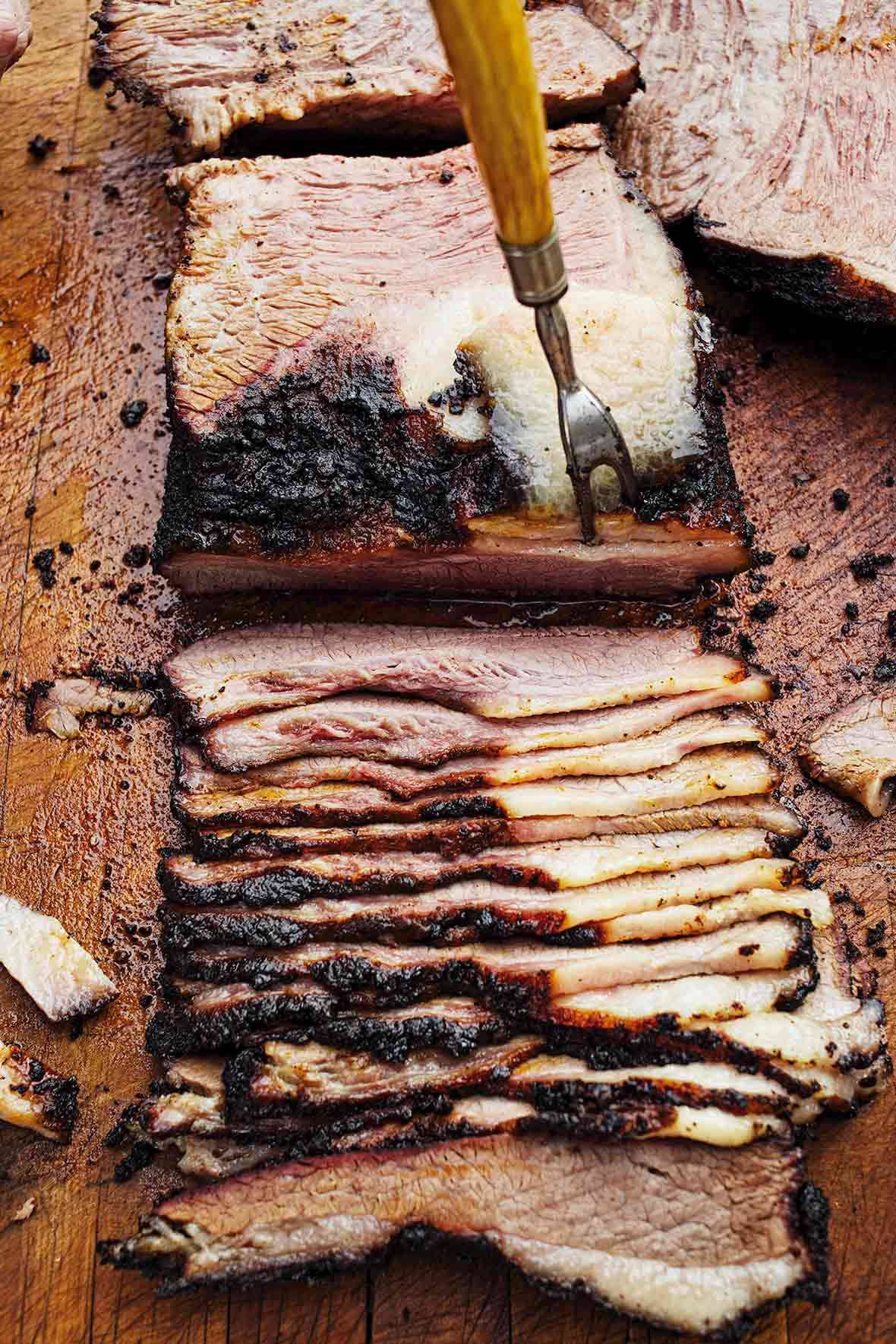 Meat. Fire. Smoke. Behold, the BBQ beef brisket basics. It's been that way since humans first put meat to heat. And this incarnation, with its just-right spice rub, certainly makes it all seem as God intended. Originally published August 28, 2013.–Renee Schettler Rossi
Barbecue Beef Brisket
Quick Glance
30 M
16 H

Serves 12 to 16
Special Equipment: Smoker
Ingredients
Email Grocery List
For the coffee rub

1/3 cup finely ground dark roast coffee

1/3 cup dark chile powder (meaning ground dark chiles, such as ancho)

1/3 cup smoked paprika

1/2 cup kosher salt

2/3 cup packed dark brown sugar

3 tablespoons granulated sugar

2 tablespoons granulated garlic

1 tablespoon ground cumin

1 teaspoon cayenne pepper

For the BBQ beef brisket

One (12-pound) whole beef brisket

For the barbecue sauce

2 cups ketchup

2 cups diced tomatoes

1 tablespoon store-bought or homemade tomato paste

1 1/3 cups distilled white vinegar

5 tablespoons Dijon mustard

4 teaspoons granulated garlic

4 teaspoons kosher salt

2 teaspoons black peppercorns, crushed

1 cup plus 2 tablespoons packed dark brown or light brown sugar

1 1/3 cups cold water

2/3 cup molasses
Directions
Make the coffee rub

1. I encourage rolling up your sleeves and using your hands to mix these spices—it helps to capture a feeling of nostalgia for cooking. Mix all the ingredients in a medium bowl, using your hands to break up any clumps. Do not refrigerate. Store in an airtight container in a cool, dry place, such as your cupboard.

Make the BBQ beef brisket

2. Pat the brisket dry with a towel to remove any moisture. Generously rub the brisket with 1 cup coffee rub, massaging the spice mixture into the meat. Repeat with 1 more cup rub. The rub will soak up the liquid from the beef and form a crust. Place the meat on a large plate, cover with plastic wrap, and refrigerate for at least 2 hours.

3. Prepare a smoker for hot smoking by building a fire and maintaining the coal bed in order for the enclosed cooker to reach a steady temperature for 45 minutes or so, kind of like preheating an oven. Every hour or so of cooking, you need to tend your fire, adding wood and adjusting the coals so it will smolder and continue to smoke. It's a good idea to add a drip pan positioned below the meat to prevent flare-ups, as well as a water pan on the grate alongside the meat to ensure the meat doesn't dry out too much.

4. Place the brisket on the center rack of the smoker and smoke for 12 hours. This is slow cooking at its easiest—there's no need to check the meat at intervals, though you may need to tend the fire. [The standard cooking time for brisket is 1 hour per pound, smoked fat side up, under indirect heat at a steady temperature of 225°F (107°C). The author recommends going for 12 hours, though, no matter the size of the brisket.]

5. After 12 hours, use a meat thermometer to check for an internal temperature of 185°F (85°C) in the thickest side of the brisket. Once that temperature is reached, open the door of the smoker and let the meat rest for 30 minutes. This resting period allows the juices to settle. The internal temperature will continue to rise to 190°F (88°C).

Make the barbecue sauce

6. While the meat rests, combine the ketchup, tomatoes, tomato paste, vinegar, mustard, granulated garlic, salt, pepper, brown sugar, and water in a large stock pot over medium heat. Simmer for 20 minutes, stirring, until the sauce thickens slightly. Whisk in the molasses last (it will burn if added too early) and blend with an immersion blender until smooth. Season to taste.

7. Transfer the rested BBQ beef brisket to a cutting board, fatty-side up with the wide, taller end to your left. The fully rested meat will have a distinct crust and will be tender and juicy inside. There should be a pink smoke ring beneath the crust. To carve, slice off the top or cap, which is full of most of the fatty, sinuous tissue, and reserve it for chopping. Now that the BBQ beef brisket is an even thickness, remove 2 1/2 inches from the left side, slicing at a 45° angle down and to the left. Next, remove 1 inch from the right side of the brisket in the same way. Reserve these 2 end pieces (often called the "burnt ends") for chopping if you like. Burnt ends are fully charred and tasty, and many feel this is some of the best meat.

8. Slice the remaining center portion of the BBQ beef brisket into 1/4-inch-thick slices. Roughly chop the cap crosswise and lengthwise into 1/4- to 1/2-inch chunks. You can chop the 2 end portions with the cap, if you like.

9. Serve the sliced BBQ beef brisket immediately and pass the sauce on the side. If desired, serve the chopped meat immediately as well. [Editor's Note: The author prefers to save the chopped meat for later, when you can season it with some of the leftover coffee rub and a splash of barbecue sauce. We say dig in whenever you wish.]
Recipe Testers Reviews
Barbecue Beef Brisket Recipe © 2013 Tim Byres. Photo © 2013 Jody Horton. All rights reserved. All materials used with permission.
If you make this recipe, snap a photo and hashtag it #LeitesCulinaria. We'd love to see your creations on Instagram, Facebook, and Twitter.