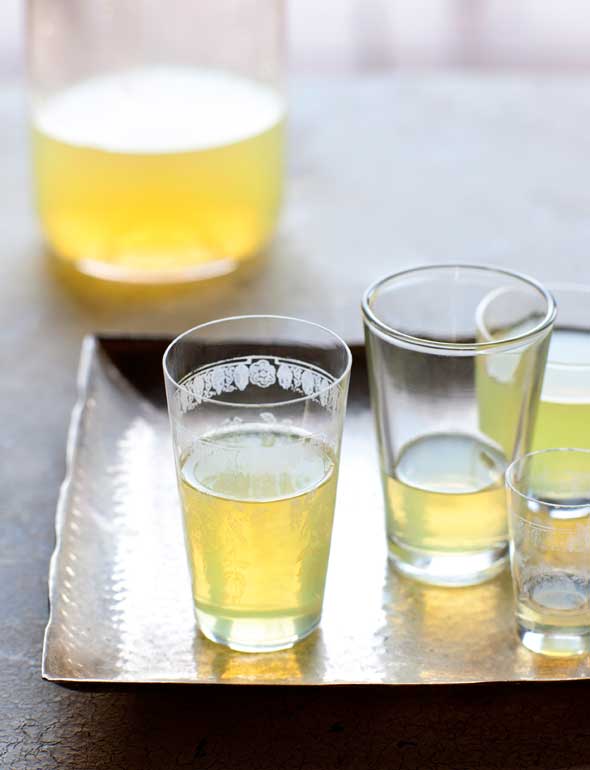 Limoncello is made in homes all over Southern Italy, where lemon trees grow in abundance. Less familiar outside Southern Italy is rosolio di limone, a digestivo, or after-dinner drink. Both rosolio and limoncello are served cold; once you've opened a bottle, store it in the refrigerator or freezer. The alcohol will prevent it from freezing solid. Here in California, I use Meyer lemons from my garden, but you can use any variety. Look for lemons that haven't been sprayed or waxed, the fresher the better.–Rosetta Costantino and Jennie Schacht
LC Lousy With Limoncello Note
As one of our recipe testers noted, until now, we'd always dispensed our limoncello in stingy pours so as not to demolish our precious stash too quickly. But knowing we can make our own changes that. Given that it's made with 151-proof hooch, we're not so certain that's a good thing. Gulp.
Limoncello ~ Lemon Liqueur
Ingredients
2

pounds

lemons (about 8)

preferably organic

One

(26-ounce) bottle

151-proof neutral grain spirits

such as Everclear or vodka

2

cups

granulated sugar

4

cups

cold water
Directions
Remove the zest from the lemons in wide strips with a vegetable peeler, taking only the yellow part and carefully avoiding even the slightest bit of underlying white pith, which would turn the limoncello bitter. Reserve the zested lemons for another use.

Pour the alcohol into a clean quart (1-liter) jar with a tight-fitting lid, such as a European-style canning jar with a rubber gasket and clamp lid. Add the lemon zest, close the jar, and let it steep in a cool, dark place, such as a pantry or cellar, for 1 week.

After the alcohol has steeped for 1 week, stir the sugar and water together in a large saucepan over low heat until the sugar dissolves completely. The mixture should be clear. Remove from the heat and let cool completely. (Do not be tempted to rush into the next step; if the sugar syrup is not completely cool, your limoncello will be cloudy.)

Remove the lemon zest from the alcohol and discard. Pour the infused alcohol into the sugar syrup and stir to combine. Pour the mixture through a fine-mesh strainer lined with cheesecloth, then decant the limoncello into clean bottles and seal with a cork or lid of some sort.

Let the limoncello mature for 15 days in a cool, dark place, then refrigerate. Serve chilled.
Notes
Limoncello ~ Lemon Liqueur Variation
Rosolio Di Limone
For a sweeter, less puckier (oh, you know what we mean) version of limoncello called rosolio di limone, follow the instructions above, but instead use 6 cups water and 4 cups (800 g) sugar in place of the stated 4 cups water and 2 cups sugar. Let the liqueur sit for the same amount of time.
Originally published January 07, 2014
Recipe © 2013 Rosetta Costantino and Jennie Schacht. Photo © 2013
Sara Remington
. All rights reserved. All materials used with permission.
If you make this recipe, snap a photo and hashtag it #LeitesCulinaria. We'd love to see your creations on Instagram, Facebook, and Twitter.