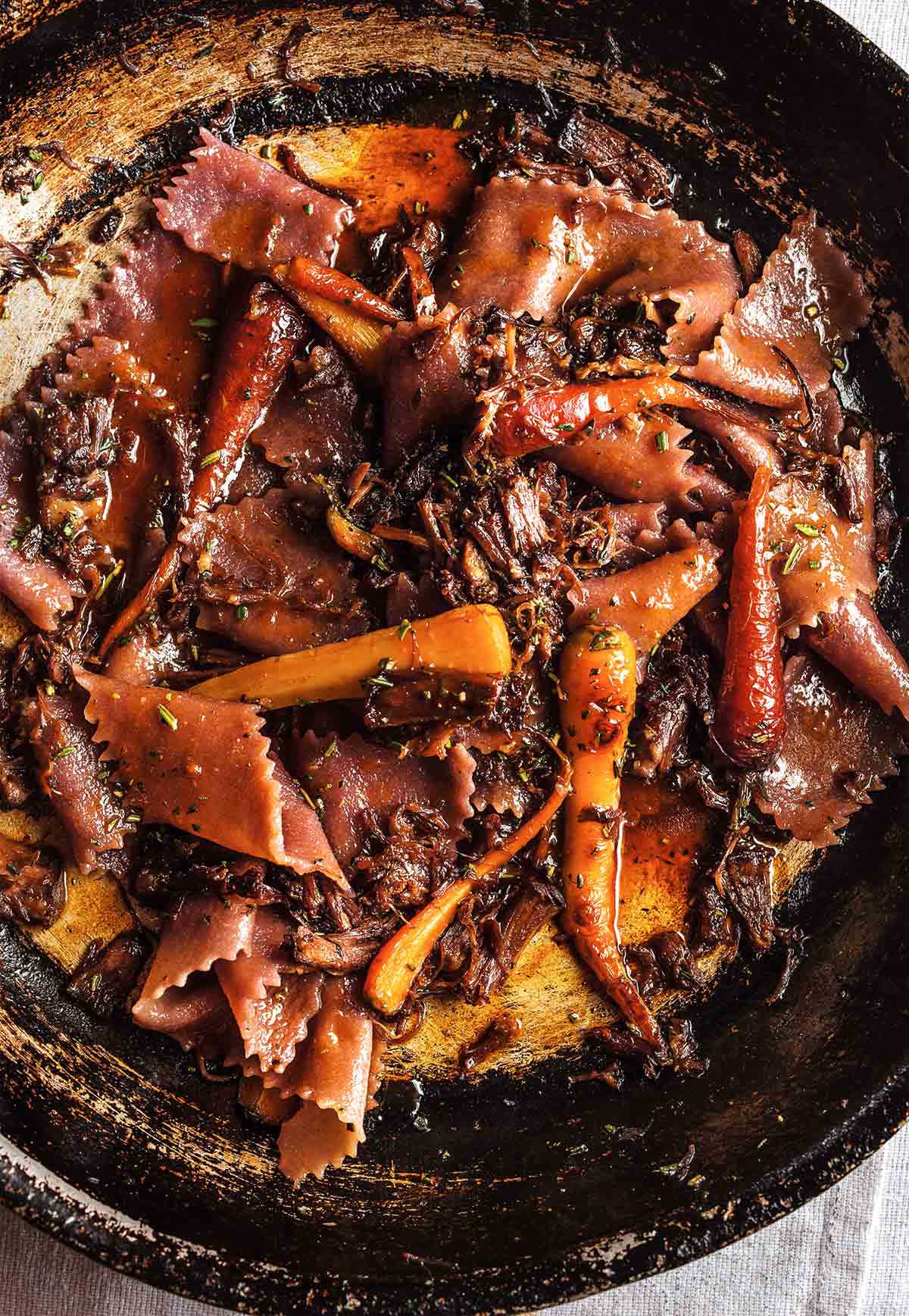 "When I was growing up, my mom made the best pot roast with potatoes and carrots," says Andy Ticer, coauthor of the book in which this recipe was found. "This recipe is an homage to that memorable dish." We've all got memories similar to his, walking into the house from playing football or some such tomfoolery outside in the cold, the aroma of braised beef enveloping and enticing us the moment we stuck our head in the back door. Though I assure you, while our memories may be largely the same, with all due respect to your mom's cooking, we're confident her go-to recipe for beef stew falls waaaaaaay short of this braised beef with its magnificent melding of beef, wine, and pasta. No contest.–David Leite
How to save yourself some carbs
As one of our astute recipe testers noted upon making this recipe, depending on your penchant for pasta and how much you put on the plate,, this dish has the potential to either be braised beef resting on a modest tangle of noodles or an epic platter of pasta with a dab of daube. We suggest going halfsies on the carbs, using only half a batch of the lovely hued homemade red wine pasta, so you end up with less pasta, more an equitable balance of starchy and savory. That also leaves you with additional pasta for another night.
Braised Beef with Red Wine Pasta
This braised beef with red wine pasta is versatile. You can use oxtails, short ribs, or stew meat to make the ragú. And the homemade red wine pasta? You have to experience it to truly understand its loveliness…though you could swap in store-bought pasta instead. The beef ragu is even better the next day.
Ingredients
3 to 4

large, meaty

oxtails or bone-in short ribs or 2 pounds (910 g) boneless beef stew meat,

cut into 2-inch (5-cm) pieces

Kosher salt and freshly ground black pepper,

to taste

1/4

cup

olive oil

3

stalks

celery

,

chopped

1

yellow onion

,

chopped

1

carrot

,

chopped

1

small head

garlic

,

unpeeled, halved crosswise

1

tablespoon

store-bought or homemade tomato paste

3

cups

dry red wine

1

bunch

thyme

1

bunch

flat-leaf parsley

1

sprig

rosemary

2

dried bay leaves

1

tablespoon

black peppercorns

1

cup

demi-glace (store-bought or homemade; see How To Make Cheater's Demi-Glace below)

Semolina flour

,

for dusting

1/4

cup

olive oil

12

baby carrots

,

(not those blobs labeled "baby carrots" but actual young, slender carrots), blanched and halved lengthwise

1

cup

mixed minced thyme, rosemary, and flat-leaf parsley leaves

1

cup

dry red wine

1/2

recipe

Homemade Red Wine Pasta

Freshly grated Parmigiano-Reggiano cheese

,

for serving
Instructions
Preheat the oven to 300°F (150°C).

Season the meat with salt and pepper. In a large Dutch oven, warm the olive oil over medium-high heat. Add the meat and sear, turning once, until browned, about 5 minutes per side. Transfer the meat to a plate.

Add the celery, onion, carrot, and garlic to the oil and beef drippings in the Dutch oven and sauté until the vegetables are softened and lightly browned, about 10 minutes. Add the tomato paste and cook, stirring often, for about 5 minutes.

Add the wine, stir to scrape up the brown bits on the bottom of the pan, and cook until the wine is nearly evaporated, about 10 minutes.

Add the meat, thyme, parsley, rosemary, bay leaves, peppercorns, demi-glace, and enough water to almost cover the meat. Cover, place in the oven, and braise for 1 1/2 hours.

Uncover the pot, rotate it 180°, and continue to braise until the meat is fork-tender and nearly falls off the bone, about 1 hour more.

Using tongs, transfer the meat from the pot to a cutting board and set aside until cool enough to handle. Return the pot to the stovetop and simmer over medium heat until the liquid is reduced by half.

Meanwhile, pull all of the meat from the bones, if not using stew meat, and shred it. Discard the bones and any gristle. Strain the braising liquid through a fine-mesh sieve and discard the solids.

Warm a large skillet over high heat and add the olive oil. When the oil is hot, add the carrots and sauté until slightly charred, about 3 minutes. Add the reserved meat, chopped fresh herbs, and wine and cook until the wine has nearly evaporated. Add the reduced braising liquid and simmer until the mixture has a nice sauce-like consistency.

Season with salt and pepper to taste. Add the pasta to the sauce. Cook, gently stirring, until the pasta is al dente and well coated with the sauce, about 3 minutes. If the sauce is too thick, add a little pasta cooking water to thin it.

Divvy the red wine pasta, meat, and vegetables among warmed plates. Top each portion with the Parmigiano-Reggiano or pass it at the table.
Notes
How To Make Cheater's Demi-Glace
If you just can't bring yourself to pay for a wee container of demi-glace, or just can't bear to leave the house and run to the store for just that one ingredient, the authors have a solution. It's this cheater's demi-glace, which is essentially just reduced beef stock. It'll work fine in this recipe, though kindly note, it's not a fail-safe substitute for demi-glace in other situations.
Pour 4 cups chilled homemade stock into a stock pot and skim any fat from the surface. Bring to a boil over high heat. Reduce the heat to low and simmer, uncovered and skimming as necessary, until the stock is reduced by half, 1 to 2 hours. Strain the stock and then pour it into a saucepan. Repeat the simmering process, reducing the stock until it is reduced by half again to about 1 cup and/or has a rich, meaty flavor, about 1 hour. (You can cover and refrigerate the pseudo demi-glace for up to a week or freeze it for up to 3 months. If you choose to freeze it, for ease of thawing and using, we suggest measuring it into 1- to 2-tablespoon portions, dumping them into ice cube trays, and then, when frozen, turning them into a resealable plastic bag. Don't forget to label the bag, natch.)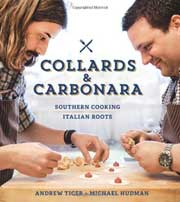 Nutrition
Serving:
1
portion
Calories:
709
kcal
Carbohydrates:
34
g
Protein:
26
g
Fat:
40
g
Saturated Fat:
10
g
Polyunsaturated Fat:
4
g
Monounsaturated Fat:
23
g
Cholesterol:
65
mg
Sodium:
374
mg
Potassium:
837
mg
Fiber:
5
g
Sugar:
3
g
Vitamin A:
5807
IU
Vitamin C:
31
mg
Calcium:
107
mg
Iron:
6
mg
Nutrition information is automatically calculated, so should only be used as an approximation.
Recipe © 2013 Andrew Ticer | Michael Hudman. Photo © 2013 Ed Anderson. All rights reserved.
---