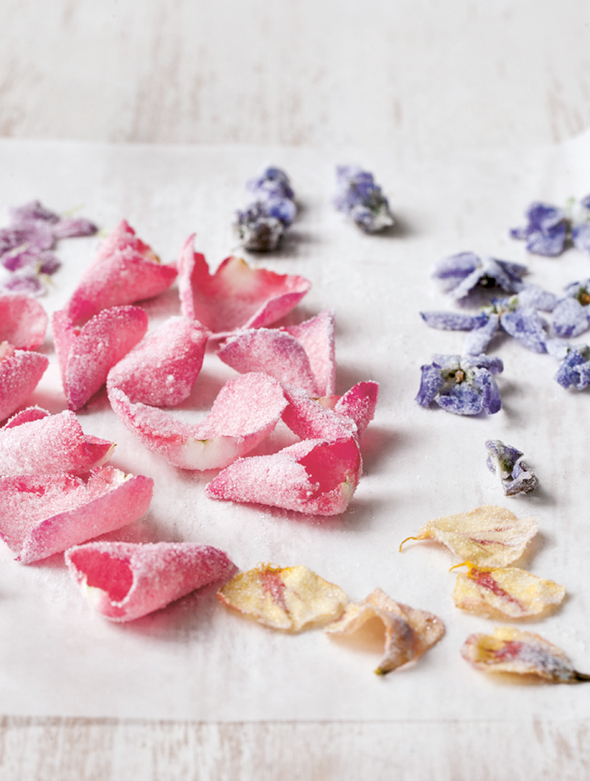 Many of you have probably eaten edible flowers without even realizing it. [Editor's Note: Well, you'd probably realize you were eating something as stunning as these crystallized flowers.] There are many edible flowers that can be included in your cooking or used to garnish or decorate. The most popular would probably be globe artichokes, which are an edible flower bud in the thistle family. Or zucchini (courgette) flowers. Other edible buds include cloves, the spice used to scent desserts and curries, and rosella, an Australian native hibiscus commonly seen in syrups which can be added to a glass of Champagne to turn the bubbles into an even greater celebration. For salads, try popping in some nasturtium flowers or English marigold (Calendula officinalis), which should not be confused with French marigold (Tagetes patula) which is poisonous. Chive flowers also make a pretty addition. For cakes and sweets, borage flowers, violets, roses, pineapple sage, rosemary, lavender, and dianthus are all suitable for decorating and even flavoring.–Meredith Kirton and Mandy Sinclair
LC How Does Your Garden Grow? Note
A few more words from the author for those home gardeners (or aspiring home gardeners) regarding growing these petite pretties yourself. "Flowers like these are lovely grown in the kitchen garden for a decorative effect among your edibles. They like full sun and free-draining soil and, for best results, trim any faded flowers and feed with a complete plant food every 12 weeks or so. Flowers are best eaten or crystallized immediately after being picked." There you have it. Can't you just imagine these little lovelies strewn across a coconut layer cake or a chocolate tart?!
Raw Egg Caution
As with any recipe that relies on raw eggs, these crystallized flowers should be avoided by pregnant women, the very young, the elderly, the ill, and those with compromised immune systems. Here's more useful egg safety information.
Crystallized Flowers
Quick Glance
1 H
1 H

Servings vary
Special Equipment: A small, clean, new paintbrush
Print Recipe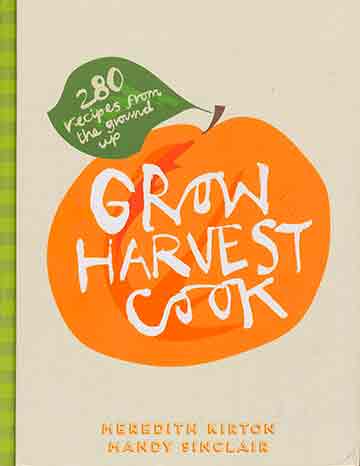 Ingredients
1 large egg white

1/4 teaspoon cold water

Edible flowers (such as borage flowers, chive flowers, violets, roses, pineapple sage, nasturtiums, rosemary, lavender, and dianthus)

Superfine sugar (or just blitz granulated sugar in a blender until finely ground but not powdery), for dusting
Directions
1. Line a wire rack with parchment paper.

2. Whisk together the egg white and water until just foamy. Holding a flower by the stem or stem end in one hand and the new, small, clean paintbrush in the other hand, gently brush the flower all over with the egg white mixture. (Be certain to lightly coat each speck of each flower or the uncoated bloom will wilt and wither.) Carefully sprinkle the sugar evenly over both sides of the flower. Place on the paper-lined rack and repeat with the remaining flowers.

3. Set the flowers aside at cool, dry room temperature for 12 to 36 hours, or until dried. Strew the crystallized flowers over cakes and other desserts and get ready for some oohs and aahs. (You can store the flowers in a single layer in an airtight container for up to several months if kept in a cool, dry climate.)
T-Shirt Variation: Candied Raisins
One of our recipe testers discovered something brilliant when she had a little egg white mixture left over after painting flowers. Loath to waste food, she decided to try to recreate the beloved sugared raisins found in Kellogg's Raisin Bran following the instructions above exactly but using raisins in place of flowers. It worked spectacularly well.
Crystallized Flowers Recipe © 2014 Meredith Kirton and Mandy Sinclair. Photo © 2014 Sue Stubbs. All rights reserved. All recipes and photos used with permission of the publisher.
If you make this recipe, snap a photo and hashtag it #LeitesCulinaria. We'd love to see your creations on Instagram, Facebook, and Twitter.