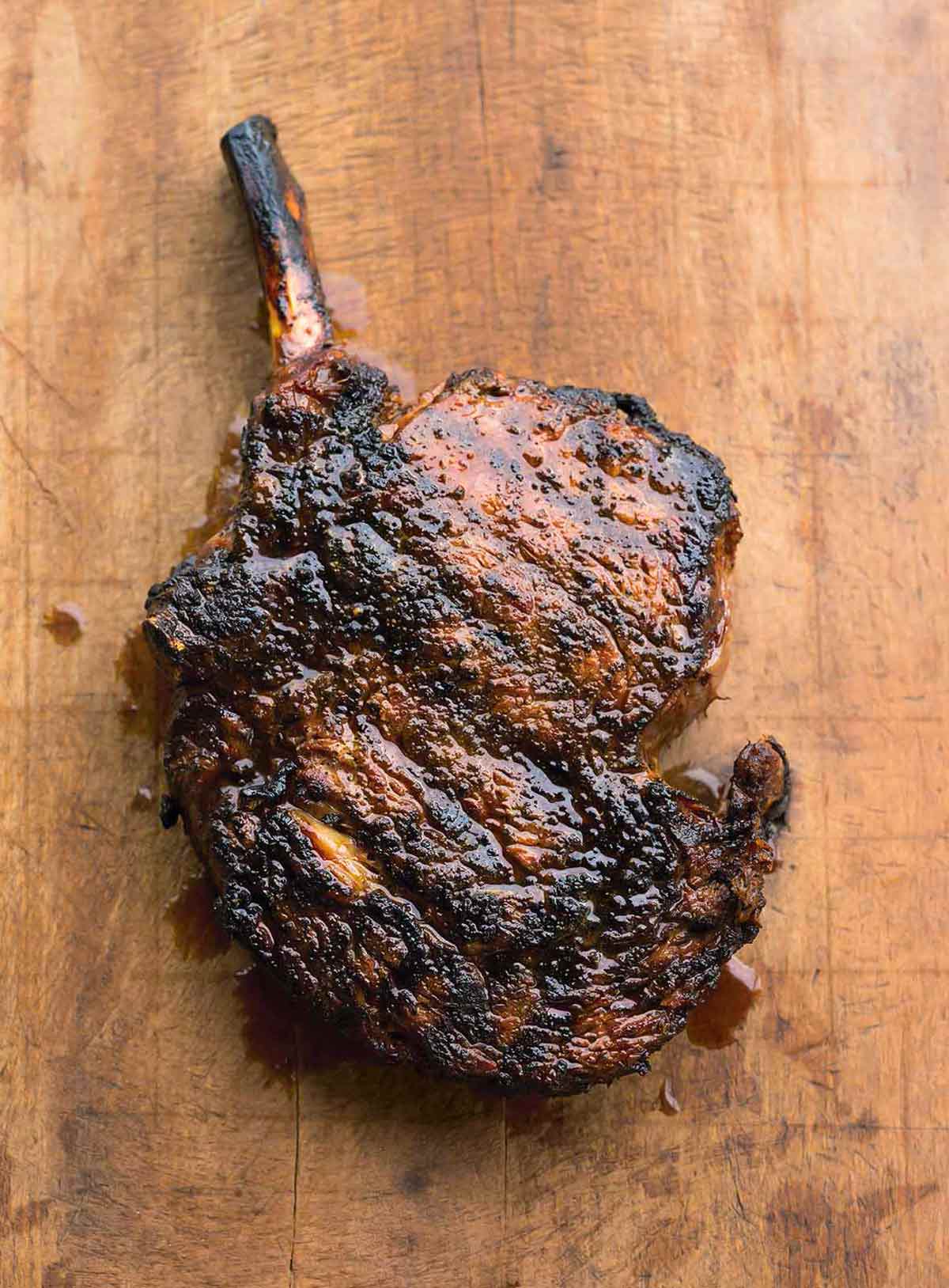 Cowboy steak? Yes, it's a thing. It's a glorious thing, actually, especially when rubbed with ground coffee and chile, tossed on the grill, and cooked to perfection. Imagine how guests will size up your grilling prowess after you slap this baby on the table. And to learn more about this thing called "cowboy steak," see the "What You Need To Know" note below the recipe.–Renee Schettler Rossi
Cowboy Steak with Coffee Rub
This cowboy steak is essentially a grilled ribeye that benefits from a truly exceptional and simple spice rub made with ground coffee and tossed on the grill. One of our most favorite steak recipes.
Equipment
Hickory, oak, or mesquite wood chips, soaked in water for at least 30 minutes
Instructions
Preheat a charcoal grill to 500°F (260°C). Prepare it for indirect grilling by situating the coals on only one side of the grill, leaving the other side empty. A little before you're ready to grill, toss the wood on the coals.

Season the steaks liberally with the coffee rub, rubbing it on both sides.

Place the steaks directly over the heat and grill for 4 1/2 minutes on each side. If you prefer your steak rare, they'll be perfectly done at this point.If you prefer your steak medium-rare, after cooking on each side for 4 1/2 minutes, move the steaks over indirect heat, away from the coals, close the grill lid, and cook for 2 more minutes. If you prefer your steak medium, do as you would for medium-rare, but then flip the steak, close the grill lid, and cook for 2 more minutes.

Let the steaks rest on a cutting board for at least 10 minutes prior to serving to guests. Use your most gracious thank you when accolades come your way.

Humbleness optional.
Notes
What You Need To Know About Cowboy Steak
What is a cowboy steak? It's essentially a rib eye steak with a slight modification.
The author of this explains that "a cowboy-style rib eye is created by cutting between the bones of a rib eye roast. It differs from a standard rib eye because the bone is left on the steak and not trimmed. It's 1 1/4 inches thick and more often considered steak for two.
When it comes to cooking extra-thick steaks, oftentimes the outside of the meat gets perfectly charred while the inside remains underdone. This is why it's important to build a two-zone fire when cooking steaks. When they are perfect on the outside, shift them away from the coals and shut the grill lid. This little maneuver will protect the exterior while allowing the inside of the meat to cook to perfection."
There you have it. Cowboy steak.
Nutrition
Serving:
1
serving
Calories:
485
kcal
Protein:
46
g
Fat:
32
g
Saturated Fat:
14
g
Polyunsaturated Fat:
2
g
Monounsaturated Fat:
15
g
Cholesterol:
138
mg
Sodium:
1660
mg
Potassium:
652
mg
Fiber:
1
g
Sugar:
2
g
Vitamin A:
57
IU
Vitamin C:
1
mg
Calcium:
25
mg
Iron:
4
mg
Nutrition information is automatically calculated, so should only be used as an approximation.
Recipe © 2014 Chris Lilly. Photo © 2014 Ben Fink. All rights reserved.
---
Recipe Testers' Reviews
I have never given a "10" to a recipe I've tested, but this cowboy steak with coffee rub gets a 10! Everyone commented at every single bite, "WOW, this is great!' and "I can't wait to have this again." The coffee rub provided excellent heat but in no way too much heat. And it seemed to bring out hidden natural flavors in the steak that other rubs have failed to uncover. It was an excellent blend of salty, savory, and spicy. The flavor of the rub didn't dominate the flavor of the steak; it just enhanced it.
The rub took just a few minutes to put together and seconds to apply to the steaks. It adhered well to the meat. The cooking technique does exactly as the recipe promises, providing a perfect sear on the exterior but allowing the interior to come to perfect doneness without overcooking the outside. The direct heat to indirect heat method is key. Keeping the bone end of the steak closer to the source of heat is ideal for providing even cooking since this area can take a little longer to cook.
I would not change one tiny little thing about this recipe. It is perfection as written! We even had someone at the table who does not like coffee but loved the rub.
P.S. We served a group of 27 tonight with this as the main course and all the guests loved the rub and wanted the recipe. I should note that if you are like my family and use a Keurig coffee maker, one coffee pod provides enough coffee for the recipe. I just peeled off the foil top and measured out what was needed—worked great.
I've made this cowboy steak with coffee rub twice and the results were fantastic both times. I will definitely keep this as a go-to spice rub for steak or chops.
I let the steaks to sit out for about 40 minutes, coated them with the rub, and let them sit for 20 minutes more. I've never really used the two-temperature grilling technique quite as successfully as with this recipe, but it sure works to create a beautifully medium-rare steak. I cooked them 3 minutes on each side, turned 90° at the 2-minute mark to make the hatch grill marks on the top side of the steak. After I flipped them and cooked the second side, I moved them to the "cool" side of the grill and let them finish. The results were fantastic.