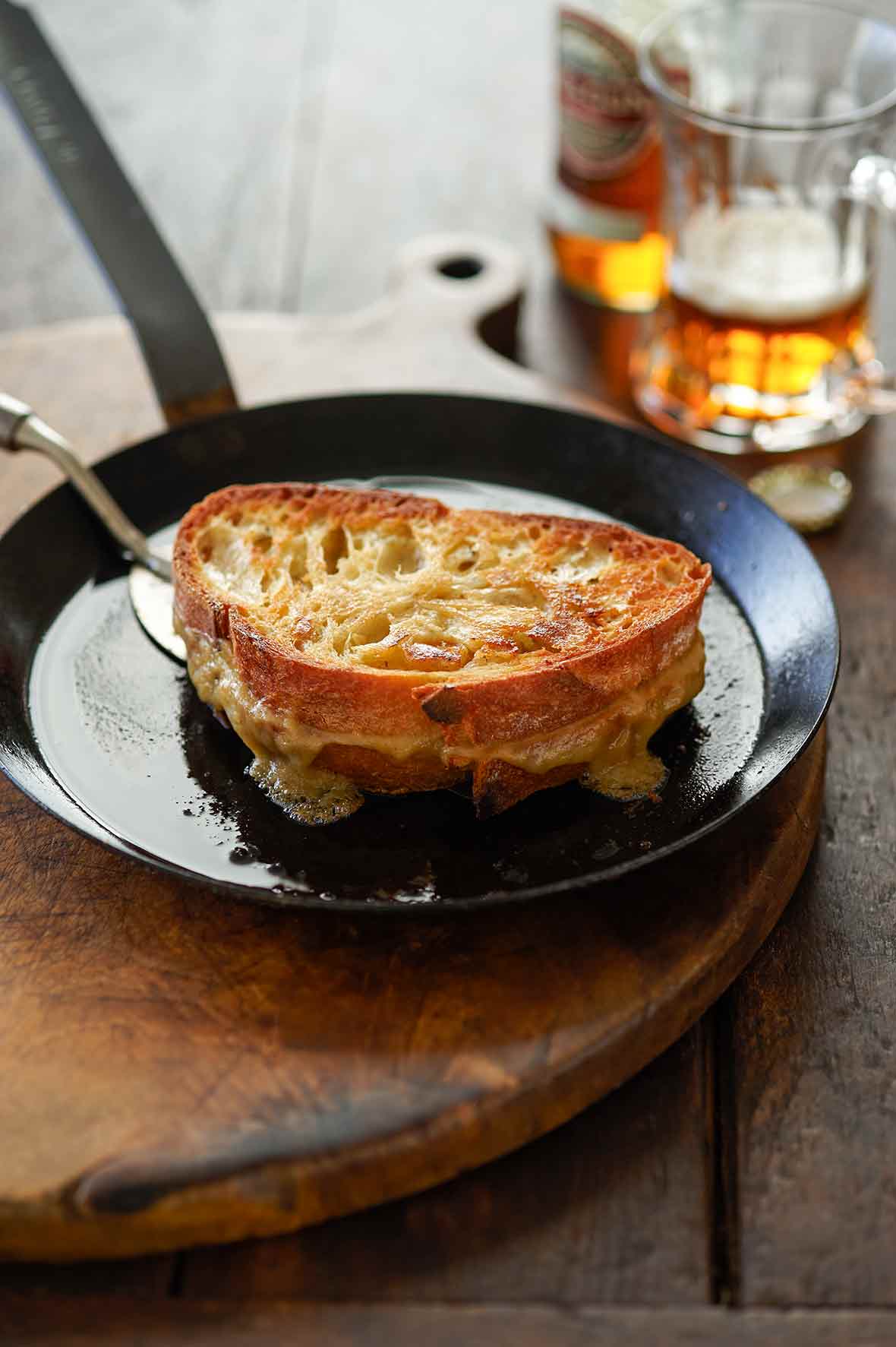 This Welsh rarebit grilled cheese sandwich is an exquisite vehicle for some wonderful, typically British ingredients—intense Cheddar, tangy Worcestershire sauce, and mellow mustard powder—all bound together with the bitterness of ale. Incredibly simple and deeply satisfying, you can serve this grilled cheese any time of day or night.–Laura Washburn
LC Caution: Seriously Gooey Hot Mess Ahead Note
So for those of you unfamiliar with the concept of Welsh rarebit, it's a frugal yet frighteningly indulgent open-face sandwich of sorts made with a thick, mustardy Cheddar cheese sauce spiked with ale. Nothing wrong with that. Although that hasn't precluded those predisposed to excess to consider a more exaggerated approach to this rather restrained British classic and reimagine it as a grilled cheese sandwich. This begs the question, how does it work to slap a second slice of bread on top of runny cheese sauce and expect to flip it in a skillet? As one of our testers explained, it's sorta like "sandwiched fondue." Or, in another's words, it's "a delicious but seriously gooey hot mess in a good, eat-at-home sort of way." Which, quite frankly, seems marvelous to us. What we're trying to say is, this is no typical grilled cheese sandwich. Nor is it something you want to share on a first date seeing as how unwieldy the sandwich, both in the skillet and on the plate. But if you don't mind a little mess and are a sucker for crisped cheese in a hot skillet, this sandwich is for you. If you're of a more delicate constitution, best stick with the original Welsh rarebit, which you can easily achieve and which you'll find in the variation below the recipe. And for those Brits who consider this grilled cheese rendition treasonous, well, it wouldn't be the first time we did something like that and not had any remorse, eh?
Welsh Rarebit Grilled Cheese
Quick Glance
25 M
25 M

Serves 2
Print Recipe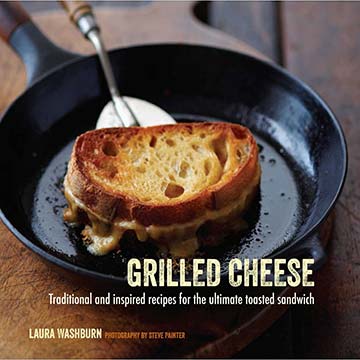 Ingredients
4 slices ciabatta or sourdough bread

2 tablespoons (1 ounce) unsalted butter, plus more for buttering the bread

3 tablespoons (1 ounce or 30 grams) all-purpose flour

1/2 cup (125 milliliters) ale, at room temperature

1 teaspoon dry mustard

1 1/2 cups (150 grams) shredded sharp Cheddar

1 tablespoon Worcestershire sauce

Pinch ground cayenne pepper, or more to taste
Directions
1. In a small saucepan over low heat, combine the butter and flour and stir constantly until the butter is melted and the mixture forms a paste, which ought to take just a couple minutes. Continue to cook, still stirring constantly, for an extra minute to ensure the resulting sauce doesn't have a floury taste. Gradually pour in the ale and stir continuously until the mixture thickens, which could take place anywhere from almost immediately to a few minutes later. Add the mustard, cheese, Worcestershire sauce, and cayenne pepper and stir until the cheese has completely melted, 2 to 5 minutes. The sauce will begin to pull away from the sides of the pan but that's okay, keep stirring until the cheese has melted. Remove the pan from the heat.

2. Butter 1 side of each bread slice. Arrange 2 slices, butter side down, in a large heavy skillet, preferably cast-iron, off the heat. (If you can only fit a single slice in the skillet at a time, that's perfectly fine. You'll simply need to cook the sandwiches one after the other rather than at the same time. Be certain to wipe out the skillet between sandwiches.) Top each slice with enough cheese sauce to cover the bread and then gently place the remaining 2 slices of bread on top, buttered-side up. (Some of the cheese sauce is probably going to squish out into the pan. That's okay. Actually, that's sorta inevitable. Also, you're going to have plenty of cheese sauce left over. Don't be angry. Just be grateful. Cover it, toss it in the fridge, and use it to make more Welsh rarebit another day or, even better, spoon it over some steamed cauliflower or broccoli.)

3. Turn the heat under the skillet to medium and cook until the bread is golden brown on the first side, about 4 minutes. Then grab a large spatula and carefully—and we do mean carefully—flip the sandwiches. This may get a little messy. Cook on the other side until golden brown, about 2 minutes. The cheese sauce is quite runny and chances are it will leak out of the bread and into your skillet. The sauce forms a delicious cheese crust once it cooks in the pan, if you're into that kind of thing. (And if you are into that thing, oh boy, are you in trouble with this recipe.)

4. Transfer each grilled cheese sandwich to your cutting board and let cool for a few minutes before cutting in half—preferably on the diagonal—and serving.
Welsh Rarebit Variation
Make the cheese sauce as directed. Omit the grilled cheese tomfoolery and instead slather the sauce on a piece of toast and run it under the broiler until bubbly.
Recipe Testers Reviews
Welsh Rarebit Grilled Cheese Recipe © 2014 Laura Washburn. Photo © 2014 Steve Painter. All rights reserved. All materials used with permission.
If you make this recipe, snap a photo and hashtag it #LeitesCulinaria. We'd love to see your creations on Instagram, Facebook, and Twitter.