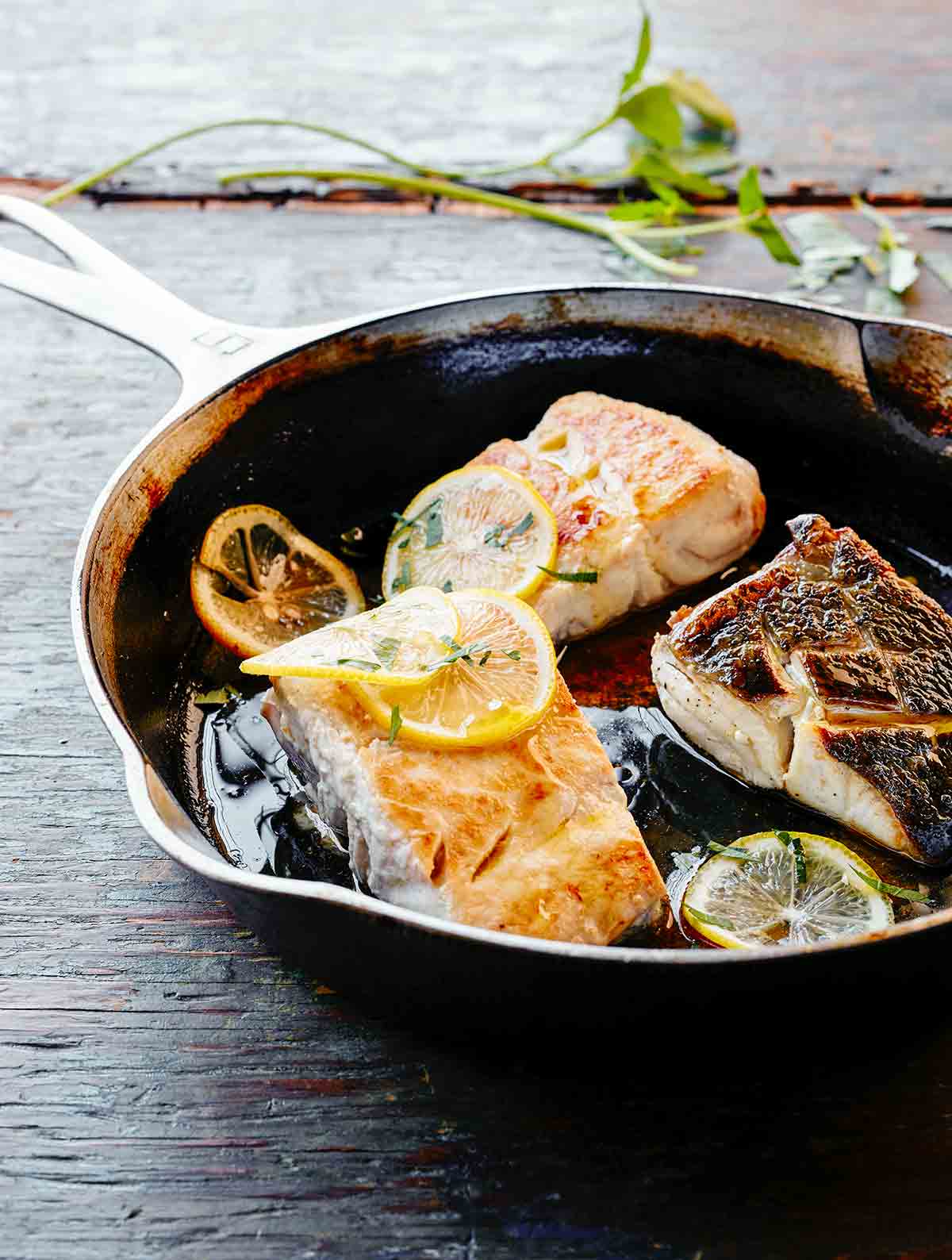 This easy pan-fried fish recipe is as easy as it gets. We understand that it's easy to be timid about cooking seafood, but this technique works perfectly to put a sear and a crisp skin on any fish fillet.–Renee Schettler Rossi
Pan Fried Fish FAQs
Can I use frozen fish for this recipe?
You can, but be sure to thaw it completely and try to get as much moisture out of your fillets as possible. Excess water or ice crystals in the pan can cause your fish to boil or steam in some areas or cook unevenly, and you may not achieve the desired crisp-skin effect. Thawed and patted dry properly, you should be able to proceed with the recipe as directed below.
What is the best way to thaw frozen fish?
First, the don'ts: Don't thaw fish at room temperature, it's just not a safe option due to potential bacteria growth as the fish thaws. Also, don't microwave. Because fish fillets typically vary in thickness from edges to center, microwaving can cook your edges and alter the overall texture.

Here's what to do: If you are planning ahead, remove the fish from the freezer and put it in a bowl (in its original package) in the fridge in the morning and by the time you're ready to cook dinner, the fish should be ready to go. If you didn't plan ahead and need to thaw in a hurry, put your frozen fish – again, still in its original packaging – in a large bowl and cover it with room temperature-ish (but not warm) water. If your water is too cold, your fish won't thaw quickly and if it's too warm, you could have texture and bacteria issues again. Change out the coolish water every twenty minutes or so. Once your fish is bendy and soft, you should be ready to open it up, dry it completely, and get dinner going.
How do I select the best fresh fish fillets?
At the grocery store or market, fresh fish is typically stored on ice. Look at the ice to ensure it's clean, with no stains or greying. If your fish is already packaged, ensure it's dry and clean in there. Give it a sniff – does it have a strong, fishy, off-putting odor? Your fish should smell fresh, briny, and sweet, not musty, bitter, or fishy. Ask the fishmonger or butcher if the fish has been thawed from frozen. While that shouldn't affect the texture, you should never refreeze seafood after it's been thawed. If it's previously frozen, plan to eat it the day you buy it. Poke it (if you can). The flesh should be firm. It should look moist; any whitish filmy substance on it could mean it's drying out. Also, ensure that the coloring is even, on white-fleshed fish, there should be no darkened areas.



Pan Fried Fish
Pan fried fish has never been as easy or as enticing as with these seared fish fillets with crisp skin. Easy and works with halibut, snapper, salmon, trout, and virtually any other fish.
Ingredients
Four to six

(5-ounce)

fish fillets

,

skin on and bones out (such as halibut, snapper, flounder, salmon, or trout)

2

tablespoons

unsalted butter, ghee, coconut oil, or extra-virgin olive oil

Sea salt

,

to taste

1

lemon

,

thinly sliced, for serving

Chopped fresh herbs

,

for serving (optional)

Homemade Tartar Sauce,

(optional)
Instructions
Using the tip of a sharp knife, score the skin side of each fillet with shallow incisions, being careful to cut through the skin but not through the fish. This will help prevent the skin from curling at the edges. Pat the fish completely dry.

Heat a large cast-iron skillet or sauté pan over medium to medium-high heat until hot but not smoking. Add the fat to the skillet and let it warm.

Salt both sides of the fish. Add the fish to the pan, skin side down, and let it cook undisturbed until it's cooked about 2/3 of the way through. The exact timing will depend on the thickness of the fish fillet but figure about 3 minutes for thin fillets such as flounder and about 7 minutes for thick fillets such as salmon. You can baste the fish with the fat as it is cooking if you want but do not move the fish or else the skin will not crisp. You can tell how done the fish is by looking at the side of the fillet and watching where the fish is opaque.

Once the fish is cooked most of the way through and the skin is golden brown and crisp, flip the fish. (If you think the fish is ready to be flipped but try to coax the skin from the skillet with a slender metal spatula and the skin sticks to the pan, give it another 30 seconds or so and try it again.) After you flip the fish so it's skin side up, cook just until the fillet is cooked through. This should only take a minute or two for thin fillets and about 4 minutes for thick fillets. Keep an eye on the fish as you cook it, as overcooked fish loses its delicate flavor and can become "fishy" tasting and dry.

Arrange the fish on plates and garnish with lemon slices and herbs, if desired. (These seemingly unnecessary garnishes go a long way in imparting flavor to the fish. They also come in handy to cover any blemishes that may have occurred when you stuck the tip of a knife into the fish to check for doneness or where the skin stuck to the skillet.)
Nutrition
Serving:
1
portion
Calories:
202
kcal
Carbohydrates:
1
g
Protein:
29
g
Fat:
9
g
Saturated Fat:
2
g
Polyunsaturated Fat:
1
g
Monounsaturated Fat:
6
g
Cholesterol:
71
mg
Sodium:
74
mg
Potassium:
448
mg
Fiber:
1
g
Sugar:
1
g
Vitamin A:
3
IU
Vitamin C:
8
mg
Calcium:
18
mg
Iron:
1
mg
Nutrition information is automatically calculated, so should only be used as an approximation.
Recipe © 2016 Jennifer, Jessica, and Jill Emich. Photo © 2016 Eva Kolenko. All rights reserved.
---