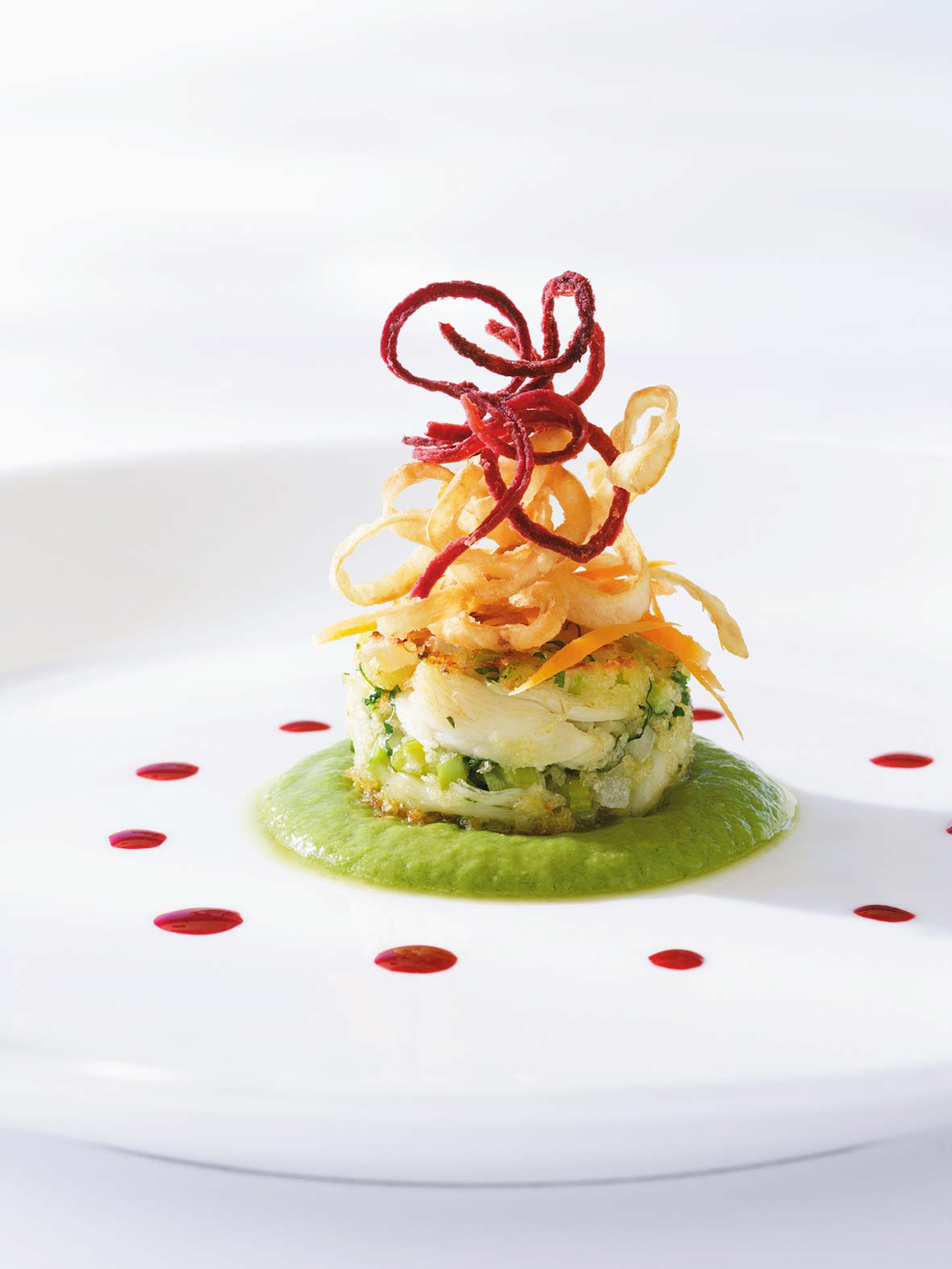 Crab cakes don't have to be from New England to be tasty—serrano chiles, cilantro, and tomatillos increase the flavor profile of these Mexican-style cakes immensely. Fresh crabmeat is always best; pasteurized crab is easily attainable at price clubs and the like, but it isn't quite as sweet as the fresh. These seasonings definitely do improve pasteurized crabmeat, though. If you have the time, serve these as I do at ¡Salpicón!, garnished with frizzled beets and onions and drops of beet juice, but rest assured that the crab cakes and sauce will be great without them.–Priscila Satkoff
Note
Recipes for the optional garnishes are at the bottom of this page.
Crab Cakes with Avocado-Habanero Sauce
Quick Glance
30 M
1 H, 40 M

Makes 6 servings
Print Recipe
Ingredients
Email Grocery List
For the marinated carrot

1 large carrot, peeled

3 tablespoons cider vinegar

Pinch of fine sea salt

For the crab cakes

1 pound fresh lump crabmeat, picked over for shell

4 small tomatillos, husked, rinsed, and finely chopped (1/2 cup)

1/3 cup chopped cilantro leaves

3 tablespoons thinly sliced scallion, including green parts

1 tablespoon finely chopped celery

1 tablespoon seeded and minced serrano chile

1/4 teaspoon fine sea salt

2 large eggs, beaten

2 cups panko (Japanese bread crumbs)

1/2 cup olive oil

For the avocado-tomatillo sauce

2 tomatillos

1/2 ripe avocado

1/2 cup packed cilantro leaves

3/4 cup water

1/2 teaspoon fine sea salt

For the avocado-habanero sauce

1 cup avocado-tomatillo sauce

1 habanero chile, seeded, deveined, and minced, or to taste

Garnishes

Beet and Onion Strings (optional)

Beet Juice (optional)
Directions
Make the marinated carrot

1. Pressing hard with a vegetable peeler, cut the carrot into paper-thin slices. Toss the carrot strips, vinegar, and salt in a small glass or stainless-steel bowl. Cover and refrigerate for at least 1 hour or up to 12 hours.

Make the crab cakes

2. Put the crabmeat in a large bowl. Mix the tomatillos, cilantro, scallion, celery, chile, and salt in a small bowl (this will mix them more efficiently than adding them separately to the crab) and add to the crab. Add the eggs and 1 cup of the panko and mix gently.

3. Shape the crabmeat mixture into 6 cakes about 1 inch thick (use a 2½-inch entremets mold, if you wish). Gently coat the crab cakes on both sides with the remaining 1 cup panko.

4. Heat the oil in a large nonstick skillet or saute pan over medium-high heat until it shimmers. In batches, add the crab cakes and cook until lightly browned on the bottom, about 1 minute. Turn and brown the other side. Using a slotted spatula, transfer to paper towels to drain, then place on a baking sheet. (The crab cakes can be prepared to this point up to 6 hours ahead, loosely covered with plastic wrap, and refrigerated.)

Make the avocado-tomatillo sauce

5. Remove the husks from the tomatillos. Rinse, drain, and coarsely chop the tomatillos. Peel, pit, and coarsely chop the avocado.

6. Put the tomatillos, avocado, cilantro leaves, water, and salt in a blender or food processor and process until smooth. Pour into a bowl. (The salsa can be made up to 1 day ahead, covered and refrigerated. Bring to room temperature before serving.)

Make the avocado-habanero sauce

7. Put the avocado-tomatillo sauce in a small bowl and stir in the chile a little at a time until the sauce is as hot as you like. Cover and set aside at room temperature for up to 1 hour.

8. Position a rack in the top third of the oven and preheat the oven to 375°F (180°C). Bake the crab cakes until heated through, 7 to 10 minutes.

To serve
9. Spoon about 1/6 cup of the avocado-habanero sauce in the center of a dinner plate and top with a crab cake. Top with 3 marinated carrot slices, then some fried Beet and Onion Strings, if using. Squeeze droplets of Beet Juice around each crab cake. Repeat with the remaining ingredients on 5 more plates. Serve immediately.

Wine Notes: To let the sweetness of the crab shine through while balancing the heat from the avocado-habanero sauce, an unoaked Riesling with pure and crisp fruit such as Grosset's Polish Hill Riesling from the Clare Valley in Australia is perfect (although just about any dry-style Riesling would be fine).
Garnishes
Beet and Onion Strings
You will need a turning slicer (see Note) to make these. Shred 1 peeled large red beet into very thin strings on a turning slicer. Transfer to a medium bowl and toss with ¼ cup all-purpose flower to coat the beet strings. Pour enough vegetable oil into a heavy, medium saucepan to come halfway up the sides and heat over high heat to 375°F (check temperature with a candy thermometer). In batches, shake off the excess flour from the beets and deep-fry in the oil until crisp and golden brown, about 2 minutes. Using a wire-mesh skimmer, transfer the beet strips to paper towels to drain. Keep warm in a preheated 200°F oven while frying the onions. Cut 1 white onion in half, then into very thin half-moons. Toss in a bowl with ¼ cup all-purpose flour to coat. Return the same oil to 375°F. In batches, shaking off the excess flour, deep-fry the onion strings until golden brown, about 3 minutes.
Note: Turning slicers are available at well-stocked kitchenware shops and online. This manual appliance will be a useful tool in your kitchen and can be put into action to shred hard vegetables into professional-looking garnishes and salads. While there are top-of-the-line models for restaurant kitchens, Benriner makes a good, moderately priced version.
Beet Juice
Using a vegetable juicer, extract the beet juice from 1 peeled large red beet. (Or, blend the beet, coarsely chopped, in a blender with a tablespoon or two of water until puréed.) Strain the juice through a fine-meshed sieve into a small saucepan. Bring the juice to a boil over medium-high heat. Sprinkle 1 tablespoon cornstarch over 1 tablespoon cold water in a small bowl and stir to dissolve the cornstarch. Whisk into the boiling beet juice and cook until thickened. Let cool completely. (The beet juice can be made up to 3 days ahead, covered and refrigerated.) Transfer to a plastic squeeze bottle.
Recipe Testers Reviews
Crab Cakes with Avocado-Habanero Sauce Recipe © 2009 ¡Salpicón!. Photo © 2009 Jeff Kauck. All rights reserved. All materials used with permission.
If you make this recipe, snap a photo and hashtag it #LeitesCulinaria. We'd love to see your creations on Instagram, Facebook, and Twitter.