This shredded beef taco bar is a build-your-own extravaganza including braised beef, pickled red onions, lime crema, and creamy coleslaw. Pile your favorites onto a warm tortilla, devour, and repeat.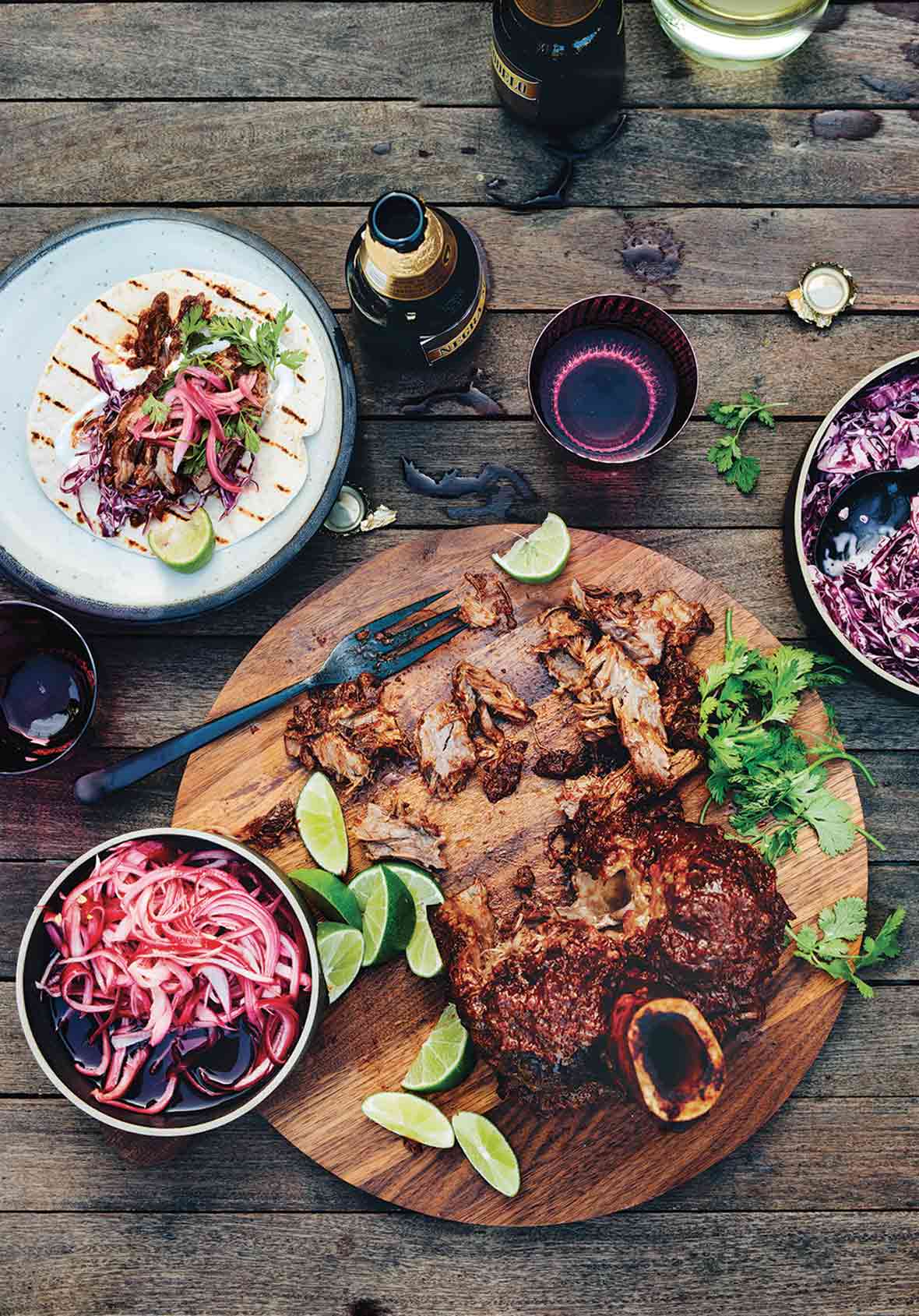 This Mexican-inspired shredded beef taco bar is an extravaganza of uncommonly tender and gently spiced braised beef shank along with slightly upscale toppings compared to the usual shredded lettuce and grated packaged cheese. One part classic Mexican. Two parts unconventional. And all parts surprisingly simple to toss together for entertaining or simply family dinner on a Tuesday.. Taco party, anyone?–Angie Zoobkoff
Shredded Beef Taco Bar
Quick Glance
1 H, 15 M
5 H

Serves 6
Ingredients
Email Grocery List
For the shredded beef taco filling

5 dried guajillo chiles, stemmed and seeded

5 dried ancho chiles, stemmed and seeded

1/4 cup extra-virgin olive oil

One (4-pound) bone-in beef shank, trimmed and tied by the butcher

Kosher salt

Freshly ground black pepper

1 yellow onion, finely chopped

5 garlic cloves, thinly sliced

2 teaspoons dried oregano

2 teaspoons ground cumin

Two (12-ounce) bottles light Mexican beer

One (28-ounce) can crushed tomatoes, undrained

2 cups canned chicken broth or homemade chicken broth

2 tablespoons apple cider vinegar

2 tablespoons unsalted butter (1 oz)

Mild vegetable oil, for brushing (optional)

For the pickled red onion

1 cup red wine vinegar

3/4 cup granulated sugar

1 teaspoon kosher salt

1 medium red onion, halved and thinly sliced

For the lime crema

1 cup sour cream

1 teaspoon finely grated lime zest, preferably organic

2 tablespoons fresh lime juice

For the slaw

1/2 cup mayonnaise

2 tablespoons hot sauce of your choice

1/2 medium red cabbage (about 1 pound), cored and very thinly sliced (6 cups)

To serve

Warm flour tortillas

Chopped cilantro

Lime wedges
Directions
Make the shredded beef taco filling

1. Preheat the oven to 325°F (165°C).

2. In a mortar, pound the chiles until finely ground. (Alternatively, you can blitz them in a coffee or spice grinder.)

3. In a large enameled cast-iron Dutch oven set over medium-high heat, warm the oil. Season the shank on all sides with salt and pepper. Add the shank to the Dutch oven and cook until browned on all sides, about 15 minutes. Transfer the shank to a plate.

4. Add the onion, garlic, and a pinch of salt to the Dutch oven, reduce the heat to medium, and cook, stirring occasionally, until the onion begins to brown, 5 to 6 minutes. Stir in the chiles, oregano, and cumin and cook, stirring constantly, until fragrant, about 1 minute. Add the beer and bring to a boil, scraping up any browned bits with a wooden spoon. Cook until the beer is reduced by half, 6 to 8 minutes. Pour in the crushed tomatoes and chicken stock and return to a boil. Return the shank and any accumulated juices to the Dutch oven. Cover and braise in the oven, basting with the sauce in the pan every hour, until the meat is very tender, 3 to 3 1/2 hours. Remove from the oven and let the beef rest at room temperature, in the braising liquid, uncovered, for at least 2 hours. (The beef can be braised and stored in the refrigerator, in its braising liquid, for up to 4 days. Before proceeding, skim any congealed fat on the surface, cover, and rewarm gently over medium-low heat.)

Make the pickled red onion

5. In a medium bowl, whisk the vinegar, sugar, and salt until the sugar dissolves. Add the sliced onion, cover, and let stand at room temperature, stirring occasionally, for at least 1 hour. (The pickled red onion can be refrigerated for up to 2 weeks.)

Make the lime crema

6. In a small bowl, whisk together the sour cream, zest, and juice and season with salt and pepper. Refrigerate until ready to serve.

Make the slaw

7. In a large bowl, whisk together the mayonnaise with hot sauce and season with salt and pepper. Add the red cabbage and toss to coat. Refrigerate until ready to serve.

Assemble the tacos

8. Transfer the shank from the braising liquid to a plate. Pour the braising liquid into a medium saucepan and bring to a simmer over low heat, skimming any accumulated fat. Stir in the vinegar and butter and season with salt and pepper. Keep warm.

9. If you'd like crispy, slightly charred beef, light a grill. Fold a 24-inch (60-cm) sheet of foil in half and brush lightly with oil. Place the foil, oiled side up, on the grill. Place the cooled shank on the foil, close the lid on the grill, and cook over moderately high heat, basting with warm braising liquid every 10 minutes, until the shank is lightly charred and warmed through, 35 to 40 minutes. Transfer to a platter and let rest for 10 minutes. Discard the strings and use a couple forks to shred the beef and pile it on a platter.

If you'd prefer softer shredded beef, discard the strings from the beef and use a couple forks to shred the meat. Stir the shredded beef into the warm braising liquid and gently stir until warmed through. Using a slotted spoon, pile it on a platter.

10. Serve the shredded beef warm with pickled onion, crema, slaw, flour tortillas, cilantro, lime wedges, and remaining braising liquid for each person to make his or her own tacos.
Recipe Testers Reviews
This shredded beef taco recipe resulted in tender and flavorful meat with a great sauce. All elements—the slaw, lime crema and meat—came together for a very satisfying taco. We also added some smoked Cheddar to ours as well.
I purchased the meat at the butcher shop, and did not have them tie it as I was not planning to do the grilling step. I suspect this could have gotten a little bit tricky and messy. Because my pieces were separate, I didn't have to do much in the way of basting—the meat was submerged. I used Tecate for the beer.
I did encounter difficulty with grinding the dried peppers. I did not have a mortar and pestle, but think even with that it would have been quite hard. I used my coffee/spice grinder and was afraid I was going to wear the motor out. I wondered if substituting ancho chili powder for the peppers would be helpful.
The sauce, after straining all the fat off, really was nice and somewhat thick, so it coated the meat well. I stored the meat in the sauce so it wouldn't dry out. I appreciated that the slaw was pretty simple and quick to whip up.
Every element of this meal came together to make for an outstanding taco night! The shredded beef was well worth the time necessary for a slow braise and the slaw, crema, and pickled red onions couldn't have been easier to throw together. Will make again!
I did do the grilling, and found that the charring of the beef shank added a nice flavor and textural contrast so I wouldn't skip that step. The braising liquid for basting was very thick, like a heavy barbecue sauce.
Shredded Beef Taco Bar Recipe © 2018 The Editors of Food & Wine. Photo © 2018 Time, Inc.. All rights reserved. All materials used with permission.
If you make this recipe, snap a photo and hashtag it #LeitesCulinaria. We'd love to see your creations on Instagram, Facebook, and Twitter.