This soup starts out thin, but when the spinach and rice are added, it ends up with layers of textures and colors. For a lighter first-course soup, omit the rice or use very little.
Split peas take at least an hour to cook, which is one good reason to soak them for a couple of hours, unless you pop them into a pressure cooker for 25 minutes on high. Another alternative is to use red lentils, which break down quickly into a light, golden soup.–Deborah Madison
LC Don't Toss Those Cilantro Stems! Note
Who can afford to mindlessly toss good ingredients in the garbage? Yet that's what many of us do each time we carelessly chop off cilantro stems and bid them a hasty adieu. The fragrant little stalks carry just as much aroma as their leafy counterparts and lend oomph to this simple, pocketbook-friendly lentil soup…as well as just about any other recipe that calls for cilantro, including the fragrant Peppercorn Cilantro Root Flavor Paste. You can thank us later.
Yellow Pea and Coconut Milk Soup
Quick Glance
30 M
1 H, 45 M

Serves 6 to 8
Print Recipe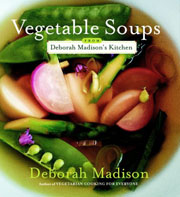 Ingredients
2 cups yellow split peas, rinsed and soaked for at least 1 hour if possible

2 bay leaves

3 cloves

Sea salt and coarsely ground pepper

2 to 4 tablespoons butter, light sesame oil, or a mixture

1 large onion, diced

1/4 cup minced cilantro stems

1 1/2 teaspoons ground turmeric

1 teaspoon ground cardamom

1/2 teaspoon ground cinnamon

Pinch of hot red pepper flakes

One 15-ounce can coconut milk

Juice of 1 large lime, or to taste

3 tablespoons chopped cilantro

1/2 cup rice

1/2 teaspoon each ground turmeric and paprika

1/4 teaspoon each cumin seeds and freshly ground pepper

1/2 cup yogurt

Large bunch spinach, stems removed, well washed
Directions
1. After you've soaked the yellow peas, drain and put them in a pot with 2 quarts water, the bay leaves, cloves, and 1 1/2 teaspoons salt. Bring to a boil, then lower the heat to a simmer and cook, partially covered, while you go on to the next step.

2. Melt the butter in a medium skillet over medium heat, then add the onion and cilantro stems. Cook, stirring frequently, until the onion starts to color and soften, about 10 minutes. Add the spices and 1/2 cup water from the simmering peas, and cook until the water has cooked away. Add the onion to the simmering peas and continue cooking until both are very soft, about an hour in all. Remove the bay leaves and cloves, then purée. Return the soup to the stove and stir in the coconut milk. Add the lime juice, then taste for salt and season with pepper. Stir in the chopped cilantro.

3. To finish, bring 1 cup water to a boil, then add 1/4 teaspoon salt and the rice. Give it a stir, lower the heat, and cover the pan. Cook until the rice has absorbed the water and is done, about 15 minutes. Combine the spices with the yogurt and set aside. In a separate skillet, wilt the spinach in the water clinging to its leaves, then chop it coarsely. To serve, ladle the soup into bowls, divide the spinach leaves among them, then add cooked rice to each bowl and serve with a spoonful of the spiced yogurt.
Yellow Pea and Coconut Milk Soup Recipe © 2006 Deborah Madison. Photo © 2006 Laurie Smith. All rights reserved.
If you make this recipe, snap a photo and hashtag it #LeitesCulinaria. We'd love to see your creations on Instagram, Facebook, and Twitter.