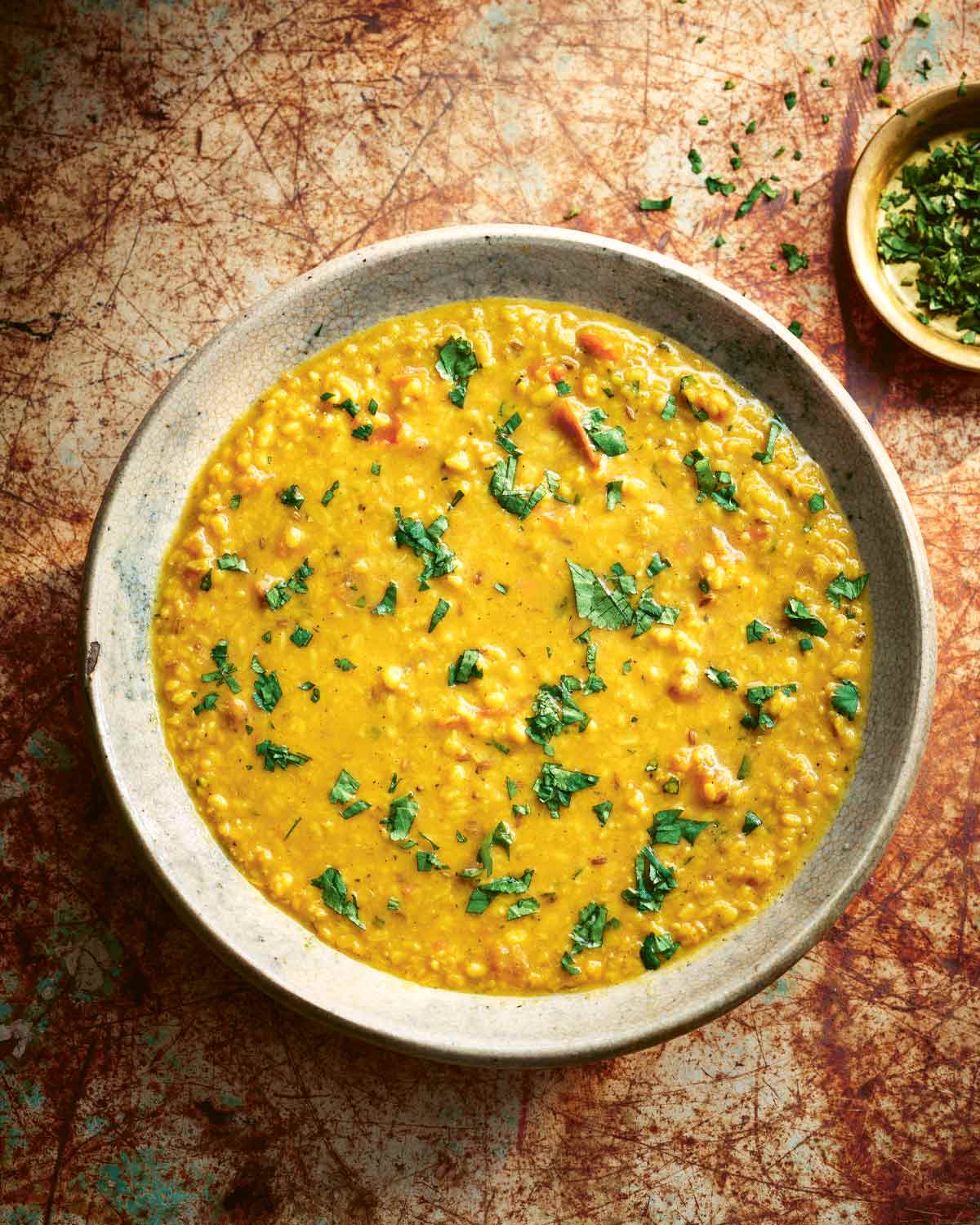 Tarka dal, or lentils with tomato and cilantro, is not only easy and healthy but includes oil-bloomed spices that make the resulting flavors intoxicatingly complex.
There are many versions of this north Indian recipe, as the name literally means "spiced, flavored lentils." There are several Indian words that describe the process of tempering foods, including "tarka," "tadka," "vaghaar," or "phodni." Spices or ingredients, such as tomatoes, garlic, ginger, or chilies, are cooked in hot oil to extract and develop their flavor. Tempering can be done at the beginning of cooking, where for example, spices and onions are cooked before adding the main ingredient, or at the end, when for example, cumin seeds may be fried in oil and poured over a curry. The oil contains the aromatic oils extracted from the spices and becomes "flavored" itself.–Monisha Bharadwaj
Why should I temper my spices?
The process of tempering, or blooming, spices and aromatics is used throughout India. The method is the same but the oils and spices vary. It's used for a simple reason—because it works magic. Blooming helps to release their volatile oils, enhancing the flavor in seconds. The mixture can then be used as the foundation for a dish, by adding other ingredients, or the intensely flavored oil can be used to finish—it's beautiful drizzled over whatever you're serving.
Tarka Dal ~ Lentils with Tomatoes and Cilantro
Tarka dal, or lentils with tomato and cilantro, is not only easy and healthy but includes oil-bloomed spices that make the resulting flavors intoxicatingly complex.
Ingredients
For the ginger-garlic paste
1/2

teaspoon

grated or minced ginger

1

teaspoon

grated or minced garlic
For the lentils
1

cup

mung (moong) lentils

2

cups

boiling water

plus more as needed

2

tablespoons

mild vegetable oil

1

teaspoon

cumin seeds

2

fresh green chile peppers

such as jalapeños, slit in half lengthwise and stalks left on

2

medium (10 oz)

tomatoes

diced (seeds and all)

1

teaspoon

ground turmeric

1

teaspoon

garam masala

A handful of fresh cilantro leaves

chopped

Boiled rice or roti

for serving
Instructions
Make the ginger-garlic paste
In a small bowl, stir together the ginger and garlic, mashing with the back of a spoon to thoroughly combine.

☞ TESTER TIP: If you're making a larger batch of the ginger-garlic paste to keep a stash on hand, blitz the peeled and chopped ginger and garlic in a blender along with a little cold water to turn the blades until it makes a smooth paste. Scrape it into a clean jar, add enough oil to cover the surface (any oil will do), and keep in the fridge for up to a couple weeks, topping off the oil as needed.
Make the lentils
Wash the lentils in a strainer under running cold water until the water runs clear. Put them into a heavy saucepan and then pour 2 cups boiling water over them (don't salt the lentils at this stage, as they can take longer to cook if you do).

Set over medium-high heat and bring to a boil. Reduce the heat and simmer until very soft, stirring occasionally and adding more boiling water as they absorb what's in the saucepan, 30 to 45 minutes. You want to ensure that the lentils are submerged at all times. When the lentils are fully cooked, they should have almost completely disintegrated and the mixture will resemble oatmeal.

Meanwhile, in a separate saucepan over high heat, warm the oil and add the cumin seeds. As they begin to crackle and change color, add 1 teaspoon ginger-garlic paste and cook for 30 seconds, then add the chiles and cook for a few seconds more.

Tip in the tomatoes and cook until soft, 3 to 4 minutes. Stir in the turmeric and garam masala, add about 1 tablespoon cold water, and bring to a gentle boil. Reduce the heat to maintain a very gentle simmer until the tomatoes are cooked.

Carefully pour in the cooked lentils, along with all the cooking liquid (no need to drain) and season with salt. The finished lentil mixture should have a pouring consistency.

Sprinkle the cilantro over, and serve hot with plain boiled rice or rotis.
Nutrition
Serving:
1
portion
Calories:
247
kcal
Carbohydrates:
32
g
Protein:
13
g
Fat:
8
g
Saturated Fat:
1
g
Polyunsaturated Fat:
4
g
Monounsaturated Fat:
2
g
Trans Fat:
0.04
g
Sodium:
13
mg
Potassium:
559
mg
Fiber:
15
g
Sugar:
2
g
Vitamin A:
244
IU
Vitamin C:
35
mg
Calcium:
41
mg
Iron:
4
mg
Nutrition information is automatically calculated, so should only be used as an approximation.
Recipe © 2019 Monisha Bharadwaj. Photo © 2019
Gareth Morgans
. All rights reserved.
---