This seared skirt steak with salsa is an easy, Brazilian-inspired meal of pan-seared steak that's topped with a spicy tomato, onion, pepper, cilantro, and vinegar salsa.
*What is Skirt Steak?
A long, thin cut with a visible grain, skirt steak is an unsung hero for red-meat lovers. Sliced from the diaphragm area, just under the ribs, it's perfect for quick cooking. With big beefy flavor, it's the steak most commonly used in fajitas. Sliced against the grain, skirt steak is tender and juicy after just a quick sear in a hot pan.
Seared Skirt Steak with Salsa
Quick Glance

(1)

20 M
1 H
Serves

4
Print Recipe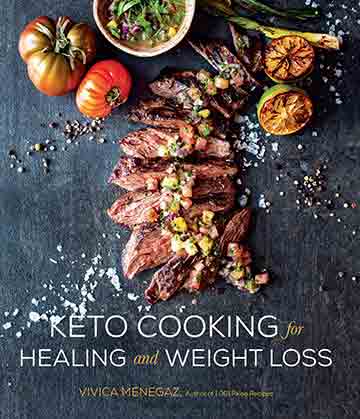 Ingredients
For the Brazilian salsa
For the skirt steak
Directions
Make the salsa
In a medium bowl, mix the cilantro, onion, tomato, serrano pepper, garlic, lime juice, unrefined sea salt, black pepper, MCT or olive oil, and vinegar.
Make the skirt steak
Place the meat on a plate and sprinkle with the coarse salt on both sides. Resist the temptation to rub the salt in—you'll end up making the steak too salty. Let sit for 30 minutes, so it soaks up some of the salt and comes to room temperature.
Heat a cast-iron grill pan over high heat, until very hot. Sear the steak on the grill pan until cooked to your desired doneness, 3 to 5 minutes per side for medium rare.
Remove the steak from the grill pan and scrape off the excess salt. Place on a warm plate, cover, and let rest for about 10 minutes.
Slice the steak in thin slices against the grain of the meat. Serve immediately with the salsa on the side.
Print Recipe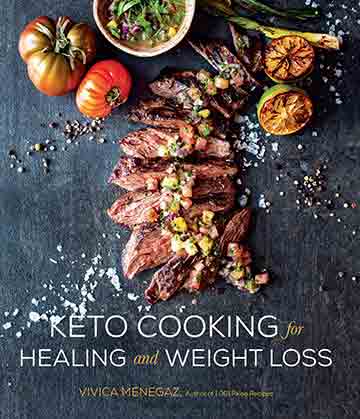 David Says
Jump back and get out of town. This seared skirt steak with salsa is amazing. I mean, ah-MAH-zing. For us, it's the salsa. This alone deserves to be made in huge jars in kept in the fridge. The One always uses coconut oil in the salsa. It's a bitch to work in because coconut oil is solid at room temperature, but the flavor it lends is marvelously tropical. And as I write this, it just dawned on me: All you have to do is gently heat the coconut oil, let it sit a bit, then add it to the salsa ingredients. Duh.
We've made this with flank steak and London broil, in addition to skirt steak. This wasn't due to some great beef preference. To be honest, The One forgot what cut the recipe called for. Don't get old, kids.
You'll be tempted to think your pan's hot enough. I'm telling you now, it won't be. You cook the steak so little on both sides, you need the skillet hell-hot in order to get color and great caramelization on the outside. Otherwise, you're pouring that lovely salsa over gray meat.
Best of all, this is a meal we can prep during the nightly news at 6:30 and be sitting down to eat by 7:15. A true Weeknight Winner.
Recipe Testers' Reviews
This seared skirt steak is stand-alone delicious and so easy to prepare. The addictive salsa requires minimum knife skills and comes together in minutes. Make it while you're waiting for the skirt steak to be seasoned by the salt and come to room temperature.
Paired with an avocado salad and roasted potatoes, it's practically a perfect meal. The steak would also make a great taco or quesadilla filling.
Delicious and easy—the perfect trip to South America without leaving home. I've never been to Brazil, but I have been to Argentina and Uruguay where the quintessential meal is just like this one—beef with a salsa, and this recipe is right on.
The chopping takes a little time, but after that it's a breeze to finish. Follow the recipe's timing and you'll have a perfect medium-rare skirt steak. The sauce and the flavors all compliment each other beautifully.
I made roasted potatoes, broccoli, and paired it with a 2018 Garzon Tannat from Uruguay and was in dinner heaven. I can't wait till the weather warms and I can make this on the grill.
Seared Skirt Steak with Salsa Recipe © 2021 Vivica Menegaz. Photo © 2021
Yasmin Alishav
. All rights reserved. All materials used with permission.
If you make this recipe, snap a photo and hashtag it #LeitesCulinaria. We'd love to see your creations on Instagram, Facebook, and Twitter.