Tequila-lime chicken tacos are an easy weeknight fix, whether for Taco Tuesday on a chaotic weeknight or a leisurely weekend in the backyard. Essentially just marinated grilled chicken and a spiked mayonnaise sauce.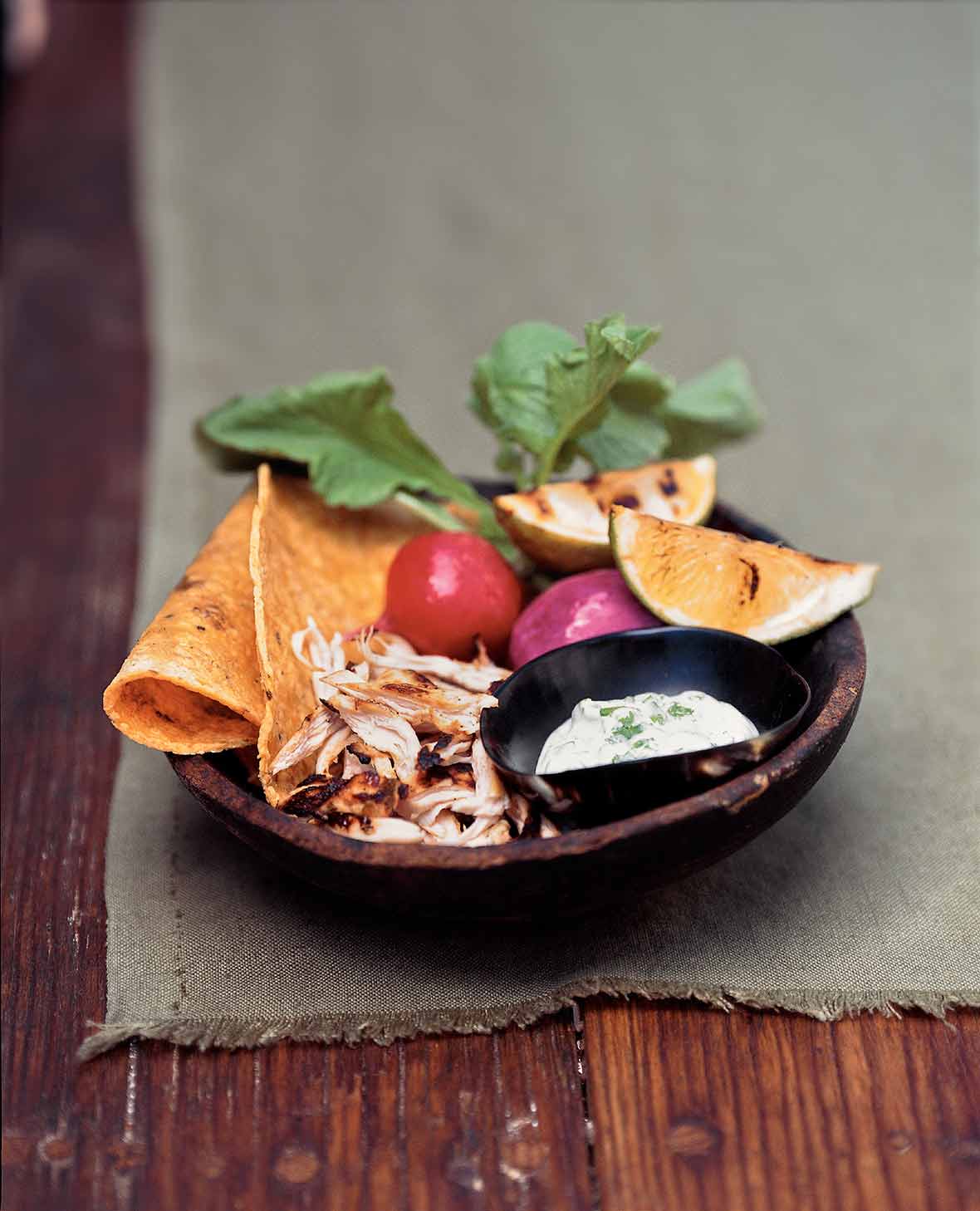 These grilled chicken tacos get a little tipsy after being doused with tequila then take a cold shower in the form of a mayonnaise sauce spiked with cilantro and chile and a squeeze of lime. Olé! Originally published June 15, 2004.–Renee Schettler Rossi
Tequila-Lime Chicken Tacos
Quick Glance
25 M
40 M

Serves 4 or more
Print Recipe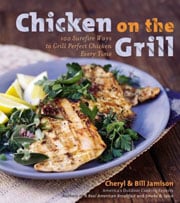 Ingredients
For the marinade

Minced zest and juice of 2 medium to large lemons

1/4 cup tequila

1 tablespoon Triple Sec or other orange flavored liqueur

2 teaspoons vegetable oil

2 teaspoons ground dried green chile or chile seasoning, or 1 tablespoon minced pickled jalapeno

1/2 teaspoon salt

4 medium boneless, skinless chicken breasts, pounded 1/4-inch (6 mm) thick

3 to 4 medium limes, sliced into 4 wedges

Few tablespoons tequila

Vegetable oil

For the sauce
1/2 cup mayonnaise

1/2 cup sour cream

2 tablespoons minced cilantro leaves

2 teaspoons fresh lime juice

1/4 to 1/2 teaspoon dried ground green chile or green chile seasoning , or minced pickled jalapeno to taste

12 corn tortillas, plus a few extras in case of tears
Directions
Make the marinade

1. At least 1 hour ahead, or up to the night before you plan to grill prepare the marinade: Combine the ingredients in a small bowl. Place the chicken breasts in a zippered plastic bag and pour in the marinade. Seal the bag, and toss back and forth to coat the chicken evenly. Refrigerate.

2. Up to 1 hour ahead, place the lime sections on a plate, sprinkle them with the tequila, and rub lightly with oil. Let sit at room temperature.

Make the sauce

3. In a small bowl, stir together the ingredients. Refrigerate until ready to serve.

Prepare the tacos

4. When you're ready to grill the chicken, drain it and discard the marinade. Let the chicken sit, uncovered, at room temperature for about 20 minutes.

5. Fire up the grill, bringing the heat to medium (4 to 5 seconds with the hand test).

6. Grill the chicken uncovered for 6 to 8 minutes total. Turn onto each side twice, rotating the breasts each time to get crisscross grill marks. The chicken is done when it is white throughout but still juicy. Grill the limes alongside the chicken, turning them from time to time so that they soften and develop a bit of char. Remove them as they are ready. Warm the tortillas on the edge of the grill, then wrap in a dish towel or foil to keep warm.

7. Working quickly pull the chicken into thin shreds and pile it on a platter. Surround with the limes, and set the bowl of sauce on the platter or alongside. Place the wrapped tortillas in a basket. Serve immediately, encouraging diners to fill and fold the tortillas, drizzle with sauce, squeeze on some of the warm tequila-spiked lime juice, and enjoy.
Tequila-Lime Chicken Tacos Recipe © 2004 Cheryl and Bill Jamison. Photo © 2004 Ellen Silverman. All rights reserved.
If you make this recipe, snap a photo and hashtag it #LeitesCulinaria. We'd love to see your creations on Instagram, Facebook, and Twitter.