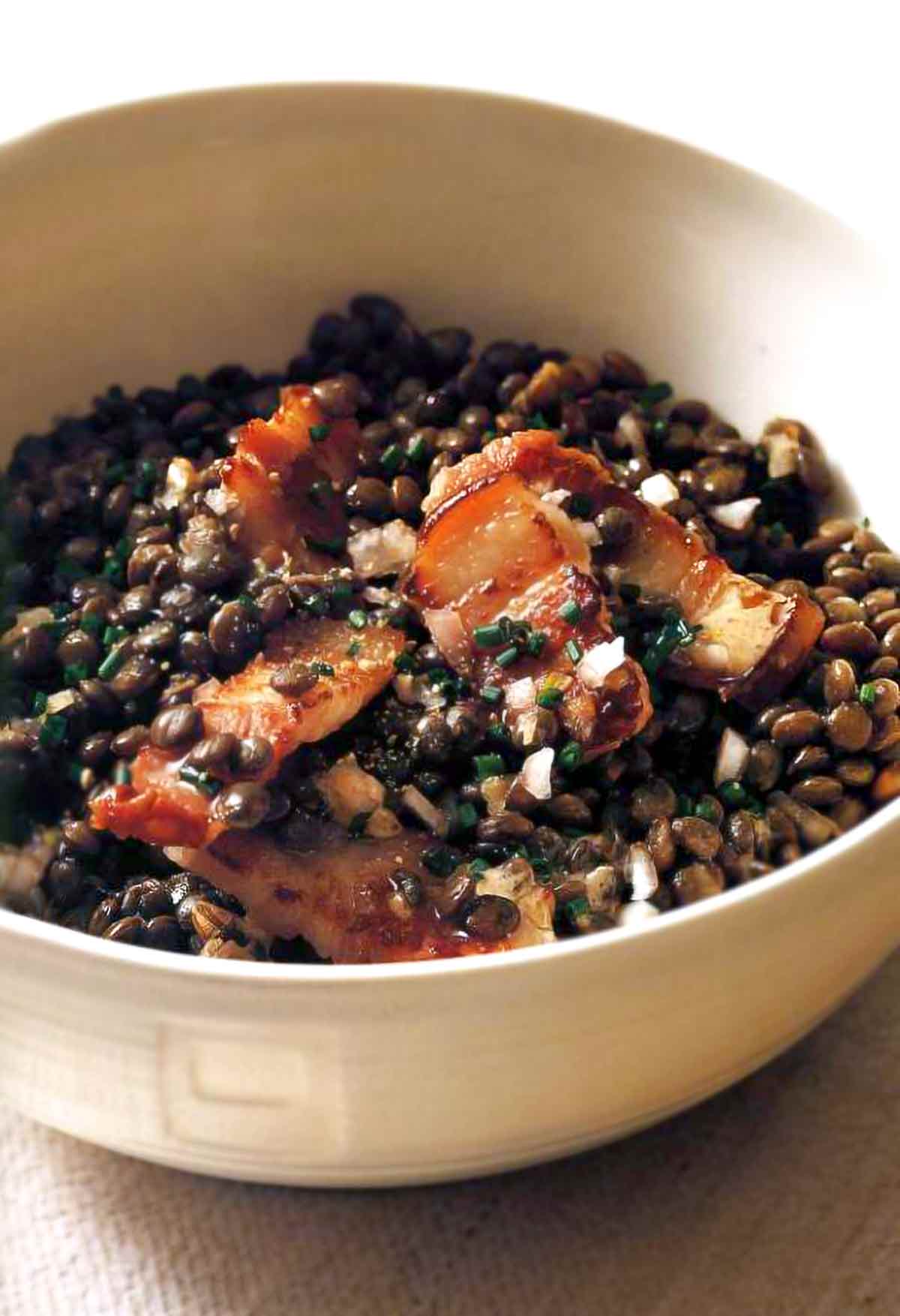 Warm lentil salad takes filling, toothsome lentils and gives them a little zip with a Dijon, red wine vinegar, and walnut oil dressing. And then? It all gets topped off with a sprinkle of bacon and chives. Divine.
Paul Bocuse is quoted as saying, "Simple fare is, in my opinion, the best—the kind that I love to prepare at home for my family and my friends." This lentil salad exemplifies that statement. Be sure to pick over your lentils, discard any shriveled pieces, then rinse and drain before beginning the recipe.–Paul Bocuse
Warm Lentil Salad
A handful of ingredients produces a toothsome dish, which, with crusty bread, could easily be lunch.
Ingredients
1 1/2

cups

lentils

preferably dark green or tan

8

cups

water

Salt

1

onion

peeled

5 1/4

ounces

salt pork or slab bacon

1

teaspoon

Dijon mustard

1

tablespoon

red wine vinegar

3

tablespoons

walnut oil

Salt and pepper

3

tablespoons

finely chopped chives

1

shallot

finely chopped
Instructions
Place the lentils in a large saucepan with the water. Salt lightly, add the onion, and bring to a boil.

Lower the heat, cover the pan, and simmer for 1 1/2 hours, or until the lentils are tender but not falling apart.

Fifteen minutes before serving, cut the salt pork or bacon into 1/2-inch cubes. Fry until the pieces have browned on all sides, then pour off the fat, remove from the heat, and cover the pan to keep warm.

Make a dressing by whisking together the mustard, vinegar, oil, salt, and pepper.

Once the lentils are done, remove the onion and drain the lentils in a sieve or colander. Place them in a large salad bowl with the chives, shallots, and dressing.

Toss gently to season, and place the pieces of bacon on top. Serve warm.
Nutrition
Serving:
1
serving
Calories:
643
kcal
Carbohydrates:
47
g
Protein:
21
g
Fat:
41
g
Saturated Fat:
12
g
Polyunsaturated Fat:
11
g
Monounsaturated Fat:
17
g
Cholesterol:
32
mg
Sodium:
1043
mg
Potassium:
783
mg
Fiber:
23
g
Sugar:
3
g
Vitamin A:
128
IU
Vitamin C:
7
mg
Calcium:
68
mg
Iron:
6
mg
Nutrition information is automatically calculated, so should only be used as an approximation.
---
Recipe Testers' Reviews
The big discovery in making this salad for the first time was walnut oil, a new ingredient for me. Its potent yet gentle flavor permeated this salad, and no one guessed this special ingredient as they ate both their first serving and their second.
In response to Mixolidia's query, I, too, cook for a lot of people who are vegetarian as well as non-pork eaters. I made this salad without the bacon. It needs no substitute ingredient and felt both whole and complete without it. It was perfect as part of a Middle Eastern meal, one which included the Turkish baked eggplant with chile, feta, and mint; Jerusalem salad, and rice pilaf with dried cherries and toasted pistachios, also on this site. It was delicious warm, but could also be served at room temperature.
Because bean salads are generally quite brown, and this one is no exception, I think it is important to include it in a meal that has plenty of color in the other dishes; by itself, it's not very pretty and it's unlikely anyone would select it based on love at first sight! Bocuse notes to serve it as a side, which I think is perfect, though it could work as a vegetarian main dish in this version without the bacon. If I were to use it as a main dish, I would garnish with chives aplenty and think about what other colorful addition I could use to give the meal a more appealing and festive feel: perhaps some crudités on a nice platter.
I'm giving this salad a tester's choice designation based on the amazing flavour and texture that I enjoyed.
Where this recipe falls short, is in the timing for cooking the lentils. Normally, timings are non-negotiable for me. There are no kitchen timers that will save any dishes if set for the wrong time. Recipes with large timing discrepancies usually also get large demerit points. Luckily, I always check for doneness of pulses at the halftime mark. In this case, when I checked after 45 minutes of simmering, the lentils were already more than tender, although not mushy. Since I used black beluga lentils instead of dark green or tan, I am excusing some of the time discrepancies. My suggestion for a timing edit is to simmer for 30 minutes (various lentils will cook in 30-40 minutes) then check at 10 to 15-minute intervals until the desired doneness.
I used black beluga lentils because these are my favourite for salads. Where flavour is concerned, I cooked my lentils with 1 teaspoon of kosher salt and added 1/4 teaspoon of the same salt to the dressing along with 1/8 teaspoon of freshly ground pepper. As I don't buy herbs in the summer and my garden chives were done, I used the greens from my young green onions. What really distinguished this recipe flavour from others was the Dijon, red wine vinegar, and walnut oil dressing. The flavours were so nutty, well-balanced, delicate, and inviting. Salt pork might have added a bit more umami flavour but I didn't miss it with regular bacon which provided texture and a bit of smokiness.
The three of us enjoyed this salad with crusty bread and still had another 3 portions leftover. I had saved the drained bacon fat in the refrigerator and I used it to reheat the leftover salad in a frying pan. Topped with a bit more green onion and served alongside grilled ribs, it was like a stewed lentil accompaniment, more like a meant dish than a leftover dish. This lentil salad will definitely be making a comeback to our table.
This is a simple, satisfying, and delicious dish. Though there isn't much in it, the whole is definitely greater than the sum of its parts. The warm lentils soak up the dressing nicely and while the taste isn't strong, it's very savory and lovely and accented fabulously by the salty, crunchy bacon. I had it over a salad, just greens and sliced radishes with a little bit of olive oil and a squeeze of lemon and it was a perfect summer dinner.
Originally published May 8, 2007