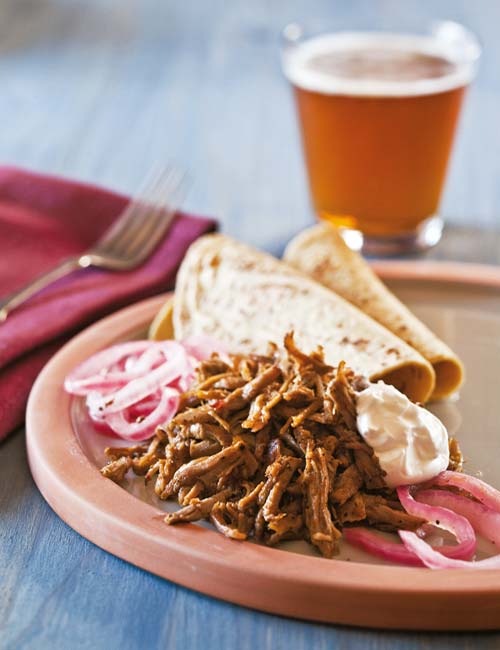 You've done the work to make the Yucatan-Style Slow-Roasted Pork, so now take advantage of its depth of flavor and combine it with a fiery (and I mean fiery) salsa.–Joe Yonan
LC Salsa at Your Disposal Note
Author Joe Yonan notes that although this habanero salsa recipe makes a mere 1/4 cup of salsa, a little goes a long way. If you have some left over, it'll last for 2 weeks in the fridge. Yonan notes that you can use it "on all manner of eggs and meats, and as a salad dressing base, but my favorite use might be to mash a tablespoon or two into the yolks of a half dozen hard-cooked eggs, along with mayo, for a party snack that puts the devil back into deviled eggs."
Pulled Pork Tacos with Habanero Salsa
Quick Glance
15 M
25 M

Makes 4 tacos
Print Recipe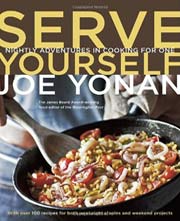 Ingredients
For the habanero salsa

1 habanero chili pepper

1 clove garlic, unpeeled

4 corn tortillas

1/4 cup lightly packed cilantro leaves, coarsely chopped

1 scallion, white and green parts, coarsely chopped

Juice of 1 lime, plus more as needed

1 teaspoon extra-virgin olive oil

Kosher or sea salt

For the pulled pork tacos

Sour cream, optional but decadent
Directions
Make the habanero salsa

1. Char the pepper by holding it with tongs over the flame of a gas burner, turning as needed, until it's spotted black and blistered all over. (If you don't have a gas stove, broil the habanero a few inches from the broiler element, turning as needed, until charred all over.) Let cool.

2. Remove the loose outer layers of papery skin from the garlic clove but leave the tight inner peel intact. Char the garlic clove over the gas burner, using the same technique as you did for the habanero, until it's completely blackened.

3. Carefully stem the habanero, scrape out the seeds, and coarsely chop the pepper, preferably wearing plastic gloves to protect your fingers. (And by all means, whatever you do, resist the urge to rub your eyes.) Peel the garlic clove, coarsely chop it, and add it to the bowl of a food processor (preferably a mini one) along with about half the habanero. Add the cilantro, scallion, lime juice, oil, and salt to taste and process until a loose salsa forms. Taste. If you want the salsa to be spicier, add more of the habanero and adjust the amout of lime juice and/or salt if need be. Set aside for just a few minutes. (You can cover and refrigerate the habanero salsa for up to 2 weeks.)

Make the pulled pork tacos

4. Heat the pork in a small saucepan over medium heat, stirring occasionally, until warmed through, 4 to 5 minutes. Warm the tortillas in a dry skillet over a medium-low flame, then wrap in aluminum foil to keep warm.

5. Lay the tortillas out on a plate. Divide the pork among the tortillas and top with just a little bit of the salsa (be judicious until you know how much you can handle). Any remaining salsa can be covered and refrigerated for up to a week or so to be spooned onto more tacos or eggs or baked potatoes or just about anything at will.
Pulled Pork Tacos with Habanero Salsa Recipe © 2011 Joe Yonan. Photo © 2011 Ed Anderson. All rights reserved. All recipes and photos used with permission of the publisher.
If you make this recipe, snap a photo and hashtag it #LeitesCulinaria. We'd love to see your creations on Instagram, Facebook, and Twitter.