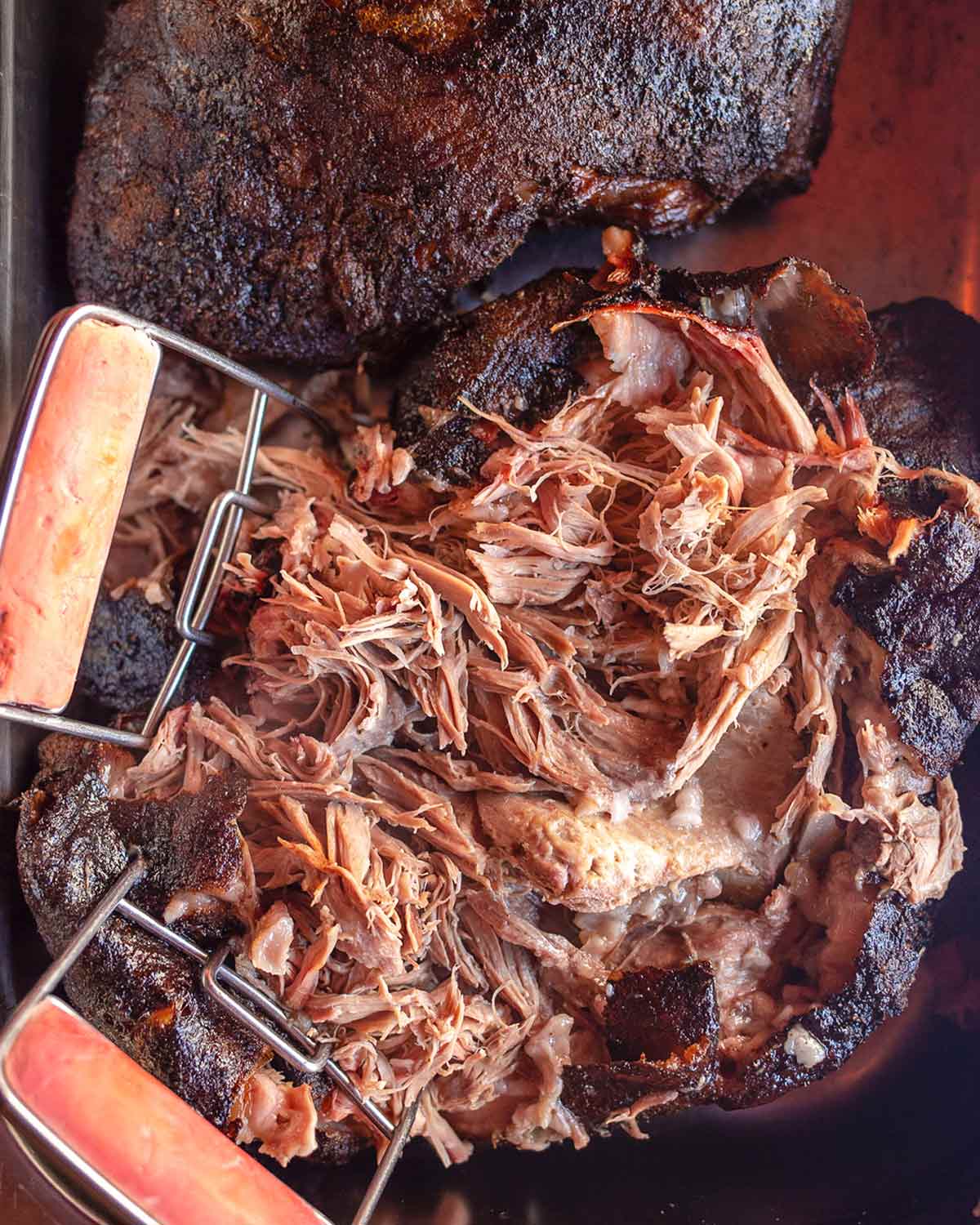 This slow cooker pulled pork recipe has a very different end product from a grilled or smoked pork butt recipe. Both will result in pulled pork, but this version is cooked in a liquid. It's basically braised for hours and hours. It gets a lot of its flavor from the liquid, while the grilled version gets its flavor from a rub and the natural fats in the pork.
Have no fear, though; you can still use this pulled pork as you would any other. Just be sure to follow the step about removing all the liquid from the slow cooker and adding only a part of it back in, so your pork isn't too soupy. Serve with toasted buns, barbecue sauce, and coleslaw for a classic meal.–Nick Evans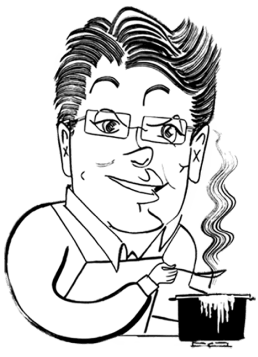 Why Our Testers Loved This
As with all slow cooker recipes, our testers love the "set it and forget it" method used here. They also are thrilled that such an inexpensive, easy-to-prepare meal can feed a crowd or provide enough meat for several meals.
Notes on Ingredients
Kosher salt–Not all kosher salt is created equal. If you are using Diamond Brand, use the full 1 tablespoon called for in the recipe. If you're using Morton Brand, cut it back to 2 teaspoons. If you're not certain of your brand of salt, use 2 teaspoons and adjust once the pork is cooked.
Pork butt (pork shoulder)–An 8-pound pork butt is perfect for the recipe. If you can get a bone-in pork shoulder, use that, but this will still work out well with a boneless roast. Don't substitute with a different cut of pork, as pork loin doesn't have enough marbling and fat to withstand the low and slow cooking method used here.
Beer–Use your favorite lager here, but avoid anything too malty or hoppy as it will impact the flavor of your pulled pork.
Soy sauce–The recipe calls for regular soy sauce. If you use low-sodium or tamari, check your seasoning after the pork is done cooking, and add salt if needed.
How to Make This Recipe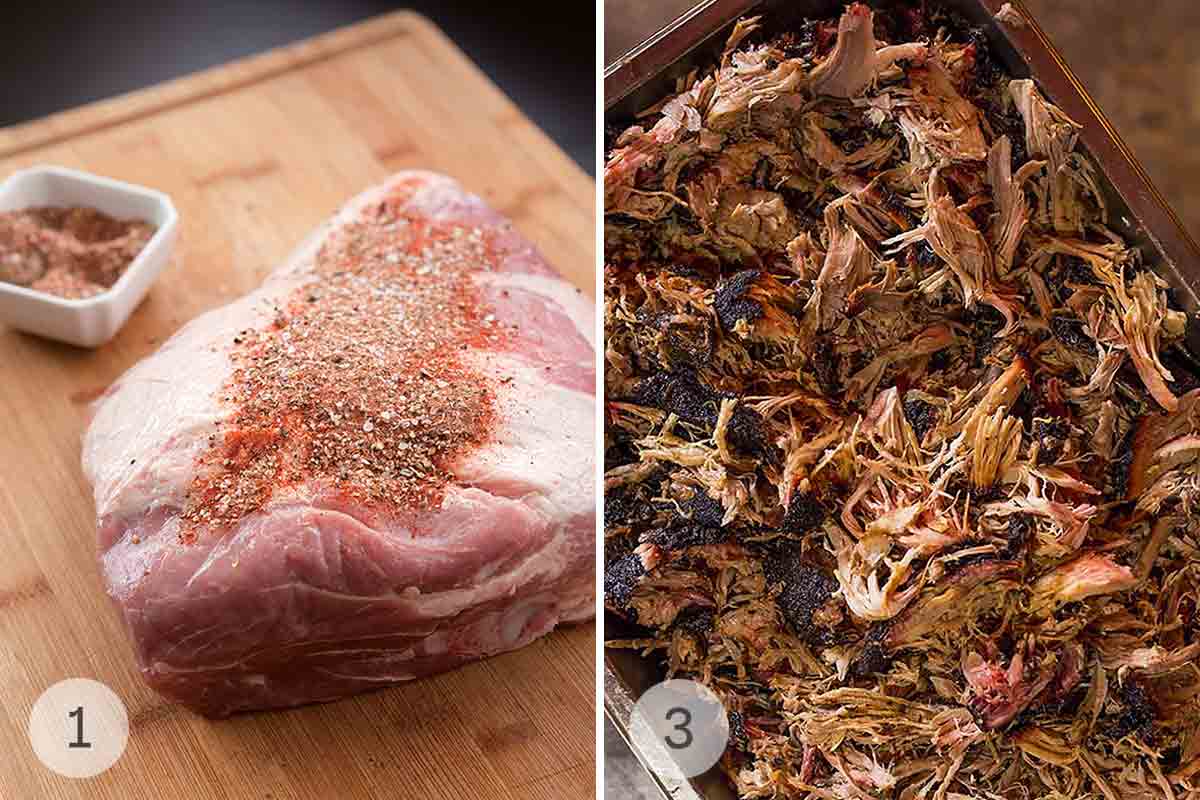 Combine the spices. Mix the brown sugar, paprika, chili powder, salt, and pepper together in a small bowl.

Prepare the pork. Cut the pork into chunks, rub with the spice mixture, and place in the slow cooker with the other ingredients.

Cook the pork. Cover the pork and cook on low until falling apart, about 10 hours.
Shred the pork. Transfer the pork to a roasting pan and shred with meat claws or two forks. Remove any large pockets of fat. Pour any juice left in the slow cooker into a heatproof measuring cup.

Mix in the juices. Return the pork to the slow cooker. Stir enough of the leftover juice back into the shredded pork so that it is moist but not soupy.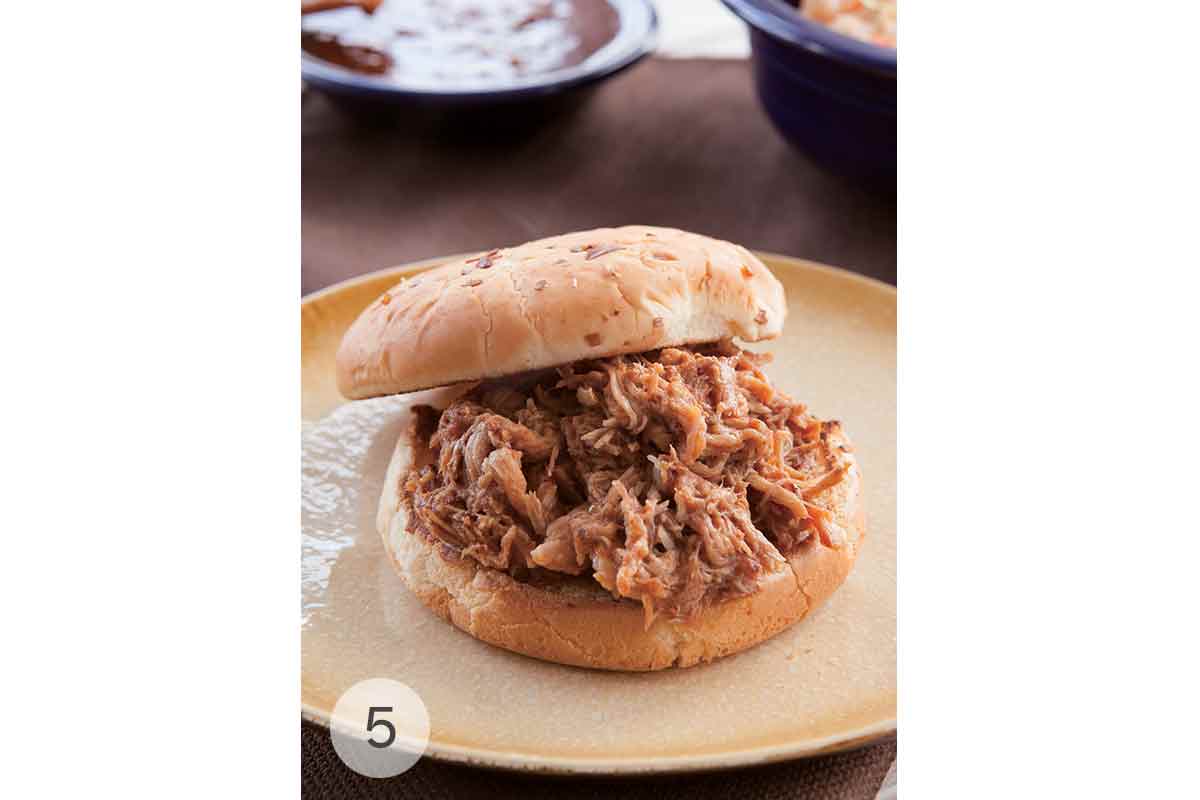 Serve. Pile the pork onto toasted buns, tuck it into tacos, or pile it atop baked potatoes.
Slow Cooker Pulled Pork FAQs
How do I choose a pork butt at the store?
According to author Nick Evans, "use visual cues to help you buy pork shoulder. Look for meat that's pinkish-red in color with some marbling in the meat."
How can I tell if my pork is done?
The pork should be fork-tender and easy to shred. If you have a meat thermometer, the finished temperature should be between 200°F and 205°F (93°C and 96°C).
Helpful Tips
Don't try to speed it along and set your slow cooker to high. You'll get the best results by cooking it on low for about 10 hours.
If your pork butt is a little bigger or smaller than called for, the cooking time may be slightly shorter or longer. Monitor the internal temperature and remove it from the slow cooker once it reaches 200°F.
Each pound of pork will feed about 3 people.
If you prefer a saucier pulled pork, stir in some BBQ sauce before serving.
Leftover pulled pork can be stored in the refrigerator in a sealed container for up to 5 days, or frozen for 2 to 3 months.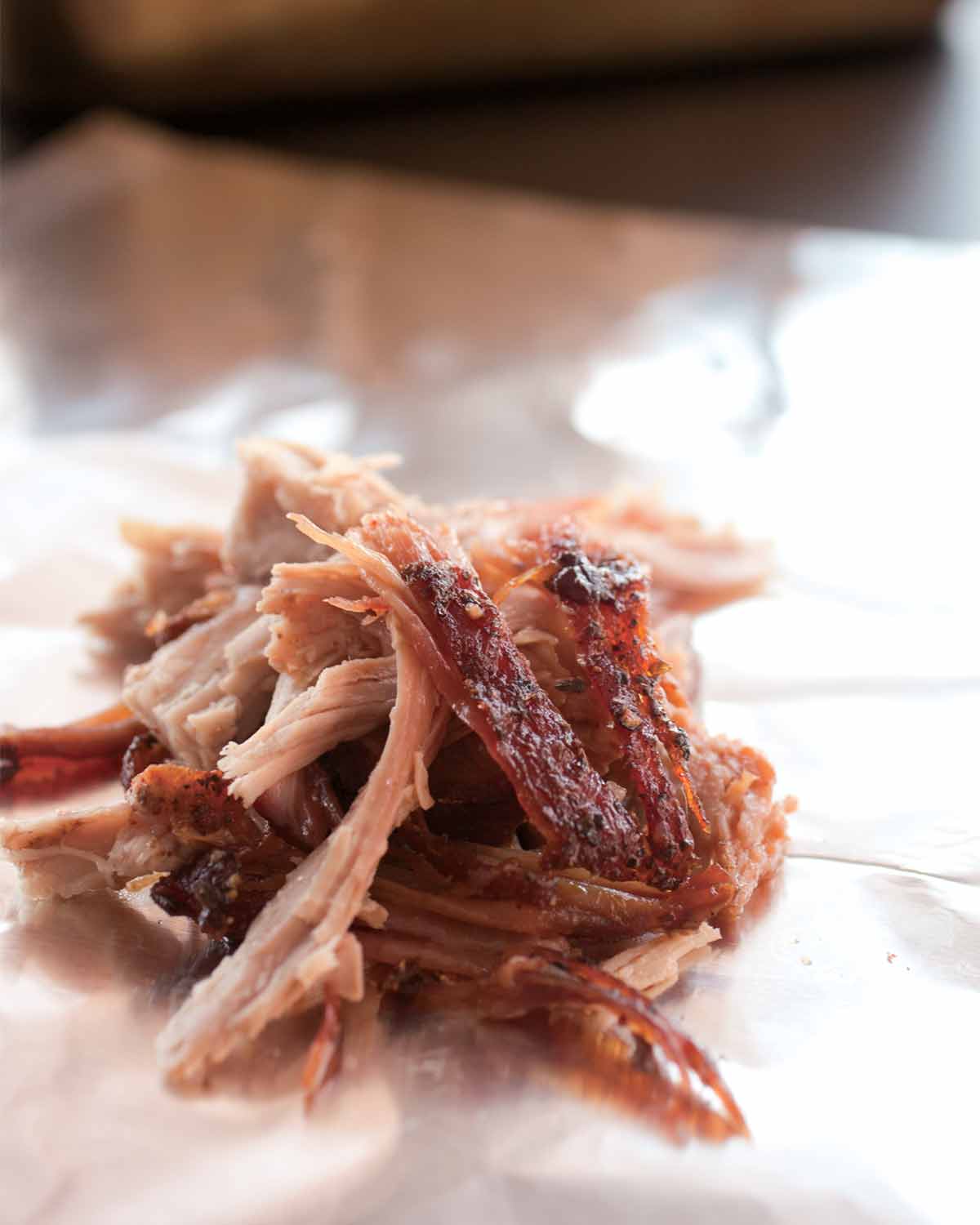 Write a Review
If you make this recipe, or any dish on LC, consider leaving a review, a star rating, and your best photo in the comments below. I love hearing from you.–David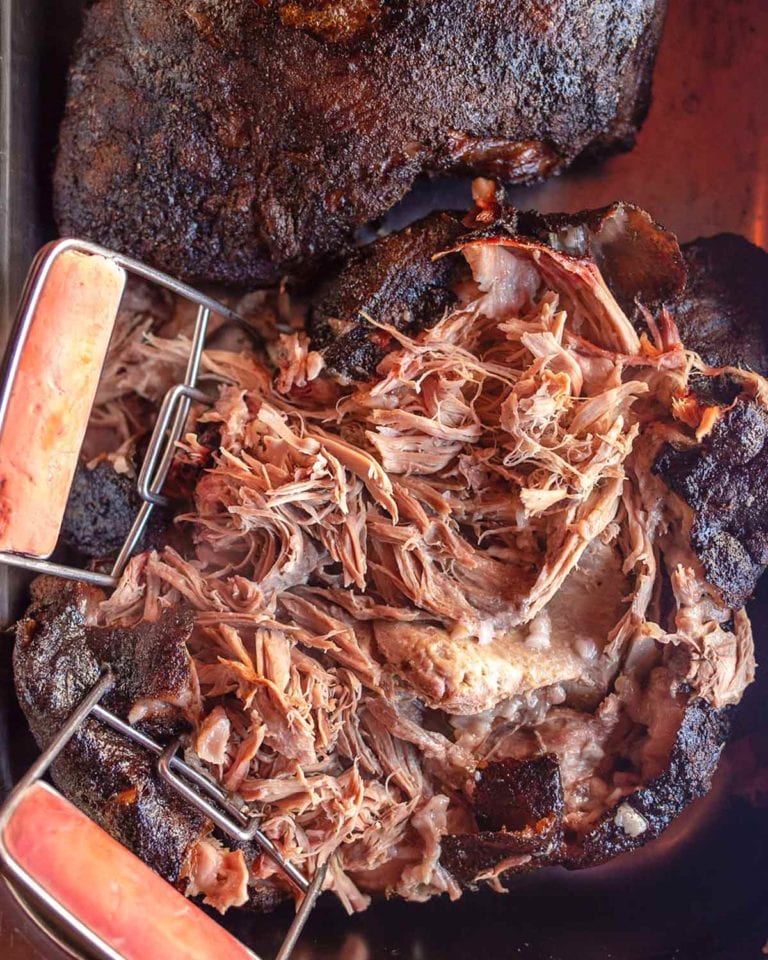 Slow Cooker Pulled Pork
This slow cooker pulled pork is easy to make with pork shoulder, aka pork butt, onion, beer, sugar, and spices, and it capably feeds a crowd. (Just be certain to stash some in the back of the fridge so you have leftovers.)
Equipment
6-quart or larger slow cooker
Ingredients
1/2

cup

brown sugar

2

tablespoons

paprika

1

tablespoon

chili powder

1

tablespoon

kosher salt

1

tablespoon

black pepper

One

(8-pound)

pork butt (aka pork shoulder)

1

large onion

, grated

One

(12-ounce) bottle

beer

,

(any good lager works)

6

ounces

store-bought or homemade tomato paste

1/4

cup

soy sauce

1

large cinnamon stick
Instructions
In a small bowl, combine the brown sugar, paprika, chili powder, salt, and pepper.

Cut the pork butt into 4 or 5 large pieces that will fit in a 6-quart or larger slow cooker. Cut off any large hunks of fat. (You don't need that much fat since the pork is cooking in liquid.) Rub the spice mixture all over the pork.

Mix together the onion, beer, tomato paste, soy sauce, and cinnamon stick in the slow cooker. Add the pork to the liquid, cover, and cook on low for 10 to 10 1/2 hours.

Move the pork to a roasting pan and let it cool for a few minutes. Pour the cooking liquid from the slow cooker into a heatproof bowl or measuring cup, and discard the cinnamon stick.

Remove and discard any remaining visible hunks of fat from the pork. Shred the pork pieces using 2 forks or these nifty things that shred the meat for you known as meat claws or meat shredders. The pork should fall apart quite easily.

Return the shredded pork to the empty slow cooker. Pour the cooking liquid back into the slow cooker in 1-cup increments until the pork is moist but not soupy. You will probably need 2 to 3 cups of liquid, but feel free to add more or less to taste. Just remember that if your pork is too wet, it will be soggy later.

Keep the pulled pork warm while serving. Store leftovers in the fridge for up to a week or freeze in an airtight, freezer-safe container for up to a few months.
Notes
Slow cooker setting–We don't recommend cooking this on high. The low setting on your slow cooker will give you the best results.
Servings–One pound of pork butt will serve approximately 3 people.
Reheating leftovers–Leftover pulled pork can be reheated in a skillet with a little oil over medium-low heat, or in the slow cooker for about 1 hour. If frozen, thaw in the fridge overnight before reheating.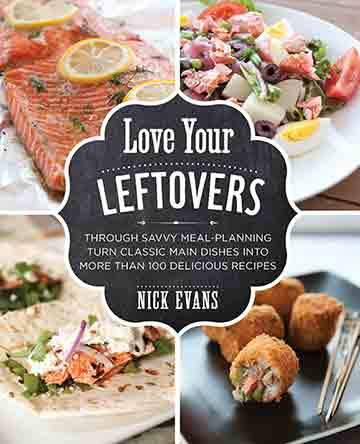 Nutrition
Serving:
0.5
cup
Calories:
233
kcal
Carbohydrates:
8
g
Protein:
29
g
Fat:
9
g
Saturated Fat:
3
g
Trans Fat:
1
g
Cholesterol:
90
mg
Sodium:
587
mg
Potassium:
617
mg
Fiber:
1
g
Sugar:
6
g
Vitamin A:
233
IU
Vitamin C:
3
mg
Calcium:
34
mg
Iron:
2
mg
Nutrition information is automatically calculated, so should only be used as an approximation.
Recipe © 2014 Nick Evans. Photos © 2020
Pete/Adobe
. Photo © 2014 Nick Evans. All rights reserved.
---