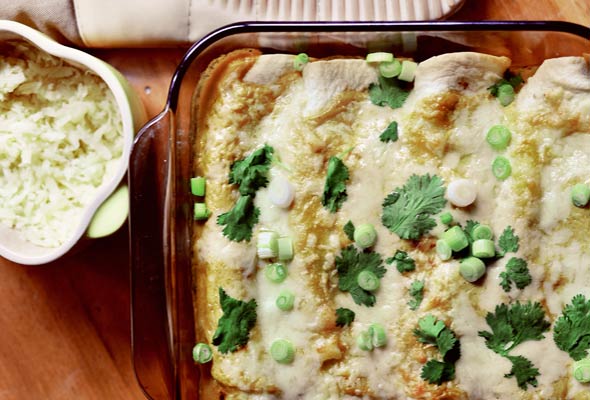 These enchiladas have two fillings: a black bean filling and a chicken filling. If you're feeding just carnivores, you can mix the fillings together in all the enchiladas instead of serving two different types, if you wish. If serving vegetarians, just stick with the black bean rendition. And if being vegan-minded, clearly you'll want to ditch the chicken version and omit the cheese and the green chile sauce in the black bean rendition, opting instead for a good store-bought red enchilada sauce [Editor's Note: or your favorite green salsa or sauce]. The fillings and sauce can be made up to two days in advance, and the enchiladas can be assembled early in the day.–Cara Eisenpress and Phoebe Lapine
LC The Whole Enchiladas Note
If you've never rolled enchiladas before, allow us to share a little secret with you. It's easy. Unlike burritos or summer rolls, which require a little deft tucking here and there, these require just a simple turning of the edges of the tortillas over the filling. Done. You could swap leftover grilled, roast, or rotisserie chicken for the baked breasts, and you can assembled the whole enchilada–all of 'em–ahead of time and stash them in the fridge prior to warming them. See? Easy. (A word to the wise: You can also stash the leftovers in the fridge and sneak them out of the house in the morning to take to work with you for lunch. You're welcome.)
Chicken Enchiladas | Black Bean Enchiladas
Quick Glance
1 H
2 H

Serves 10 to 12
Print Recipe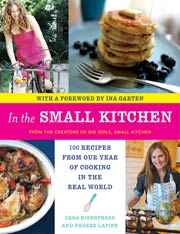 Ingredients
For the chicken enchilada filling

2 tablespoons Dijon mustard (optional)

1 tablespoon olive oil

1 1/2 teaspoons chile powder

1 teaspoon salt

4 boneless, skinless chicken breasts

For the black bean enchilada filling

Olive oil

1 red onion, sort of finely chopped

1 pound (about 2 medium) zucchini, quartered lengthwise and cut into 1/4-inch slices

2 cloves garlic, minced

One 15-ounce can black beans, rinsed and drained

1 teaspoon chile powder

1 teaspoon ground cumin

1 teaspoon salt

For the green chile sauce

2 tablespoons butter

2 cloves garlic, minced

2 jalapeños, minced

2 tablespoons all-purpose flour

One 15-ounce can vegetable or chicken stock, or 2 cups homemade chicken stock

16 ounces (2 cups) sour cream

One 8-ounce can fire-roasted mild green chiles

1 teaspoon ground cumin

1 teaspoon chile powder

1 teaspoon salt

Cayenne pepper, to taste

For rolling and saucing the enchiladas

Sixteen 8-inch flour tortillas

1 1/2 pounds Monterey Jack cheese, shredded

1/2 cup cilantro leaves, plus more for garnish

Thinly sliced scallions

2 limes, cut into 6 wedges
Directions
Prepare the oven and pan

1. Preheat the oven to 350°F (176°C). Line a baking dish with aluminum foil.

Make the chicken filling

2. In a medium bowl, combine the mustard (if using), oil, chile powder, and salt. Add the chicken breasts and toss to coat. Place them on the baking dish and bake until just cooked through, about 30 minutes. Allow the chicken to cool slightly, then shred the breasts using two forks or your fingers. Set the meat aside along with the juices from the baking dish.

Make the black bean filling

3. Add just enough olive oil to a large nonstick or cast-iron skillet to coat the surface and place it over medium heat. Sauté the onion until softened, 5 to 8 minutes. Add the zucchini and continue to sauté, stirring occasionally, until the zucchini is tender and browned, another 6 minutes or so. Add the garlic, beans, chile powder, cumin, and salt, and cook until the beans are tender and the garlic is fragrant, about 5 minutes. Set aside.

Make the green chile sauce

4. Melt the butter in a large skillet over medium heat. Add the garlic and jalapeños and cook until they are softened but not yet beginning to brown, about 4 minutes. Add the flour and cook for 1 minute, stirring constantly. Still stirring, slowly add the stock in a steady stream. Increase the heat to medium-high and bring the mixture to a boil. Then reduce the heat and simmer until the liquid has reduced and the sauce has become opaque, about 5 minutes. Let it cool slightly.

5. Transfer the sauce to a blender or food processor, add the sour cream, chiles, cumin, chile powder, salt, and cayenne, and purée until smooth. (If you don't have a food processor, mince the chiles by hand and then whisk all the ingredients into the skillet).

Assemble the enchiladas

6. Coat the bottoms of two 9 x 13-inch baking dishes with some of the sauce. To make the chicken enchiladas and black bean enchiladas, fill 8 tortillas with the chicken and 8 with the black bean and zucchini mixture, spooning the mixture along the center of each tortilla. Top the filling with a spoonful of shredded cheese and a sprinkling of cilantro. Roll the sides of the tortillas over the filling and place them, seam side down, in the baking dishes.

7. Pour the remaining green chile sauce evenly over the enchiladas and sprinkle with the remaining cheese. Bake the enchiladas in the oven for 30 minutes, or until the sauce is bubbling and the cheese is beginning to brown. Garnish with the extra cilantro leaves and scallions and serve with the lime wedges.
Chicken Enchiladas | Black Bean Enchiladas Recipe © 2011 Cara Eisenpress | Phoebe Lapine. Photo © 2011 Josh Shaub. All rights reserved.
If you make this recipe, snap a photo and hashtag it #LeitesCulinaria. We'd love to see your creations on Instagram, Facebook, and Twitter.