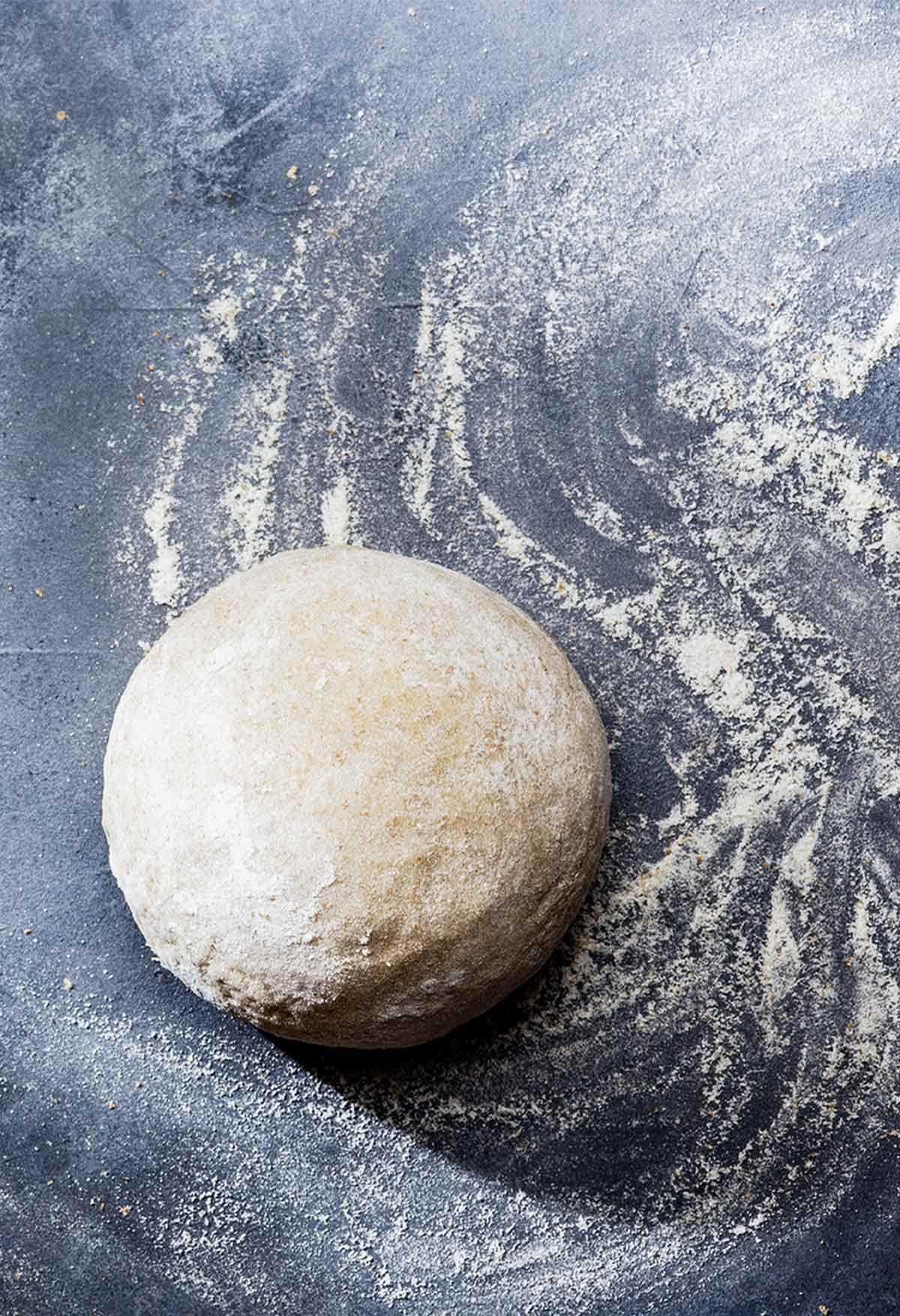 Semolina is a protein-rich flour that makes this dough resilient and gives the baked crust a hearty chew and tooth-sinking texture. [Editor's Note: It's not every day that we hear of a pizza crust being described as having a "tooth-sinking" texture, as author Brigit Binns describes it. But you know what? That odd little turn of the phrase is an astoundingly accurate adjective. You may wish to consider adding it to your lexicon, just as you may wish to add this pizza crust to your repertoire.]–Brigit Binns
Semolina Pizza Dough FAQs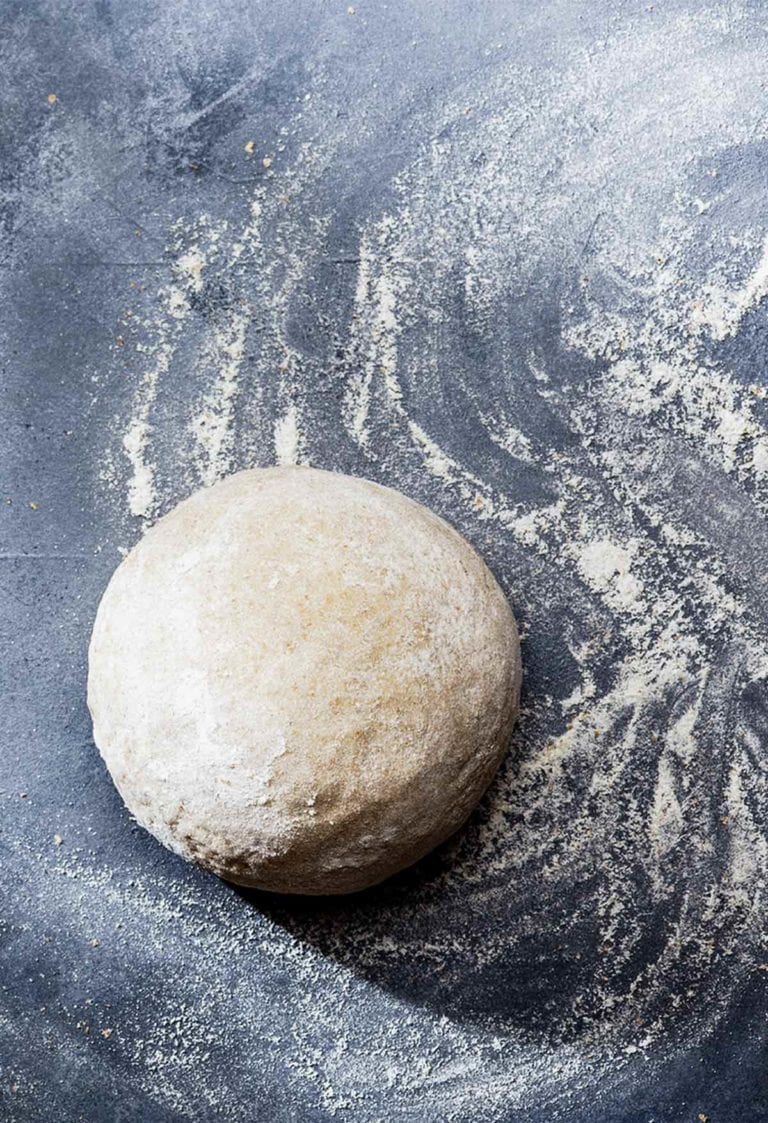 Semolina Pizza Dough
This semolina pizza dough is surprisingly simple to work with and remarkably satisfying in a sturdy sorta way. So load 'er up with toppings and cheese and fear not.
Ingredients
1/4

cup

warm water [110°F (43°C)]

1

teaspoon

granulated sugar

1

package (2 1/4 teaspoons)

active dry yeast

1

cup

room-temperature water

,

plus more as needed

1

tablespoon

mild olive or vegetable oil

,

plus more for the bowl

2

cups plus 2 tablespoons

fine semolina flour

1

cup plus 7 tablespoons

all-purpose flour

,

plus more for the work surface

2

to 3 teaspoons

Diamond kosher salt
Instructions
In a measuring cup or small bowl, stir together the warm water and the sugar. Sprinkle with the yeast and let stand until it starts to foam, about 5 minutes.

Add the room-temperature water and the olive oil to the foaming yeast concoction. Let it rest for a moment.

In a food processor, combine the semolina and all-purpose flours and the salt. With the motor running, add the yeast mixture in a steady stream and then pulse until the dough comes together in a rough mass, about 12 seconds. (If the dough doesn't form a ball, sprinkle it with 1 to 2 teaspoons of cold water and pulse again until a rough mass forms.) Let the dough rest in the processor bowl for 5 to 10 minutes.

Process the dough again for 25 to 30 seconds, steadying the top of the food processor with one hand. The dough should be tacky to the touch but not sticky.

Transfer the dough to a lightly floured work surface and form it into a smooth ball. Place the dough in a large oiled bowl, turn the dough to coat with oil, and cover the bowl with plastic wrap. Let the dough rise in a warm place until doubled in size and spongy, about 1 1/2 hours.

Turn the dough out onto a lightly floured work surface, gently punch it down, and shape it into a smooth cylinder. Divide the dough into 2 equal portions. Shape each portion into a smooth ball, dusting with flour only if the dough becomes sticky.

Cover both balls of dough with a clean kitchen towel and let rest for 10 minutes before proceeding with your pizza recipe. (You can freeze the balls of dough in gallon-size resealable plasic bags, being sure to squeeze as much of the air as possible out of the bag, for up to 2 months. Thaw the frozen dough for 3 to 4 hours at room temperature.)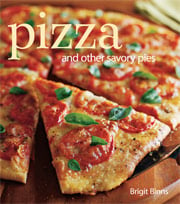 Nutrition
Serving:
1
crust
Calories:
1089
kcal
Carbohydrates:
222
g
Protein:
37
g
Fat:
3
g
Saturated Fat:
1
g
Polyunsaturated Fat:
1
g
Monounsaturated Fat:
1
g
Sodium:
3500
mg
Potassium:
512
mg
Fiber:
11
g
Sugar:
2
g
Calcium:
56
mg
Iron:
13
mg
Nutrition information is automatically calculated, so should only be used as an approximation.
Recipe © 2008 Brigit Binns. Photo © 2008 Alefat. All rights reserved.
---
Recipe Testers' Reviews
I was very pleased with how easy this semolina pizza dough was to make as well as with the flavor of the finished product. I'd been interested in trying semolina flour for pizza dough, and after making this, I want to explore it further.
I liked that the recipe yielded enough dough for multiple pizzas. The recipe says to let the dough rise in a warm place. It would be helpful for some people to know where and how to do that. For example, they can turn their oven on to the lowest setting for about 5 minutes, turn the oven off, and then put the dough into the oven. After the dough is made and divided into 2 pieces, the recipe tells you that after letting it rest for 10 minutes, you can use it or freeze it.
I wanted to use half of the dough later that day and then use the other half the next morning. Not having a lot of experience with dough, I was just assuming that it would work to refrigerate the remaining dough overnight. Someone who needs everything spelled out for them might take the recipe very literally and feel that they either had to bake the pizza right then and there or else throw the dough into the freezer.
This dough was incredibly easy to work with and stretch and it held its shape. It makes a fairly thick crust and can stand up to a lot of toppings. We loaded ours up with cooked crumbled sausage, peppers, mushrooms, onions, and plenty of cheese. It was excellent though very filling.
I froze the second crust, wrapped it in plastic wrap, and used it a couple of months later and it was just as good as fresh.