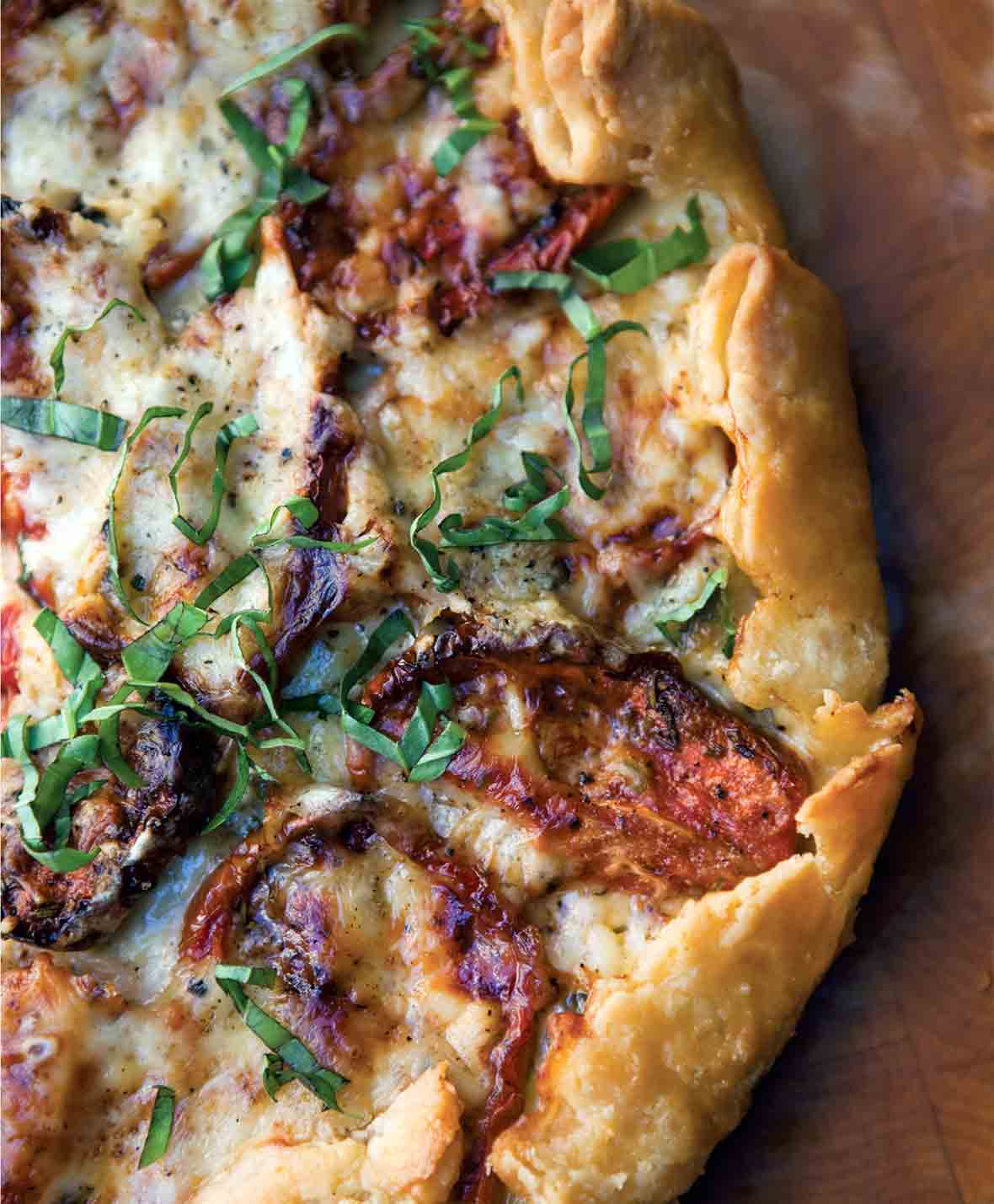 This is another recipe inspired by a trip my wife and I took to Paris. We were there in the late summer and fell in love with a tomato and basil tart. When we got home, we went to the market, found the freshest heirloom tomatoes and basil available, and then made that tart. Although it was delicious, the tomatoes released too much of their liquid, which made the crust soggy. So we decided to slow roast the tomatoes to draw out their moisture and intensify their flavor before we added them to the tart shell. The smell and taste of the finished tart were so vivid that eating it was like taking a sensory vacation to Paris. If you've been to Paris, this tart will take you back. If you haven't been to Paris, it will give you a taste of what you will find when you do go.
I make a free-form tart shell using Italian pastry dough known as pasta frolla, a shortbread-type dough that is more commonly used for fruit crostate (tarts), though I nix most of the sugar. St. George cheese—made in northern California—is reminiscent of Cheddar but in the style of a traditional cheese of the Azorean island of Sào Jorge. What I like about this dish is that it can be used at any point during a meal. You can cut it up into small pieces for a great "small bite," serve it as an appetizer, or pair it with a salad for a satisfying main course.–Mitchell Rosenthal
LC One Size Fits All Note
Any tomatoes, whether pale plum or Roma tomatoes at the supermarket or seductively misshapen heirlooms from the farmers' market, will do the trick in this seductive tart. Slow roasting the summery orbs (or, if using plum tomatoes, oblongs) concentrates the tomatoes' sweet depths without masking their inherent acidity. And when you layer that on a simple pastry with aged cheese and basil, well, you sorta have to taste a slice of this tart to truly understand.
Roasted Tomato-Basil Tart
Quick Glance
45 M
6 H

Serves 8
Ingredients
Email Grocery List
For the slow-roasted tomatoes

2 pounds plum tomatoes (or smallish heirloom tomatoes of any sort)

1/4 cup extra-virgin olive oil

1 tablespoon finely chopped rosemary leaves

Salt and freshly ground black pepper

For the tart dough

1 cup all-purpose flour, plus more for the work surface

1/4 teaspoon salt

6 tablespoons unsalted butter, chilled and cut into small pieces

4 to 5 tablespoons ice water

For the tart

2 tablespoons extra-virgin olive oil, plus more for drizzling

1 large yellow onion, thinly sliced

Salt and freshly ground black pepper

1/2 pound St. George or medium-aged white Cheddar cheese, shredded

1/2 cup chiffonade of basil leaves (that means cut into long, narrow strips)

2 tablespoons crème fraîche

1 large egg mixed with 1 tablespoon whole milk
Directions
Make the slow-roasted tomatoes

1. Preheat the oven to 225°F (107°C).

2. Cut each tomato in half crosswise. (Alternatively, if using large plum tomatoes or any size heirloom tomatoes, thickly slice the tomatoes crosswise into about 4 portions.) Arrange the sliced tomatoes, cut side up, on a rimmed baking sheet. Drizzle the tomato halves evenly with the olive oil, sprinkle with the rosemary, and season with salt and pepper. Roast the tomatoes until the moisture is completely removed, 4 to 6 hours, depending on the size of your tomatoes. The tomatoes should be dry but still soft to the touch, and when you press a tomato with your finger, it will feel plump yet exude no liquid. (If using sliced tomatoes instead of halves, you may wish to start checking them at 2 hours.) Remove from the oven and let the tomatoes cool completely.

Make the tart dough

3. In a bowl, whisk together the flour and salt. Scatter the butter over the flour mixture and, using your fingers, gently press the butter and flour together until it resembles a coarse meal. Drizzle the ice water over the top and, using a fork, gently toss and stir just until the dough comes together in a cohesive clump.

4. Gather the dough into a ball and place it on a lightly floured work surface. Flatten the dough into a thick disk and wrap in plastic wrap. Refrigerate for at least 1 hour and up to 2 days.

Assemble the tart

5. Position a rack in the lower third of the oven and preheat it to 375°F (190°C).

6. In a sauté pan, heat the 2 tablespoons oil over low heat and stir in the onion. Cover and sweat over low heat for 10 to 15 minutes, until the onion is soft and translucent. Do not allow the onion to color. (Alternatively, if you prefer properly caramelized onions, you can uncover and cook the onions until golden brown and intensely flavorful.) Remove from the heat, season with salt and pepper, and let cool completely.

7. Line a baking sheet with parchment paper. On a lightly floured work surface, roll out the dough to a round about 12 inches in diameter. Carefully transfer the round to the parchment.

8. Layer half of the cheese on the dough round, leaving a 1-inch border uncovered around the edge. In a small bowl, combine the cooled onion, the basil, and the crème fraîche and mix well. Spread the onion mixture evenly over the cheese layer. Top with the roasted tomatoes, then cover with the remaining cheese. Season with salt and pepper and drizzle with olive oil. Fold the uncovered edge of the tart onto itself, forming uniformly spaced pleats every few inches around the perimeter. Brush the overturned edge of dough with the egg wash.

9. Bake the tart for 30 to 40 minutes, until the crust is a nice golden brown. Remove the tart from the oven, transfer it to a wire rack, and let it cool until it's warm or at room temperature. Slice and serve.
Recipe Testers Reviews
Roasted Tomato-Basil Tart Recipe © 2011 Mitchell Rosenthal. Photo © 2011 Paige Green. All rights reserved. All materials used with permission.
If you make this recipe, snap a photo and hashtag it #LeitesCulinaria. We'd love to see your creations on Instagram, Facebook, and Twitter.