The best batch of this sorbet was made with a Zinfandel recommended by my friend Matti, who's a super taster. I bought a few bottles that he suggested, and one sorbet in particular was just amazing. Since then, I've been referring to that special batch as "Matti's Mulled Wine Sorbet," but as things can go in a kitchen full of activity and wine, I can't, for the life of me, remember which bottle I used! Try your favorite Zinfandel, Cabernet, Demi Beaujolais, or Bordeaux and see what happens. This is a fun treat for a dinner party of wine buffs—see who can guess which wine you used!–Molly Moon Neitzel
LC Which Wine Was That Again? Note
We've all been there. You know, that infinitely comfy place where you've just polished off a bottle of wine—whether supped in its natural state or slurped as sorbet—and are basking in its afterglow, certain that one of you will recall the name or recognize the label next time you see it. But then the next day, after the headache goes away, you've not the foggiest notion what varietal it was, let alone the winemaker. Next time snap a pic of the bottle—making certain to capture the label. Why else do you think they incorporated cameras into cell phones?
Special Equipment: Ice cream maker
Mulled Wine Sorbet
Quick Glance
15 M
1 H, 30 M

Makes 1 to 1 1/2 quarts
Print Recipe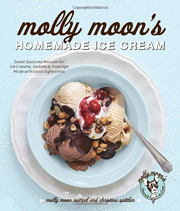 Ingredients
1 whole vanilla bean

1 to 2 cups granulated sugar, depending on your wine and your sweet tooth

3 cups full-bodied red wine, such as a Zinfandel, Cabernet, or Bordeaux

1 cinnamon stick

5 whole cloves

1 thin-skinned orange, preferably seedless, cut into 6 wedges

1/4 teaspoon freshly grated nutmeg

2 tablespoons finely chopped crystallized ginger

1/2 teaspoon whole allspice berries or 1/4 teaspoon ground allspice
Directions
1. Cut the vanilla bean in half lengthwise and, with the back of your knife, scrape out the seeds into a medium, stainless steel saucepan with a lid. Toss the scraped pod into the pan along with the remaining ingredients. Bring the mixture to a simmer, uncovered, over medium heat, whisking occasionally to dissolve the sugar. Reduce the heat to low and let gently simmer for 5 minutes.

2. Remove the pan from the heat, cover, and let steep for 30 minutes at room temperature.

3. Strain the cooled mulled wine mixture through a fine mesh sieve into a shallow bowl or pan. Discard the sieve contents. Place the mixture in the refrigerator until thoroughly chilled, 1 to 2 hours.

4. Pour the chilled sorbet ingredients into an ice cream maker and process according to the manufacturer's instructions. Using a rubber spatula, transfer the sorbet to an airtight glass or plastic freezer container. Cover tightly and freeze until the sorbet is firm, at least 4 hours, before scooping and serving.
Mulled Wine Sorbet Recipe © 2012 Molly Moon Neitzel. Photo © 2012 Kathryn Barnard. All rights reserved.
If you make this recipe, snap a photo and hashtag it #LeitesCulinaria. We'd love to see your creations on Instagram, Facebook, and Twitter.