Ripe chiles roast best. Proper chile roasting technique actually begins in the market by selecting firm fruit with brightly colored, unmarked, slightly waxy skin. Once you've chosen your chiles, I recommend trimming the stems since they can easily catch fire during the roasting process, especially if you're working over an open flame.–Meagan Micozzi
LC Roasted Chiles Redux Note
Proper roasted chiles lend a smokey, sultry, indefinably authentic flavor to all manner of Mexican and Tex-Mex dishes. Roasting chiles is essentially like roasting bell peppers—in other words, it's pretty easy peasy, as you'll come to understand when you read the straightforward technique below. The only trick is you're going to want to slip on some gloves if you're working with exceptionally hot chiles such as, say, habaneros. And for the love of all things good, resist the urge to rub your eyes while handling the chiles. As for what you can do with the roasted chiles, heck, it may be easier to explain what you can't do with them. But for starters, we'll leave you with this lovely braised chicken with tomatillos recipe that we'd be oh so happy to tuck into any night of the week.
Roasted Chiles
You have several options when it comes to exactly how and where you roast your chiles. I usually opt to roast mine over an open flame on my gas stovetop. Having a pair of sturdy metal tongs on hand for turning and moving your chiles is key.
Ingredients
1

ripe chile pepper

,

or more if needed, stems trimmed
Instructions
Rinse the chile peppers and pat it dry.

Roasted chiles over a gas flame: Place the whole chile on the open flame of the stovetop and roast, turning frequently, until evenly charred. The roasting time will vary depending on the size and shape of the chile, so keep a close eye on it, turning and moving the chile with a pair of long-handled metal tongs as often as necessary to produce an evenly blackened surface. (It's not unusual for a chile's skin to pop and crackle as it roasts. Consider yourself warned.)

Roasted chiles under the broiler, halve the chile lengthwise and place it, cut side down, on a baking sheet lined with foil. Place under the broiler, without turning, until charred.

When the roasted chile is evenly charred, carefully remove it from the flame with the tongs and toss it into a resealable plastic bag and seal the bag. (Alternatively, you can plop the roasted chile into a large bowl and cover it tightly with plastic wrap.) Set aside until the skin is soft, soggy, shriveled, and loose, at least 5 minutes.

Transfer the roasted chile to a cutting board and use a sharp knife or your fingers to scrape or peel away the blackened skin. Once you've removed as much of the skin as possible, slice off the stem end of the chile, slice down its length vertically, lay it flat on your work surface, and scrape away the exposed seeds and white membranes. At this point, the roasted chile is most commonly cut vertically into long strips known as rajas, which can then be incorporated into whatever dish you wish.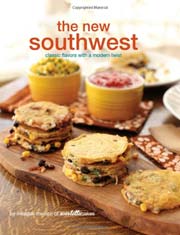 Nutrition
Serving:
1
pepper
Calories:
18
kcal
Carbohydrates:
4
g
Protein:
1
g
Fat:
1
g
Saturated Fat:
1
g
Polyunsaturated Fat:
1
g
Monounsaturated Fat:
1
g
Sodium:
4
mg
Potassium:
145
mg
Fiber:
1
g
Sugar:
2
g
Vitamin A:
428
IU
Vitamin C:
65
mg
Calcium:
6
mg
Iron:
1
mg
Nutrition information is automatically calculated, so should only be used as an approximation.
Recipe © 2013 Meagan Micozzi. Photo © 2013 Meagan Micozzi. All rights reserved.
---
Recipe Testers' Reviews
Select a Tester
This is hardly a recipe. Rather, it's a simple, straightforward technique for roasted chiles that's ridiculously foolproof. I've relied on both broiler and flame methods countless times, and each does the trick to a faretheewell. The precise timing, of course, depends on the size of the chile and the heat of the flame and just how close or distant the chile is to the flame. But it's not exactly tricky to figure out when the chile is charred. Go forth and roast peppers with confidence!