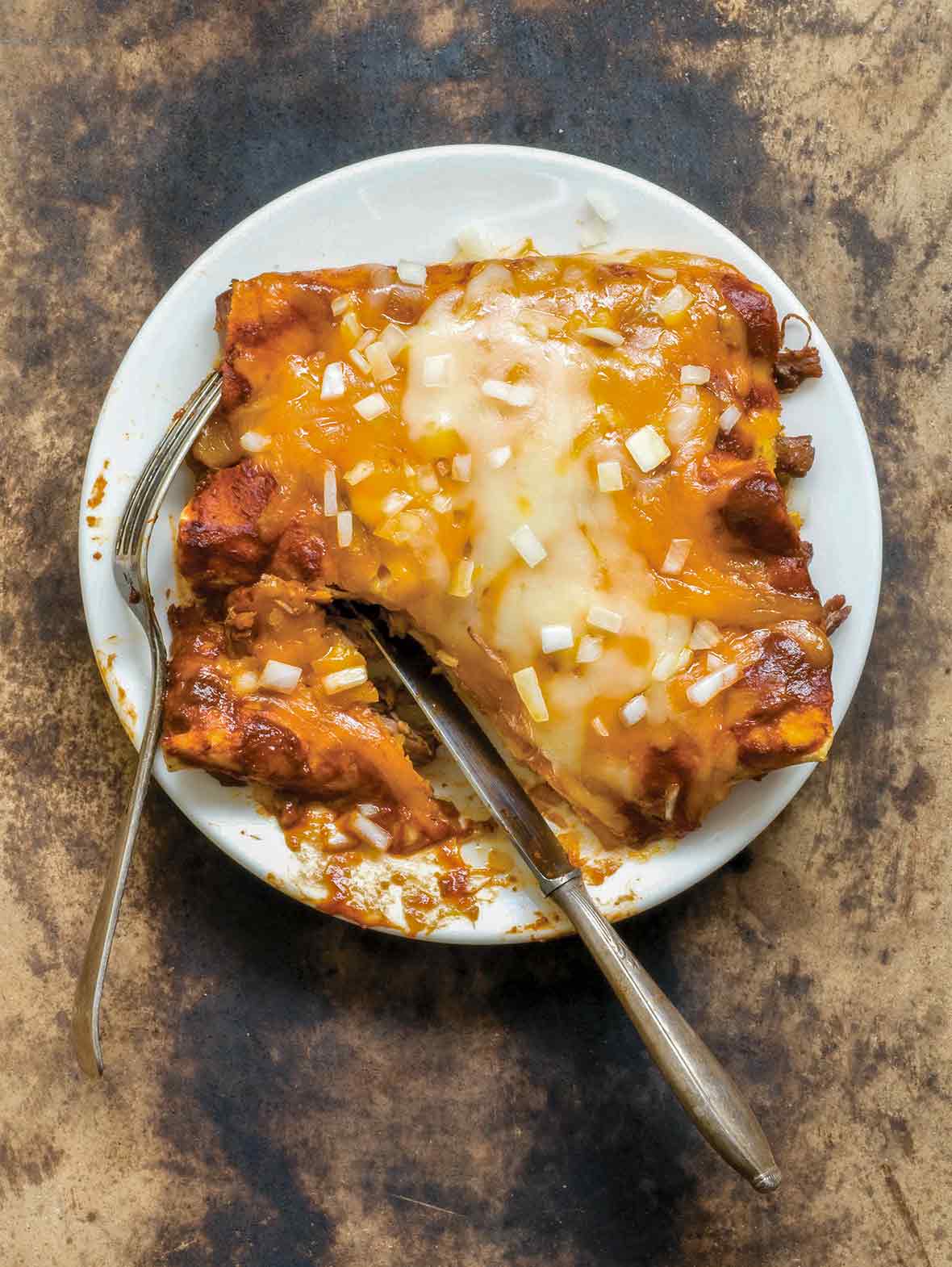 The first time I had shredded beef enchiladas, I was surprised. I was very young, and the shredded beef tucked into the corn tortillas was a shock to me. Until then, the only beef enchiladas I'd seen were stuffed with ground beef. The long strands of beef in this particular plate of enchiladas presented itself as a challenge, as the meat definitely had more chew than pebbly ground beef. Yet it was still tender, and because the beef had more body, it carried more flavor. While at first I was wary, as I ate my enchiladas, I decided that these were beef enchiladas for grown-ups. Since I was eight years old at the time, it made me feel more grown-up, too.–Lisa Fain
LC Not Only For Grown-Ups Note
Based on what author—and Homesick Texan—Lisa Fain just said, we're thinking this shredded beef enchiladas recipe is not only for grown-ups. So while there's nothing at all wrong with ground beef tacos, there's also nothing wrong with expecting your kids to ask for seconds of these shredded beef enchiladas. Because when it comes to kids and food, we subscribe to a nondiscriminatory approach in terms of age appeal. It'll do you—as well as any kids at the table—well. Who knows? You may surprise one another.
Shredded Beef Enchiladas
Quick Glance
1 H, 30 M
5 H

Serves 4 to 6
Ingredients
Email Grocery List
For the shredded beef

2 pounds well-marbled chuck roast, cut into 2 equal pieces

Salt and freshly ground black pepper, to taste

1 tablespoon bacon drippings, lard, or vegetable oil

1 largish yellow onion, chopped (about 2 cups)

4 cloves garlic, finely chopped

1/2 cup brewed coffee

2 tablespoons Worcestershire sauce

2 tablespoons cider vinegar

2 canned chipotle chiles in adobo sauce

2 teaspoons ground cumin

1/4 teaspoon ground cinnamon

1 cup water

For the sauce

1 cup cold water

2 dried pasilla chiles, rehydrated, drained, stemmed, and seeded

2 dried ancho chiles, rehydrated, drained, stemmed, and seeded

1 tablespoon vegetable oil

2 tablespoons masa harina (or substitute all-purpose flour)

1 teaspoon ground cumin

1 teaspoon dried oregano

Pinch ground allspice

Salt and freshly ground black pepper, to taste

For the enchiladas

Unsalted butter, for the pan

1 tablespoon lard or vegetable oil (optional)

12 corn tortillas (about 5 inches)

2 cups (8 ounces) grated Cheddar cheese

1/4 yellow onion, diced (about 1/2 cup)
Directions
Make the shredded beef

1. Preheat the oven to 275°F (135°C).

2. Sprinkle the roast with salt and pepper. In a large ovenproof pot with a tight-fitting lid, heat the bacon drippings, lard, or vegetable oil over medium heat, add the meat, and brown on all sides, about 5 minutes per side.

3. Transfer the roast to a plate and keep the pot over medium-low heat. Toss the onion in the pot and cook, occasionally stirring, until the onion begins to brown, 10 to 15 minutes. Add the garlic and cook for 30 seconds more.

4. Return the roast to the pot along with the coffee, Worcestershire sauce, vinegar, chipotle chiles, cumin, cinnamon, and water. (The meat will not be completely covered, but don't worry; the roast will produce plenty of liquid as it cooks.)

5. Bring the pot to a boil, cover, and place it in the oven. Cook the roast, covered, for 3 to 3 1/2 hours, or until the roast practically falls apart when you prod it with a fork. (Be careful of escaping steam when removing the lid.)

6. Remove the roast beef from the pot, leaving the cooking liquid in the pot to cool, and plonk it on a cutting board. Using 2 forks, shred the meat into long strands. Season with salt and pepper to taste.

Make the sauce

7. Pour the cooking liquid and the onions, garlic, and chipotle chiles in the pot into a blender or food processor. Add the water and the rehydrated pasilla and ancho chiles and blend until smooth, about 1 minute.

8. In a medium pot, heat the oil over medium-low heat. Add the masa harina or flour, whisking constantly, until it's well incorporated and fragrant, about 30 seconds. Pour the mixture from the blender into the pot, stirring until it's well combined. Stir in the cumin, oregano, and allspice, and add salt and pepper to taste. Cook over low heat for 5 to 10 minutes, stirring occasionally, until the sauce is smooth and the flavors are balanced. Taste and adjust the seasonings if desired.

Make the enchiladas

9. Preheat the oven to 350°F (177°C). Lightly butter a large baking dish (a 9-by-13-inch baking dish works well).

10. Heat a medium skillet over medium-low heat. Add the lard or oil, if desired. One at a time, heat the tortillas, flipping once, until soft and pliant. Keep the tortillas wrapped in a clean cloth until all the tortillas are heated.

11. Toss the shredded beef with 2 tablespoons sauce. Place a tortilla on a plate and add about 1/4 cup shredded beef. Roll the tortilla and place in the buttered baking dish, seam side down. Repeat with the remaining tortillas and shredded beef. (You may have some shredded beef left over. It's ridiculously awesome with eggs in the morning.)

12. Pour the remaining sauce over the enchiladas and top with the grated cheese and diced onion. Bake for about 20 minutes, or until the cheese is lightly browned and bubbling. Dig in immediately.
Recipe Testers Reviews
Shredded Beef Enchiladas Recipe © 2014 Lisa Fain. Photo © 2014 Lisa Fain. All rights reserved. All materials used with permission.
If you make this recipe, snap a photo and hashtag it #LeitesCulinaria. We'd love to see your creations on Instagram, Facebook, and Twitter.