Chinese roast pork belly is a well-known and well-loved Cantonese roast meat, says author Bee Yin Low, whose recipe below is ridiculously easy to make and yields superlatively tender pork with crisp crackling skin, just the right amount of sweet, and the haunting warmth of five spice powder.
You'll find it and other siu laap (this is what the Cantonese call barbecue) wherever there is a Chinatown. Although thanks to this crispy pork belly, you no longer need to make the trek—except perhaps for inexpensive pork belly, which, in our experience, Chinatown butchers have in abundance at the cheapest price around.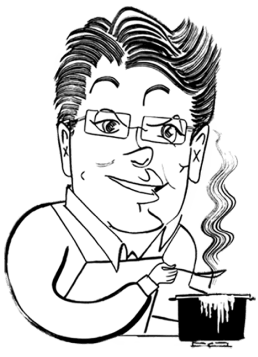 Why Our Testers Loved This
Our testers adored the crisp crackling skin on this roasted pork belly and loved that it required minimal effort to make such a delicious entrée. They also raved about the perfectly balanced flavor of the five-spice marinade.
Jo Ann Brown describes it as "insanely good." We couldn't agree more.
What You'll Need to Make This
Soy sauce–For gluten-free Chinese roasted pork, substitute tamari.
Five-spice powder–This fragrant spice blend adds signature Chinese flavor to the marinade and the finished pork. Don't be tempted to skip it. You can find it in the spice section of most supermarkets.
Pork belly–You want a whole roast, not individual slices. This is available at Chinese markets or can be ordered from a butcher.
How to Make This Recipe
Make the marinade. Mix the soy sauce, five-spice powder, pepper, salt, and sugar in a small bowl.

Prepare the pork belly. Scrape the skin of the pork belly to create a smooth surface, then rinse under cold water. Pat dry.

Marinate the pork belly. Use a sharp knife to poke the skin and meat of the pork belly all over, then brush the marinade over the meat, working it into the slits created by the knife. Let rest for 2 to 3 hours.

Heat the oven to 400°F. Wrap the meat portion of the pork in foil, leaving the skin exposed. Roast for 50 minutes.

Broil the pork belly. Brush the skin with oil, then broil until crisp. Rest for 10 minutes before slicing and serving.
Common Questions
Why is pork belly so popular?
Pork belly is essentially bacon. But better. It's uncured, unsmoked, and unsliced bacon. And that's not all. It's also tender, flavorsome, and has incredible complexity. When cooked properly, as here, pork belly can be delightfully crisp and yet succulently tender and meaty all at once.
What's five-spice powder?
Five-spice powder is a blend of five or more spices that's commonly used in Chinese cooking. The spices represent a blend of sweet, sour, salty, bitter, and savory. It is commonly made with Chinese cinnamon, star anise, Sichuan peppercorns, fennel seeds, and cloves, although ginger, turmeric, or nutmeg may be added to the blend.
What should I serve with roast Chinese pork?
This roast pork could be served as part of a larger meal alongside steamed or fried rice and a Chinese-style cucumber salad to balance the richness of the pork. If you're feeling adventurous, steamed buns would also make an excellent addition to the meal. Don't forget sesame balls for dessert.
Helpful Tips
Make sure the pork belly skin is completely dry before roasting. This is critical to achieving crispy skin.
Leftover pork belly can be stored in a sealed container in the fridge for up to 3 days. Consider using leftovers piled on ramen bowls or tucked into pork belly tacos.
This recipe is suitable for dairy-free diets. To make it gluten-free, use tamari instead of soy sauce.
Write a Review
If you make this recipe, or any dish on LC, consider leaving a review, a star rating, and your best photo in the comments below. I love hearing from you.–David
Chinese Roast Pork
This Chinese roast pork recipe turns out a crisp, crackling BBQ pork belly just like what you find in Chinatown. Like most Chinese barbecue, it's impossibly tender, slightly sweet, and surprisingly easy to make at home. Here's how.
Ingredients
1 1/2

tablespoons

soy sauce

1/2

teaspoon

Chinese five spice powder

1/4

teaspoon

white pepper

3/4

teaspoon

kosher salt

1/2

teaspoon

granulated sugar

2

pounds

pork belly

1

teaspoon

coarse sea salt

,

for sprinkling

Mild olive oil or vegetable oil

,

for brushing
Instructions
In a small bowl, stir together the soy sauce, five spice powder, white pepper, kosher salt, and sugar.

Use a sharp knife to scrape the skin of the pork belly to ensure the surface is fairly smooth. Rinse the pork belly with cold running water. Repeat the scraping if necessary, being careful to keep the skin intact and not rip it. Pat the skin completely dry with paper towels.

Poke the skin with the tip of a sharp paring knife many, many times. (This ensures the skin on the pork belly turns maddeningly, crazily, irresistibly crisp in the oven.) Grab some more paper towels and pat the skin dry yet again.

Flip the pork belly so it's skin side down on your work surface. With your paring knife, make slits in the meat portion of the pork belly about 1 inch (2 1/2 centimeters) apart and 3/4 inch (2 centimeters) deep. Brush the marinade on the pork, working it into the slits so it can penetrate the meat. Be careful not to get the marinade on the skin (and if you do, just pat it dry with paper towels).

Flip the pork belly again so it's skin side up and sprinkle the salt evenly on the skin. Let the pork rest, uncovered, at room temperature for 2 to 3 hours to expose the skin to the air and let it dry. (You can instead use a fan to dry the skin.)

Preheat the oven to 400°F (200°C).

Wrap the pork belly tightly with 2 sheets of aluminum foil, exposing only the pork skin. Roast the pork for 50 minutes.

Remove it from the oven and pat the top of the skin dry once more. Brush the surface of the skin with the oil, sprinkle with a little more salt, and turn the oven setting to broil.

Slide the pork belly back in the oven and broil until crisp, 3 to 5 minutes. (Begin checking it at 3 minutes and keep a careful watch on it, as it goes from perfectly crisp to burnt in seconds.)

Let the roast pork belly rest for about 10 minutes. Cut the pork belly into 1-inch-thick slices and serve immediately.
Notes
Drying the pork–Make sure your pork belly skin is completely dry before roasting. This is critical to achieving crispy skin.
Storage and leftovers–Leftover pork belly can be stored in a sealed container in the fridge for up to 3 days. Pile leftover pork belly atop ramen bowls or tuck it into pork belly tacos.
Dietary–This recipe is suitable for dairy-free diets. To make it gluten-free, use tamari instead of soy sauce.
Nutrition
Serving:
1
portion
Calories:
595
kcal
Carbohydrates:
1
g
Protein:
11
g
Fat:
60
g
Saturated Fat:
22
g
Polyunsaturated Fat:
6
g
Monounsaturated Fat:
28
g
Cholesterol:
82
mg
Sodium:
1270
mg
Potassium:
238
mg
Fiber:
0.1
g
Sugar:
1
g
Vitamin A:
13
IU
Vitamin C:
0.5
mg
Calcium:
12
mg
Iron:
1
mg
Nutrition information is automatically calculated, so should only be used as an approximation.
Recipe © 2011 Bee Yin Low. Photo © 2011 Bee Yin Low. All rights reserved.
---
Recipe Testers' Reviews
When you make this Chinese roast pork recipe, time it so that the pork belly goes under the broiler after your guests arrive so you can treat them to the sound of pork skin popping and crackling. I mean, who'd want to miss that portion of the party?!
While my guests and I chatted and enjoyed gin and tonics, the oven and broiler worked their magic, and voilà, out came a thoroughly-flavored and tender hunk of meat with a gorgeous crisp skin—a huge bang for very little effort!
I was excited to find beautiful pork belly at the Chinese market in town and was even more thrilled that it was only $3.25 per pound. The five-spice powder was the other star, as the aroma elevated the easy-to-make marinade to another level.
As part of a multi-course meal, this very rich pork belly can serve six and possibly more, as just a couple of one-inch slices would be plenty for each guest.
I served it with simple fried rice with eggs, chopped green onions, and minced ginger, which I made while the pork rested (the rice was cooked the day before). A friend tossed cucumber slices with vinegar and sugar for a light and refreshing side. Dinner was ready!
A couple of notes on the making of the Chinese crispy roast pork:
After brushing the marinade on the meat, I poured the remaining sauce onto a large plate and set the pork belly on it, meat side down, to marinate uncovered.
I patted the skin dry again before brushing it with oil, as the salt had drawn some moisture out to the surface.
My pork belly still had a few rib bones attached. I didn't bother removing them. I cut between the bones and brushed the marinade into the slits. After the pork was cooked, the bones very easily slipped out of the meat.
Oh, so insanely good. Love! I found the finished product to be incredibly rich.
The spice marinade was developed with a deft hand. Five-spice powder can be overwhelming, and in this preparation, the author creates an aromatic balance that complements the pork rather than covers it.
I reversed a couple of steps because it made more sense to me to brush and moisten the meat with the marinade before I dealt with the part of the belly that required drying and preserving. In this way, I was able to keep the wet marinade off of the skin as the recipe required.
I would suggest trying your hand at making steamed buns to serve the belly in as a first course. That would be really, really delicious!