This Cajun chicken and sausage gumbo is authentic as can be and not as complicated as you may think to make at home. Laissez les bons temps rouler!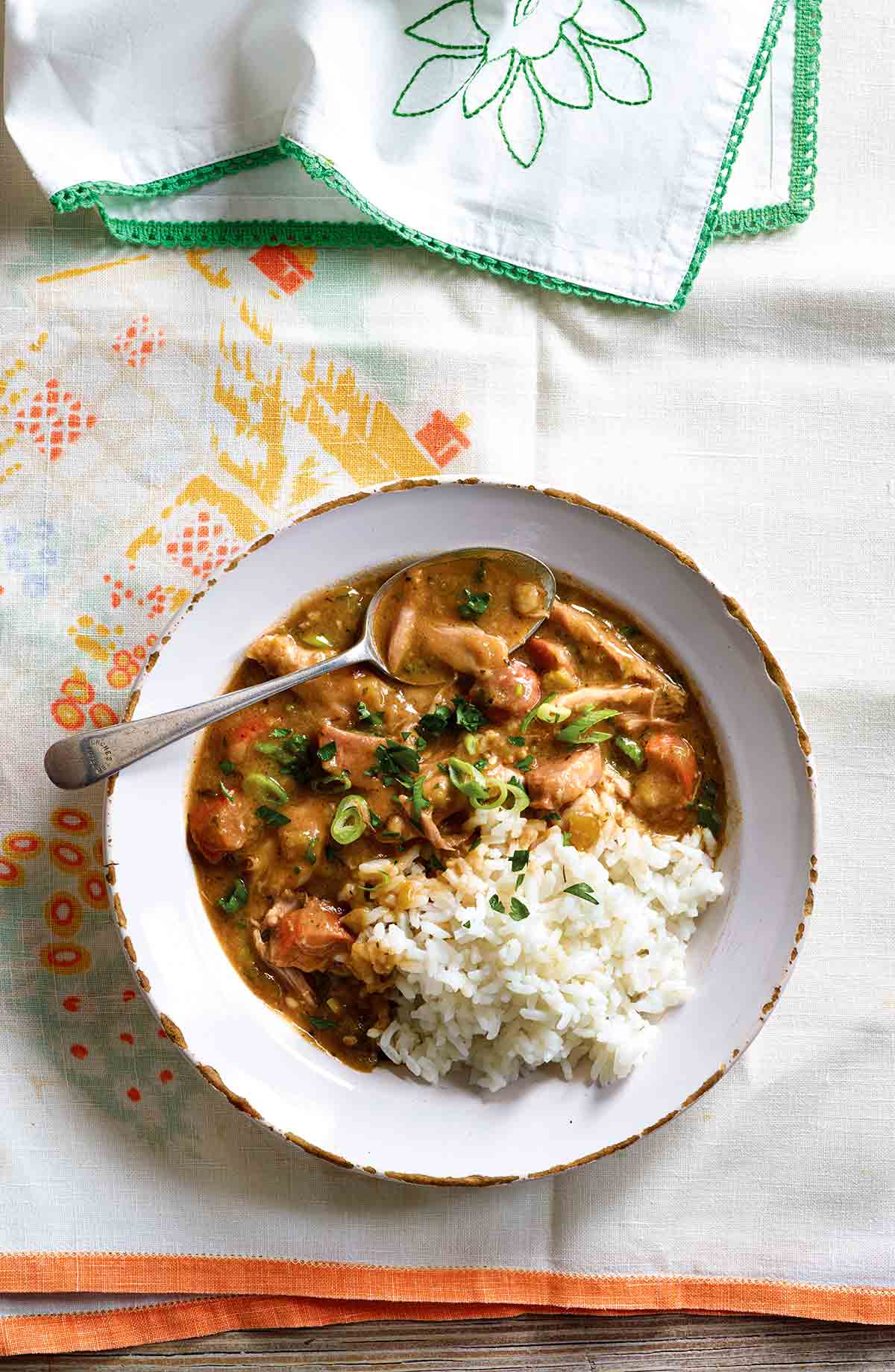 The real deal. That's what folks are saying about this Cajun chicken and sausage gumbo, which earns back every second of effort you put into the pot, says cookbook author Nancie McDermott. We couldn't agree more. And as with most things made in a large pot, if you make it and serve it straightaway, it'll be swell, but if you can wait a day or so, you'll find that a little resting time allows it to "meander from tasty to operatically magnificent," as McDermott says so elegantly. It's the real Cajun deal, folks. Originally published September 30, 2015.–Renee Schettler Rossi
LC What Folks Are Saying About This Recipe Note
"It turned out unbelievably great." "Perfect." "Your family will think you are AMAZING." "A straightforward, real deal Cajun gumbo that everyone loved." "It's very easy and straightforward and affordable." "A keeper!" That's what folks are saying about this lovely Cajun chicken and sausage gumbo from one of our most trusted cookbook authors, Nancie McDermott, and one of what we consider to be the year's best cookbooks. Translation: You gotta try this gumbo. And you should buy this cookbook, too.
Cajun Chicken and Sausage Gumbo
Quick Glance
2 H
2 H, 45 M

Serves 10 to 12
Print Recipe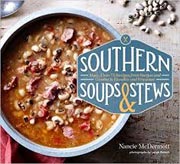 Ingredients
Email Grocery List
1 cup vegetable oil or mild olive oil

1 cup all-purpose flour

1 cup chopped onion

1 cup finely chopped celery

1 cup finely chopped green bell pepper

2 tablespoons finely chopped garlic

2 teaspoons dried thyme, or 2 tablespoons finely chopped fresh thyme

1 teaspoon salt

1 teaspoon freshly ground black pepper

1 teaspoon sweet or hot paprika

1 teaspoon cayenne pepper

2 quarts homemade chicken stock or canned chicken broth

3 1/2 pounds skin-on, bone-in chicken legs and thighs

1 pound Cajun-style andouille sausage, smoked kielbasa, or other smoked sausage

1 cup thinly sliced green onions, plus more for garnish

1/2 cup finely chopped flat-leaf parsley leaves

Cooked white rice, for serving
Directions
1. In a large, heavy-bottomed Dutch oven, preferably cast-iron or enamel cast-iron, or a large cast-iron skillet, heat the oil over medium-high heat until shimmering hot. When a pinch of flour sprinkled on the oil immediately blooms on the surface of the oil, scatter in the rest of the flour and stir quickly and thoroughly, combining the oil and flour evenly into a thick, smooth roux. Continue cooking, stirring often, as the roux turns from pale yellow to a rich, deep brown, adjust the heat as needed to keep the roux darkening slowly without bubbling up or burning. This can take anywhere from 20 to 60 minutes, depending on your pot and your stove. The roux should be darker than peanut butter and about the color of coffee with some cream—a deep brown but not a dark brown. [Editor's Note: Don't have the patience to stand and stir? Try the brilliant oven trick for making roux that our recipe tester, Elie Nassar, explains in his comment just beneath the recipe.]

2. Add the onion, celery, and bell pepper to the roux and stir well to coat them. Let them cook, stirring often, until the vegetables are fragrant, softened, shiny, and evenly coated with the roux, 2 to 3 minutes. Add the garlic, thyme, salt, pepper, paprika, and cayenne and stir well and cook for 2 minutes more.

3. If using a cast-iron skillet, transfer the roux to a large stock pot. Add the chicken stock, stir well, and bring it to a lively boil, stirring often to dissolve the roux into the stock. When everything is boiling nicely, add the chicken pieces. When the stock returns to a rolling boil, adjust the heat to maintain a lively simmer and cook, stirring now and then, until the chicken is cooked through and very tender, 45 minutes to 1 hour.

4. Meanwhile, chop the andouille into bite-size pieces by first halving each andouille link lengthwise and then cutting it crosswise into half-moon slices about 1⁄4 inch thick.

5. Remove the chicken from the pot and set it out on a platter to cool. As soon as it is cool enough to touch, pull the meat from the bones, discarding the bones and skin. Tear or chop the chicken very coarsely, and then return the meat to the pot. Add the andouille and stir. Cook, stirring now and then, until the sausage has seasoned the gumbo and softened, and everything has come together into a rich, flavorful, slightly thickened stew, about 30 minutes more.

6. Remove the pot from the heat. (You can cool, cover, and refrigerate the gumbo for up to 2 days to allow the flavors to meld. Skim any fat from the surface of the gumbo and discard. Warm the gumbo over low heat prior to continuing.)

7. Stir in the green onions and parsley. Serve the gumbo in bowls over rice or with rice on the side, garnished with green onions.
Recipe Testers Reviews
Cajun Chicken and Sausage Gumbo Recipe © 2015 Nancie McDermott. Photo © 2015 Leigh Beisch. All rights reserved. All materials used with permission.
If you make this recipe, snap a photo and hashtag it #LeitesCulinaria. We'd love to see your creations on Instagram, Facebook, and Twitter.