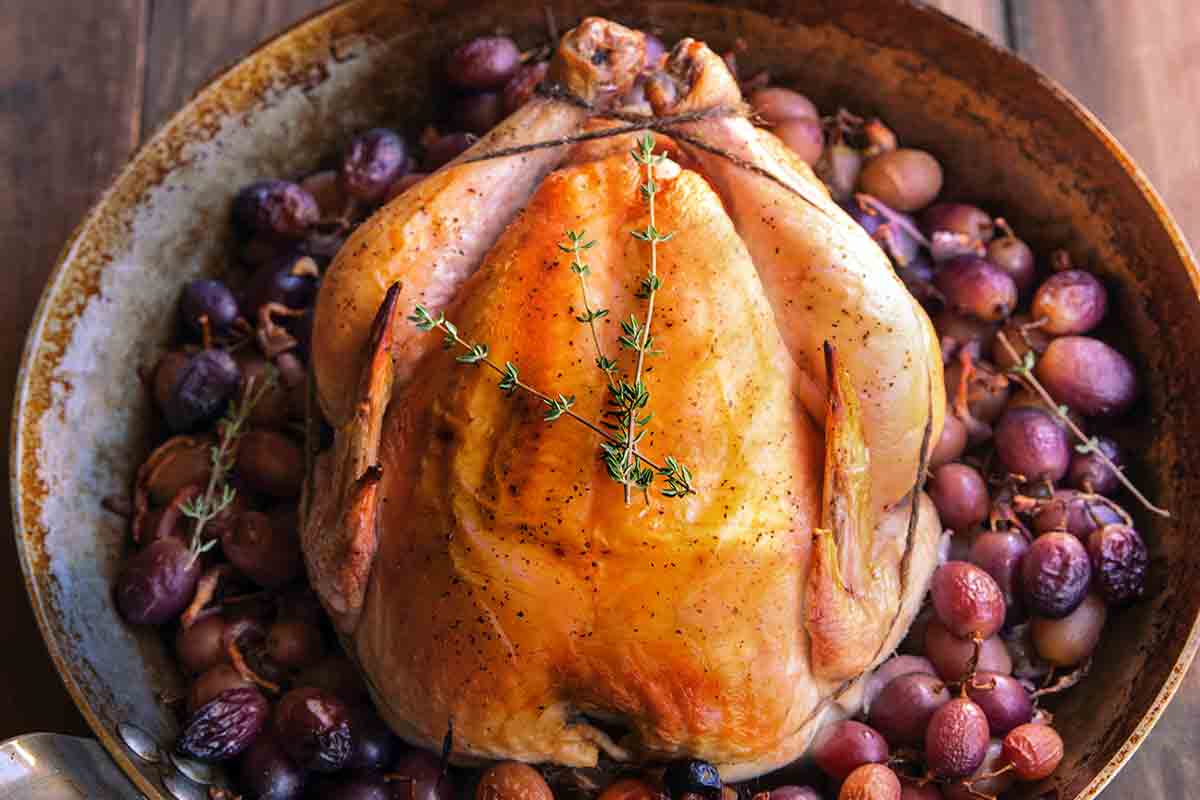 This simple roast chicken recipe, based on the technique used by chef Thomas Keller, is perfection. As its name implies, it couldn't be easier. Just shove it in the oven and forget about it. No brining. No basting. No flipping an unwieldy hot bird midway through cooking. No fussing of any sort. The high heat of the oven results in tender, juicy, flavorful chicken with insanely crisp skin time after time after time. And if you've never roasted grapes before, here's the chance to change that. The little orbs of sweetness quickly turn into blobs of jamminess that contrast oh so spectacularly with the roast hen.–David Leite
Simple Roast Chicken
This simple roast chicken recipe, as the name implies, is ridiculously easy and turns out a superlative bird with shatteringly crisp skin and surprisingly juicy meat. No surprise that it's the same technique that Thomas Keller uses.
Ingredients
One

(3-pound)

chicken

1

tablespoon

kosher salt

1

teaspoon

freshly ground black pepper

Couple sprigs fresh thyme (optional)

Couple handfuls red seedless grapes (optional)
Instructions
Preheat the oven to 450°F (232°C).

Rinse the chicken and then pat it dry with paper towels, inside and out. Season the exterior and interior of the bird evenly with salt and pepper. If desired, tie the legs together with kitchen string. Place the chicken in a roasting pan, a cast-iron skillet, or an ovenproof sauté pan. If using the thyme, toss it on the chicken. Slide the pan in the oven and roast until the chicken is cooked through and has an internal temperature of 165°F (74°C), 50 to 60 minutes, depending on the exact size of your chicken. If using the grapes, toss them in the skillet around the chicken halfway through the roasting time and quickly stir to coat them with the chicken drippings before sliding the pan back in the oven.

When the chicken is done, remove the pan from the oven and let the chicken rest for at least 15 minutes before carving it. Any leftover chicken can be shredded and frozen in single-serving portions in resealable plastic bags.
Nutrition
Serving:
1
portion
Calories:
499
kcal
Carbohydrates:
0.3
g
Protein:
43
g
Fat:
35
g
Saturated Fat:
10
g
Polyunsaturated Fat:
7
g
Monounsaturated Fat:
14
g
Trans Fat:
0.2
g
Cholesterol:
174
mg
Sodium:
1906
mg
Potassium:
444
mg
Fiber:
0.1
g
Sugar:
0.003
g
Vitamin A:
327
IU
Vitamin C:
4
mg
Calcium:
29
mg
Iron:
2
mg
Nutrition information is automatically calculated, so should only be used as an approximation.
Recipe © 2016 Becky Rosenthal. Photo © 2016 Becky Rosenthal. All rights reserved.
---
Recipe Testers' Reviews
I am especially fond of testing a recipe that reflects a cooking method or procedure rather than one that focuses on ingredients. This simple roast chicken is just such a recipe. I am used to roasting a chicken using a similar process of high heat, but only for the first 15 minutes—start at 500°F and then take it down to 350°F. We found this method to be a winner! The skin is roasted to a crispy perfection and the interior is deliciously moist and flavorful. And the fact that it is only salt and pepper that is used to season the fowl only makes the chickeny (is that a word?) flavor more delightful. All in all, this is a definite TC 10+. Easy to make, even easier to enjoy. I will use this method from now on!
My chicken was 6 pounds so I thought that the roasting time would be much longer than the hour predicted. It was longer but by just 7 minutes more! I used my oven's probe to signal when the chicken had reached the proper temperature. Our chicken rested 15 minutes before carving. At this sitting, we had four servings (2 thighs and 2 drumsticks) and I shredded the rest and got 6 cups for the freezer. The chicken was served with mustard greens and roasted potatoes and pan gravy.
If you're looking for a succulent roast chicken with a golden crust and one that's simple enough for a child to make (well, almost), this simple roast chicken is the recipe for you. It was quick, simple, and delicious! My chicken weighed 4 pounds (1.8 kg). Yum. I sent some of the leftovers to a neighbor who had sprained her ankle. She called me later and her comment was, "OMG, that was the best roast chicken I've ever tasted. What did you do to it? It was so juicy and delicious."
Just 10 minutes prep time and an hour later we had a completely satisfying, slightly salty (we liked that), simple roast chicken. This made an easy weeknight meal with several cups shredded chicken left over for adding to soups and salads to see us through the next couple days. This method works and we will follow the recipe again, next time with the grapes, which look wonderful.
Select a Tester
I'm sorta a freak for a proper cooking technique. And by that I mean a precise yet preferably simple manner of cooking something that results in magnificence. This simple roast chicken recipe yields exactly that. After spending the better part of my 20s and 30s seeking the perfect roast chicken recipe, my quest ended with the Thomas Keller technique used in this recipe. It's everything you want in a roast chicken—shatteringly crisp skin that's an impressive golden brown, unthinkably juicy meat, and nothing but ease in terms of the prep, cooking, and cleanup. No brining. No flipping. No fussing. Just good old-fashioned roasting. The roasted grapes are an inspired side and the sweet jamminess of the wrinkled grapes contrasts unspeakably nicely with the salty chicken skin. And since you just toss the grapes in with the hen halfway through the roasting time, there's no separate pan to juggle or to scrub, so from a practical perspective, there's no reason not to add the grapes. Try it. You won't regret it. This is one of my absolute favorite autumn suppers. I usually serve it with gently sauteed rainbow chard.