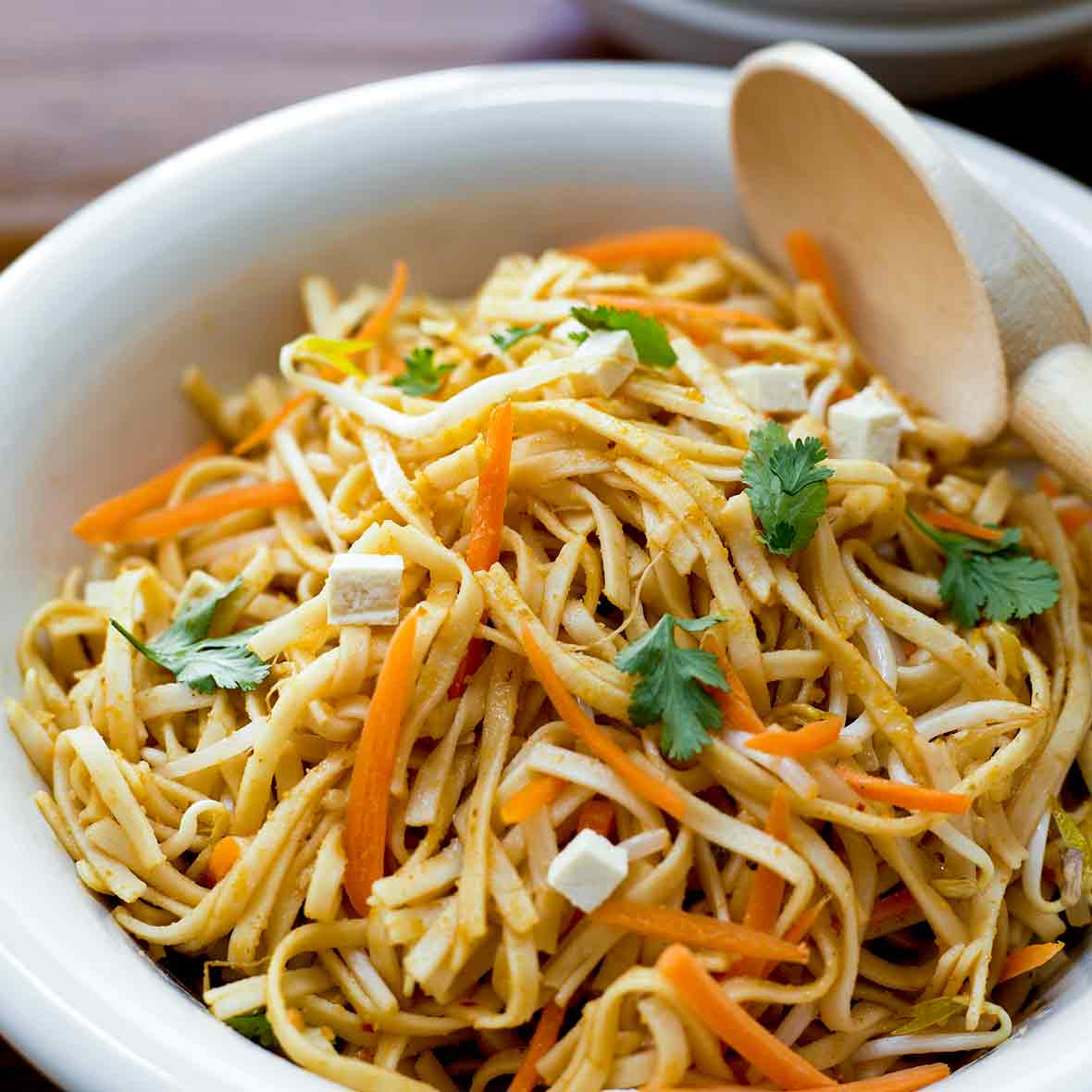 You'll love the sweet and spicy balance of flavors in this Asian noodle salad with peanut dressing. Of course, you can eliminate the chili paste if you like it milder.–Karen Bussen
LC If You Like It Hotter Note
The author of this recipe just noted what to do if you prefer your noodles milder. But if you like things hot, you probably already know you're going to need to amp up the amount of chili paste you stir into the peanut butter dressing for these Asian noodles. Thankfully it's quite the easy accommodation.
Asian Noodle Salad with Peanut Dressing
Quick Glance

(1)

20 M
20 M

Serves 6
Ingredients
Email Grocery List
For the Asian noodles
For the peanut dressing
Directions
Prepare the Asian noodles
In a large pot of salted boiling water, cook the noodles according to the package instructions. Drain and rinse in cold water. Toss the noodles with a few dashes sesame oil to prevent sticking.
Make the peanut dressing
Place the peanut butter, lime juice, sesame oil, chili paste, and sugar in a small bowl and mix well.
Toss the tofu, bean sprouts, carrots, and noodles in a large bowl and pour the peanut sauce over it all. Combine well.
Garnish the Asian noodles and peanut dressing with fresh cilantro. The salad may be served cold or at room temperature.
Recipe Testers Reviews
I made this Asian noodle salad with peanut butter dressing as part of a Chinese New Year brunch that also included squash pancakes. Although I increased the recipe to serve a small army, every last noodle was devoured. Author Karen Bussen introduces the recipe noting the balance of sweet and spicy flavors. For me, the balance went further: There is a balance of textures between the soft noodles and the crisp bean sprouts and carrots, as well as an attractive color balance with the addition of the bright orange carrots and the deep green cilantro.
Bussen notes the chile paste could be eliminated for a milder flavor. I could have added more for a bolder flavor, as the tablespoon of chile paste did enliven the dish but didn't move it much beyond "mildly flavored." The sesame oil had a more pronounced effect on the overall flavor than the paste. Though the recipe merely states sesame oil, I went ahead and used the toasted Asian version, the thicker concentrated oil intended for seasoning and not for cooking. I also used a slightly thicker Chinese-style wheat noodle than the one in the photograph, and this was pleasing as there was a bit more noodle for the delicious sauce to cling to.
I opted for smooth peanut butter. Many recipes for noodles with peanut dressing or sauce specify to not use natural peanut butter. Because this one did not so specify, I went ahead and used the natural peanut butter we use for sandwiches and it worked out just fine. The dish was not as oily as the Chinese-restaurant take-out version I enjoyed in New York, but every bit as tasty. I took the salad out of the fridge to bring it to room temperature before serving, though the recipe notes it can be served chilled or at room temperature. I felt the flavors would be more pronounced at room temperature and I believe this was correct: It was substantially more complex and, hence, more interesting as it warmed up a bit.
This salad is easy to make, with no complicated ingredients, preparation, or lengthy processes involved. It is visually appealing, and pleasing to a range of palates. While we served it as part of a Chinese meal, it would also work as picnic or potluck food, or as part of a salad buffet, so long as nut allergies are checked out among the diners being served.
Asian Noodle Salad with Peanut Dressing Recipe © 2009 Karen Bussen. Photo © 2009 William Geddes. All rights reserved. All materials used with permission.
If you make this recipe, snap a photo and hashtag it #LeitesCulinaria. We'd love to see your creations on Instagram, Facebook, and Twitter.