There's no shortage of sourdough bread recipes available, many of which involve many complicated steps. While they can produce outstanding results, they can be intimidating for those of us who are new to baking bread and somewhat fussy and impractical for all of us. This simple sourdough recipe requires less than 30 minutes of your time and the finished loaf has the same crunchy crust and tender crumb of a classic artisan sourdough.–Angie Zoobkoff

WHY DO I HAVE TO WAIT BEFORE SLICING FRESH-BAKED SOURDOUGH?
We know! Waiting for that bread to cool seems like something made up just to mess with amateur bakers. Sadly, it's true—you definitely have to let your bread sit for at least an hour before slicing into it. This lets the cooking process finish and ensures that you don't end up with a soggy or gummy loaf. On top of that, if you slice into it too soon, all that moisture will evaporate too fast—it will be gummy now and dried out later. It might seem unreasonable, trust us…we know, but it's science.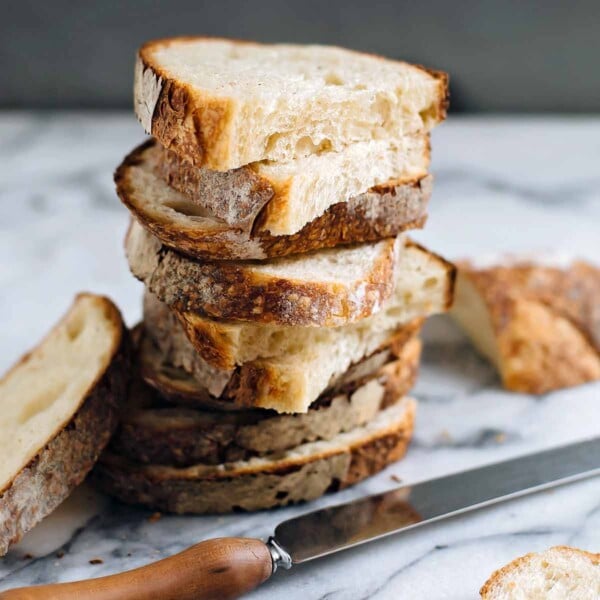 Sourdough Bread
This sourdough bread is easy to make with only starter, bread flour, water, and salt, and the finished artisan loaf has a crunchy crust and tender crumb. Here's how to make it.
Ingredients
1/4

cup

bubbly, active starter

1 1/3

cups plus 2 tablespoons

warm water

4

cups plus 2 tablespoons

bread flour (or, in a pinch, you can substitute all-purpose flour)

,

plus more for the work surface

1 1/2

teaspoons

fine sea salt
Instructions
In a large bowl, use a fork to whisk the starter and water together. Add the flour and salt. Combine until a stiff dough forms, about 1 minute. Then finish the mixing by hand to fully incorporate the flour. The dough will feel dense and shaggy and it will stick to your fingers as you go. Scrape off as much as you can, using a bench scraper if you have one.

☞ TESTER TIP: Keep in mind that this bread takes more than 12 hours to complete, so start the process early in the morning or in the evening to allow for an overnight rest.

Cover the dough with a damp towel and let rest for 30 minutes.

Meanwhile, replenish your starter with fresh flour and water, and store according to your preference.

Grab a portion of the dough and fold it over, pressing your fingertips into the center. Repeat, working your way around the dough, until it begins to tighten and form a fairly smooth ball, at least 15 seconds.

Cover the bowl with a damp towel and let rise at room temperature. This will take 8 to 12 hours at 70°F (21°C), although it may be as short as 6 hours in a very warm climate. The dough is ready when it no longer looks dense and has doubled in size.

☞ TESTER TIP: Because this dough rises while you're asleep, you won't be tempted to rush the process or check on it every 5 seconds to see if it's ready. (No, you're not the only one who does that.)

Once the dough has doubled in size, gently coax it onto a lightly floured work surface. To shape it into a round, start at the top and fold the dough over toward the center. Turn the dough slightly and fold over the next section of dough. Repeat until you've come full circle. Flip the dough over and let it rest for 5 to 10 minutes.

Meanwhile, line an 8-inch (20-cm) bowl with a towel and dust with flour. With floured hands, gently cup the dough and pull it toward you in a circular motion to tighten its shape. Using a bench scraper, place the dough into the bowl, seam side up.

Cover the bowl and let rest for 30 minutes to 1 hour. The dough is ready when it looks puffy and has risen slightly but has not yet doubled in size.

Preheat the oven to 450°F (230°C). Have ready a large lidded baking pot, such as an enamel-coated Dutch oven or clay pot. Adjust the oven rack so the Dutch oven or pot just fits beneath the top of the oven with the lid on. Cut a sheet of parchment paper to the size of your baking pot, leaving enough excess around the sides to remove the bread.

Place the parchment over the dough and invert the bowl to release the dough. Sprinkle the dough with flour and gently rub the surface with your hands.

Using the tip of a small, serrated knife or a razor blade and holding it at an angle to the dough, score the dough with a cross-cut pattern or any way you'd like. Use the parchment to gently move the dough to the baking pot.

Bake the dough, covered, on the center rack for 20 minutes. Remove the lid and continue to bake for 25 to 30 minutes. Then, carefully remove the loaf from the pot and bake directly on the oven rack until the crust is crisp, 5 to 10 minutes.

Using the parchment, move the bread to a wire rack. Cool for 1 hour before slicing. Kindly note that sourdough is best consumed on the same day it's baked, which shouldn't be a problem with this lovely specimen. To maximize freshness, cool completely and store at room temperature in a plastic bag for up to 1 day.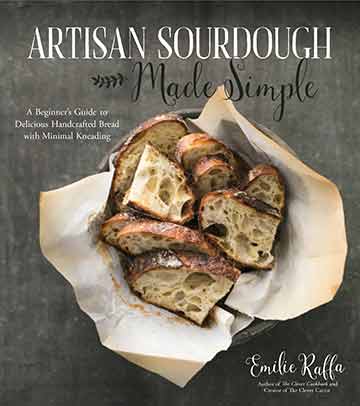 Nutrition
Serving:
1
slice
Calories:
155
kcal
Carbohydrates:
31
g
Protein:
5
g
Fat:
1
g
Saturated Fat:
1
g
Sodium:
293
mg
Potassium:
42
mg
Fiber:
1
g
Sugar:
1
g
Vitamin A:
1
IU
Calcium:
7
mg
Iron:
1
mg
Nutrition information is automatically calculated, so should only be used as an approximation.
Recipe © 2017 Emilie Raffa. Photo © 2017 Emilie Raffa. All rights reserved.
---