Warm, rich chocolate cake with a molten chocolate center can be yours in a mere 15 minutes. Even better, no need to turn on the oven, get out your baking pans, or even open up a boxed mix. For this single-serving cake, we use cocoa and chocolate to give it a deep chocolate flavor, and we need only a mug, a bowl, and a microwave to make it happen.
We prefer Dutch-processed cocoa in this recipe; the cake will be slightly drier if you use natural cocoa powder. We prefer bar chocolate (milk, dark, or bittersweet), as chocolate chips are harder to insert into the cake to form the molten center.
We developed this recipe in a full-size 1200-watt microwave. If the wattage of your microwave is less than 1200 watts, you will need to increase the cooking times throughout. Using 50 percent power kept the cake moist and tender, and tucking a few pieces of chocolate inside part way through gave us that ooey-gooey molten center.–America's Test Kitchen
Chocolate Mug Cake FAQs
Can I mix everything in the mug?
No. While some recipes for mug cakes mix everything in the mug, we found that whisking the dry ingredients in a bowl first ensured they were well-mixed (no unpleasant pockets of baking soda).
Can I make this mug cake ahead of time?
We don't recommend it. As the molten center cools, the texture of the cake changes. It's best served after microwaving and cooling for 2 minutes.
Can you bake this chocolate mug cake in the oven?
No. This recipe was specifically designed to be cooked in the microwave. For a similar dessert made in the oven, try these classic molten chocolate cakes.
☞ Like chocolate cake? Try these:
Chocolate Mug Cake
This chocolate mug cake has a rich cakey exterior and a molten chocolate center. If that's not enticing enough, this easy dessert is ready in just 15 minutes.
Ingredients
2

tablespoons

all-purpose flour

2

tablespoons

granulated sugar

1

tablespoon

Dutch-processed cocoa powder

1/4

teaspoon

baking powder

1/8

teaspoon

table salt

1

ounce

milk or dark chocolate

2

tablespoons (1 oz)

unsalted butter

,

cut into 2 pieces

1

large

egg

1/2

teaspoon

vanilla extract
Instructions
In a medium bowl, whisk together the flour, sugar, cocoa, baking powder, and salt.

Break 1/2 of the chocolate into rough 1-inch (25-mm) pieces. In a 12-ounce (355-ml) microwave-safe mug, combine the chocolate pieces with the butter. Microwave at 50 percent power, stirring often, until melted, 50 seconds to 2 minutes.

☞ TESTER TIP: Once the butter has melted, a good vigorous stir really helps melt the chocolate.

Add the flour mixture, egg, and vanilla and mix until smooth and well combined, being sure to scrape corners of mug.

Microwave the cake batter at 50 percent power until batter has doubled in size, 50 to 70 seconds.

Break the remaining chocolate into 2 pieces and press it into the center of the cake with the top of the chocolate pieces flush with the top of the cake.

☞ TESTER TIP: It's important to make sure the chocolate pieces reach completely through the whole cake—top to bottom.

Microwave the cake at 50 percent power until the cake is firm but the top is just wet to the touch, 15 to 30 seconds. The cake may rise above the edge of the mug but won't overflow.

Let the cake rest for 2 minutes. Devour.
Nutrition
Serving:
1
portion
Calories:
454
kcal
Carbohydrates:
41
g
Protein:
10
g
Fat:
29
g
Saturated Fat:
17
g
Polyunsaturated Fat:
2
g
Monounsaturated Fat:
8
g
Trans Fat:
1
g
Cholesterol:
250
mg
Sodium:
378
mg
Potassium:
315
mg
Fiber:
2
g
Sugar:
26
g
Vitamin A:
1016
IU
Calcium:
122
mg
Iron:
2
mg
Nutrition information is automatically calculated, so should only be used as an approximation.
Recipe © 2020 America's Test Kitchen. Photo © 2020 America's Test Kitchen. All rights reserved.
---
Recipe Testers' Reviews
This chocolate mug cake sure hit the spot! I've tried other mug cake recipes in the past but none as good as this. The mug cake is super chocolatey, moist, yet not super dense. The molten chocolate is a great addition. The chocolate melted with the butter, as well as the chocolate added partway through cooking, really elevate this humble mug cake from the satisfying to the decadent.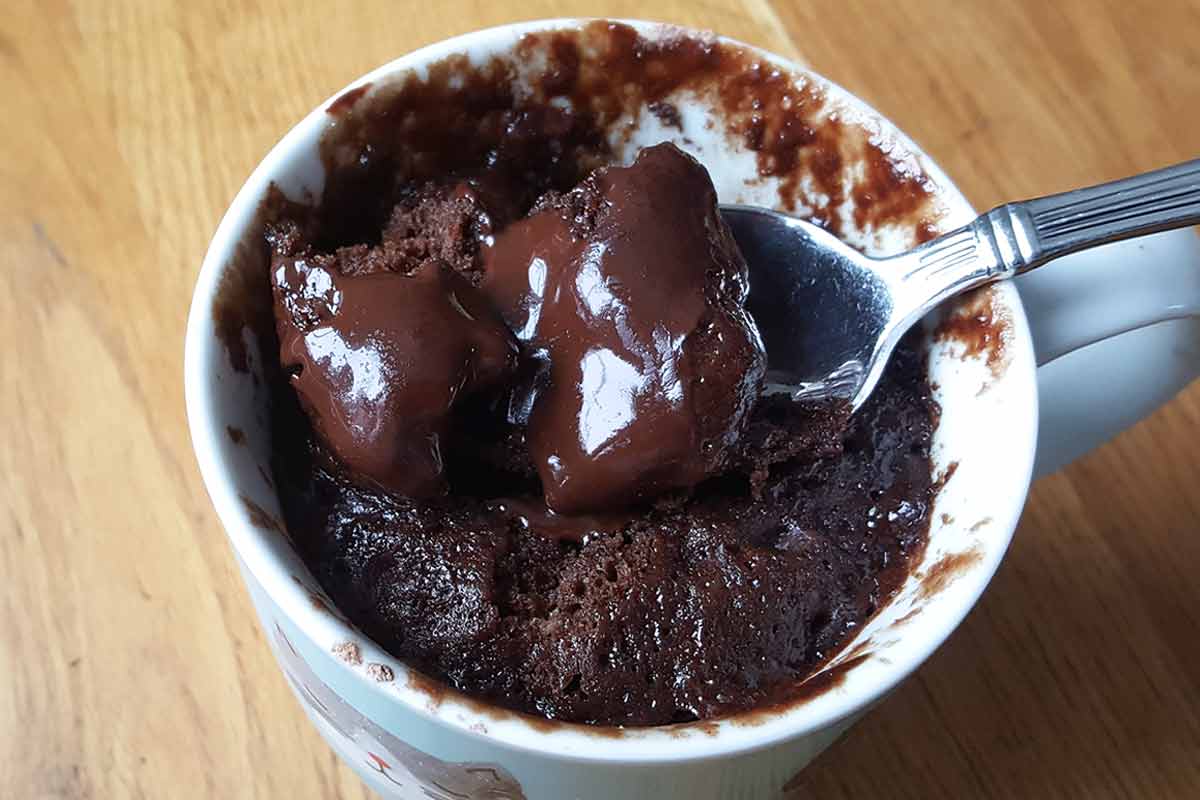 Who knew something that came from the microwave could be so rewarding! The chocolate you choose will have an impact. For example, I used an 88% cacao bar which added no extra sweetness but a whole lot of chocolatey richness. I think this is a good time to choose the chocolate you typically like best to maximize enjoyment.
Given that this cake is best eaten out of the mug, I would say it is 1 serving. I did, however, enjoy this with my toddler, so you can stretch it! It's a perfect treat to make with little ones (or anyone with little patience) as it comes together in a snap. I used a small 1040-watt microwave and did not have to adjust the times.
Once the butter is melted a good vigorous stir really helps melt that chocolate.
The first round in the microwave took 60 seconds. The second round took 30 seconds. The wetness on the top did dry up a bit during the 2-minute rest. I had no issues with overflowing. It did puff up beyond the rim but it wasn't liquidy.
I think we should rename this recipe "20-minute magic cup cake." I got a resounding "yabba-dabba-doo" when I brought out the cup-cake with breakfast. Dessert for 3.
If not for the molten chocolate center, there wouldn't be as much wow in this chocolate cake. Even though I used Dutch-processed cocoa, the crumb was dense albeit tender. However, the small portion that then gets dredged in melted chocolate gets resuscitated from the microwave-induced denseness. I might even cut back 15 seconds on the first baking on my next attempt. I also mixed the batter in a separate bowl, then transferred to the mug for baking.
Might even try using espresso cups and watch like a hawk through the microwave glass.
Select a Tester
This recipe was the best chocolate cake in a mug that I've ever had, and I've had quite a few! I've made my own from scratch and made the prepackaged ones you can get at Trader Joe's, and while all of them have been a nice quick fix for a chocolate cake craving, none of them hit the actual fluffy texture of cake. This one does, and it's also very chocolate-y and not too sweet.
It's not as simple as the "pour powder into a mug, add milk/water, and microwave" instructions of the pre-made mixes, but measuring out the flour and sugar is worth it. So is figuring out how to run your microwave at 50% power (which I've never had to do before this), and I'm pretty sure that's the real secret. One could argue that these same ingredients and steps are needed for a normal chocolate cake, and that's true, but this version is great for a 1-serving portion and is much faster.
I used Droste Dutch cocoa powder and Callebaut semisweet (54.5%) for the chocolate elements and they worked great. Adding in the extra 2 pieces of chocolate at the end is key—I found myself moving my spoon around to get some of the melted chocolate in every bite.
Both family members who tried this cake were surprised and utterly delighted at how good it was. I will definitely be making it in the future when I crave the texture and flavor of chocolate cake, but can't bring myself to make a full cake!
I'm not someone who bakes frequently, and when I do, it's mostly bread or cookies, but this seemed like a simple and right-sized proportion for a quick dessert to share for two.
The chocolate mug cake was easy to make, but in the end, my first attempt failed. I used a heavy ceramic 12-ounce mug which resulted in a not very texturally tasty cake. It was certainly chocolatey, the cake was just at the edge of being overcooked. I didn't get as much rise as I expected considering the warning in the recipe.
So I tried again, this time using an 11-ounce souffle dish. The result was much better as the texture was better, nicely cooked with a moist crumb. Plus, it rose almost to the top of the cup. So, for a quick and easy chocolate charge, give this a try.
I used Dutch-process cocoa and a 1200-watt microwave. I tried 50 seconds, then increased it 15 seconds as it didn't rise very much, then another 10 seconds to double in size, before adding the chocolate pieces. I then zapped it about 20 seconds, and another 10 to reach just wet to the touch.
This was a quick and yummy chocolate treat. While still hot/warm, it would definitely satisfy a chocolate craving with minimal effort. For a microwave cake, it was good!
The chocolate pieces that you add at the end which create the "molten" aspect are key. It's important to make sure the chocolate pieces reach completely through the whole cake—top to bottom. This melted chocolate is the one biggest factor to the cake's success.
The chocolate did not overflow, but I made sure I used a large mug with a flat, not tapered bottom. I put it in one mug and scooped it into 2 ramekins to eat.
I wouldn't recommend it once cool, as the cake texture changes too much. I might add a pinch of flaky salt to the top next time. The main reason I would recommend this—not for flavor or texture—but all in all, a fun treat that would be a good activity for kids and those wanting quick, individual portions of molten chocolate cake. I can see sending this in little packets to college with my kids for a quick, warm, chocolate fix.
This chocolate mug cake is a great recipe! What a treat to make a quick chocolate cake in the microwave. The flavor was intensely chocolate, and the cake is best eaten right after it has rested for the 2 minutes so you can enjoy that warm molten chocolate middle.
I wanted to make sure I had the exact proportions called for in the recipe so I weighed the flour, sugar, and Dutch-processed cocoa powder. The timing of the various recipe steps worked perfectly in my 1200-watt microwave.
The recipe definitely works and the result looks like the picture. It yields one generous portion or two smaller tastings if you can stop eating long enough to share with a friend! It would be fun to try inserting 1/2 ounce of different flavored chocolate for the molten center such as caramel-filled chocolate, raspberry, white chocolate, amaretto…
I microwaved the batter for 30 seconds once I added the chocolate pieces. The cake was firm and the surface was wet to the touch. I had no issues with overflowing. I used a 450-ml mug and it might be nice to use a smaller mug (the 12-ounce mug suggested) so you can see the top of the cake.
When you need a chocolate dessert and you have nothing on hand, it's comforting to know that you can make an acceptable one in minutes. If you are a baker, chances are you have everything you need for this.
I made this for my adult kids while helping them with their newborn, they had no 12-ounce mugs so we did it in a pyrex measuring cup and once the baby was quiet, we were able to stick our spoons in and have a satisfying dessert. The molten part didn't work that well as we had no bar chocolate on hand and did it with chips, though the flavor was great.
I would say it serves 2 although 3 of us happily stuck our spoons in and had enough. We actually didn't finish it and the next day it was good enough to finish off with morning coffee. My timing took a bit longer than the recipe suggested—maybe I just didn't keep good enough track of the seconds as we were operating on a total lack of sleep, new baby and all!
This chocolate mug cake recipe appeared just in time. I was thinking about chocolate cake, but making a full-sized cake was too much for my household of two. Also I wanted it, like, yesterday.
I have tried several microwave cakes in the past that just don't scratch the chocolate itch. So while this doesn't have the most heavenly tender crumb or to-die-for rich chocolate flavor, it is pretty good for what it is, a cake that's made in the microwave. It's pretty moist, a little denser than a regular cake, but not too chewy or dry since the author added the advice of microwaving on half power so it doesn't get overdone.
I also liked the step of putting chocolate shards in the middle, which added nice little melty tunnels. Overall, not a complete replacement for a typical chocolate cake, but a nice recipe to have on hand for the chocoholics among us.
I've always heard that when melting chocolate, you should take it off the heat when its 80% melted and stir until it's totally melted from the residual heat in order to avoid scorching it. So I took out the mug when all the butter was melted and the chocolate was roughly 80% melted, after 1 minute, and just stirred until it was all melted and homogenous.
I used Hershey brand cocoa powder and dark chocolate from a 72% cacao bar.
It serves one, and no, you cannot have a bite.
While the cake was moist and satisfying with some nice melted chocolate surprises throughout, after eating about 1/3 of it, I thought it could use a drizzle of something. Ice cream or even just a spoonful of cream would be good, but I opted for a shot of hot espresso. It made a nice little mocha variation with the wet texture of a tres leches cake. Also a nice save if you happen to overcook your cake and dry it out by accident.
I enjoyed this chocolate cake multiple times—let's just say enough times to learn the recipe by heart…and know that when there is no more bar chocolate left, chocolate chips actually work well, too…and that just over a tablespoon of them weigh 0.5 oz. (You might gather that the cake is definitely worth a try?)
The first time I tried it, I coasted through the easy recipe too smoothly and inadvertently skipped the last step. Let the cake rest for 2 minutes. What, wait for 2 minutes?! (There it is, a warm chocolate cake in the microwave just for me—who's paying attention to the recipe at that point?) Piping hot or just warm, this full-flavored chocolate cake is a soul-melting treat, and the time it takes to make it is hardly an interruption.
Mixing dry ingredients in a separate bowl was a great idea, as the cake had even texture with no dry or wet pockets. The timing worked great for my 1100-watt microwave oven, and the finished cake stayed below the rim of the mug, even when I tried it in a 10-ounce coffee cup. Bar chocolate was easy to push into the cake, but with chocolate chips, I created a hole in the center of the cake first using the end of the handle of a wooden spatula.