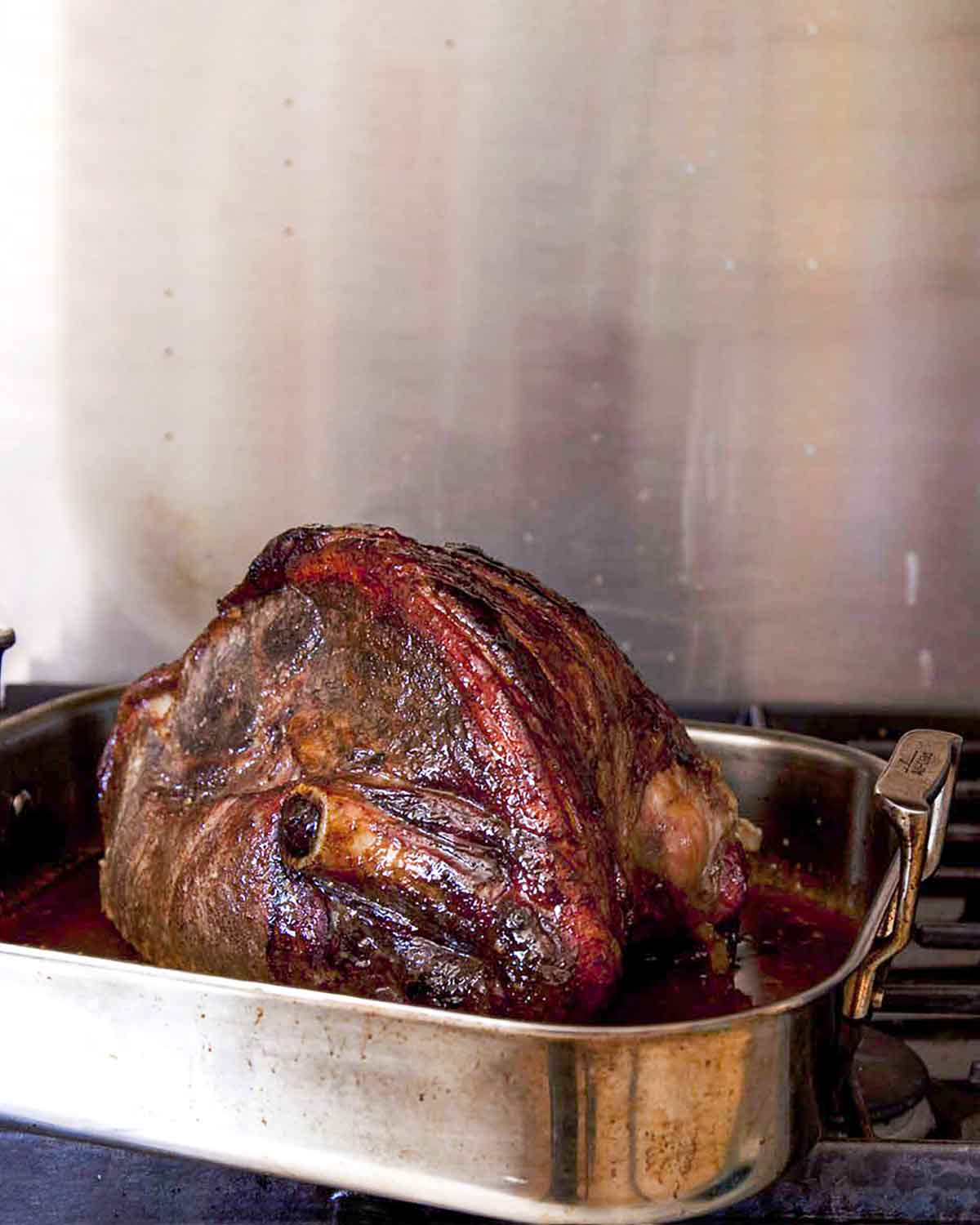 After our existential ordeal with our pig, Wilbur, Bruce wanted to develop a recipe that honored the first taste of the meat by using the simplest preparation: roasted, not fussed up. So here's his basic recipe for a fresh ham. Yes, it requires several hours of slow cooking. Open another bottle of pinot noir and relax.–Bruce Weinstein and Mark Scarbrough
*How much ham do I need to buy?
How large a ham do I need? Depends on how many plates at your table. This size ham will feed, in the words of the authors, "6 teenage boys, 16 adults, or 26 twenty-something models." There you have it.
Roasted Fresh Ham with Maple-Spice Glaze
This roasted fresh ham with maple-spice glaze is slowly cooked and infused with flavors of cinnamon, allspice, cloves, nutmeg, and maple syrup. It's a centerpiece-worthy entree, perfect for any holiday gathering.
Ingredients
One

(8- to 10-pound)

bone-in fresh ham*,

preferably from the shank end, any rind removed

1

teaspoon

sugar

1

teaspoon

ground cinnamon

1/2

teaspoon

ground allspice

1/2

teaspoon

ground cloves

1/2

teaspoon

grated nutmeg

1/2

teaspoon

salt

1/2

cup

maple syrup
Instructions
Fire the oven up to 325°F (160°C).

Put the Dickensian joint in a large roasting pan, preferably one that's shiny enough to reflect lots of ambient heat and not a flimsy disposable pan that tips willy-nilly when you pick it up. Leave the roast in the pan on the counter.

Mix the sugar, cinnamon, allspice, cloves, nutmeg, and salt in a small bowl. Wash and dry your hands and then use them to smooth the spice mixture all over the ham's external surface, working it down into some of the crevices but being careful to avoid any deep-tissue massage. A ham is a complex structure of muscle groups—too much massage and everything can come apart like Goldie Hawn in Death Becomes Her.

☞ TESTER TIP: If you prefer a pronounced rather than a minimalist spice presence, then use double or even triple the amount of spices called for in the recipe.

Cover the whole kit and caboodle with aluminum foil, slide it in the oven, and leave it alone for 3 1/2 hours while you go do whatever it is you do when a big, sweating hunk of meat is roasting in your oven. You want at least 2 and preferably 3 inches of space between the top of your ham and the element at the top of your oven.

Peel off the aluminum foil. Baste the ham with about half the maple syrup, preferably using a basting brush. Take it easy so you don't knock off the spice coating. Use small strokes—think Impressionism, not Abstract Expressionism. Or just dribble the syrup off a spoon.

Continue roasting the ham, uncovered this time, basting every 15 minutes or so with more maple syrup as well as any pan drippings, until an instant-read meat thermometer inserted into the thickest part of the meat without touching bone registers 170°F (77°C), about 1 1/4 hours more. If the ham starts to singe or turn too dark, tent it loosely with foil, uncovering it just at the last to get it back to crunchy-crisp.

Move the ham to a cutting or carving board and let it rest at room temperature for at least 15 minutes before carving into slices. Originally published March 27, 2010.
Nutrition
Serving:
1
portion
Calories:
648
kcal
Carbohydrates:
21
g
Protein:
94
g
Fat:
21
g
Saturated Fat:
7
g
Polyunsaturated Fat:
2
g
Monounsaturated Fat:
10
g
Cholesterol:
266
mg
Sodium:
7791
mg
Potassium:
1654
mg
Fiber:
0.2
g
Sugar:
14
g
Vitamin A:
2
IU
Vitamin C:
0.1
mg
Calcium:
83
mg
Iron:
8
mg
Nutrition information is automatically calculated, so should only be used as an approximation.
Recipe © 2010 Bruce Weinstein | Mark Scarbrough. Photo © 2010 Marcus Nilsson. All rights reserved.
---
Recipe Testers' Reviews
The roasted fresh ham with maple spice glaze is, in a word, delicious. The flavor of the rub and maple syrup is off the charts good.
I purchased a shank-end, 8 1/2-pound ham from my local Publix. It sat on the counter for about 2 hours to come to room temp. This could have been part of my problem with the ham being overcooked as it wasn't specified to do so in the recipe. I then combined the spice rub ingredients using freshly grated nutmeg and kosher salt, coated the ham, covered it tightly in foil, and baked it for 3 1/2 hours. When I uncovered the ham, it had already scorched on the top. I lowered the rack, then basted with the maple syrup (grade A) and baked for another 1/2 hour, basting once more with the syrup.
I would definitely make this again, but would lower the temp to 300°F and only bake it about 2 hours before checking for doneness. My hubby and I have enjoyed it in our favorite sandwich of ham, turkey, provolone, thinly sliced cucumber, and spicy mustard and mayo on marble rye bread. If the definition of eternity is 2 people and a ham (credit to Dorothy Parker), there are a lot of these sandwiches in our future.
I made the roasted fresh ham with maple spiced glaze and couldn't have been more pleased with the results. I don't often cook large format protein, but was on the hook for Christmas Eve and liked the idea of trying a fresh ham. For someone who is less familiar with cooking meat, the recipe was excellent and easy to follow and looked beautiful and I was proud to serve the end result to my family.
The spice rub was pretty minimal. The maple overpowered the spices. I was expecting more of a crust, which if I had looked more closely at the amount of each spice, I would have realized that wouldn't be the case. If I were to do this again (and I will!), I will likely triple the spice rub amount.
I felt that my final ham was glossy and glazed with the fat puffed up, whereas the image on the recipe was almost enough to make me not make the ham because I was concerned about final presentation. With all of the time and energy you put into something like that, you would hate to not have a beautiful final product!
I used a 10-pound, bone-in, shank-end fresh ham and removed the rind myself. I didn't use the full half cup of maple syrup during basting.
Cook time after removing the foil was 1:15 with 4 hours and 45 minutes of total cook time, as the recipe specified. The ham rested about 30 minutes while all other dishes finished cooking before it was carved but I don't think it suffered for it.
I served it in thick slices and with a holiday meal had enough for 20 people to take a least a slice or two with some ham leftover. I believe that as a stand along main, and not with such a big meal surround it, it would be closer to 12 servings.
This is a delicious ham. There's a perfect combination of spices balanced by the sweetness from the maple syrup. The final internal temperature of 170°F leaves the meat tender and moist. Be sure to keep any remaining pan juices—they can be poured directly onto the sliced ham or turned into a quick pan sauce using whatever your favorite method may be. A great main course for a holiday meal or any special occasion.
I used Grade A Amber maple syrup. I didn't need to tent the ham.