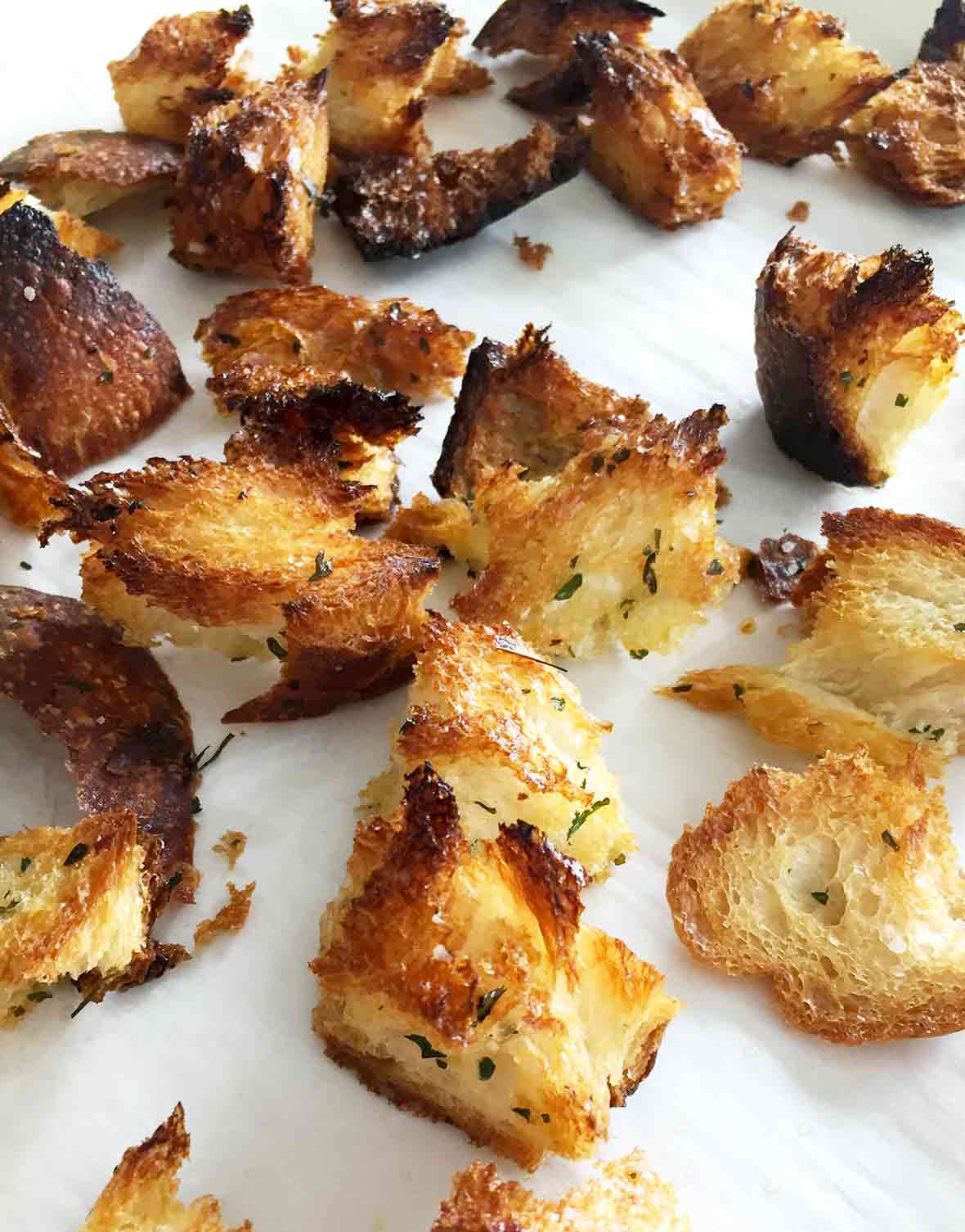 Cooking torn pieces of bread very, very slowly is the key to these croutons. The result is croutons that absorb the oil and butter through slow cooking and, hence, are very crunchy and bursting with flavor. We serve these in many salads, including Grilled Asparagus with Prosciutto, Fried Bread, Poached Egg and Aged Balsamic Vinegar.–Thomas Keller
LC And We Serve These Croutons... Note
Chef Thomas Keller just explained how he serves these crunchy croutons. Uh, we're lucky if we have any left after downing them by the handful.
Torn Croutons
Quick Glance
45 M
1 H, 25 M

Makes 3 cups
Print Recipe
Ingredients
For the garlic confit and oil

1 cup peeled garlic cloves

About 2 cups canola oil

For the croutons

1 loaf country bread

1 cup garlic oil

2 tablespoons (1 ounce) unsalted butter

Chopped herbs (optional)
Directions
Make the garlic confit and oil

1. Cut off and discard the ends of the garlic cloves. Place the cloves in a small saucepan and add enough oil to cover them by about 1 inch. None of the garlic cloves should be poking above the oil.

2. Set the saucepan on a diffuser over medium-low heat. The garlic should cook gently, with very small bubbles coming up through the oil but not breaking the surface. If it is cooking too quickly, adjust the heat as necessary and/or move the pan to one side of the diffuser. Cook the garlic for about 40 minutes, stirring every 5 minutes or so, until the cloves are completely tender when pierced with the tip of a knife. Remove the saucepan from the heat and allow the garlic to cool in the oil. Refrigerate the garlic in a covered container, submerged in the oil, for up to 1 week.

Make the croutons

3. Cut the crusts off the loaf of bread. Tear some of the bread into irregular pieces no larger than 2 inches. You need about 3 cups of croutons; reserve any remaining bread for another use.

4. Pour enough garlic oil into a large sauté pan to measure a depth of 1/8 inch. Heat the oil over medium heat until hot. Spread the torn bread in a single layer in the pan (if your pan is not large enough, use 2 smaller pans). Add the butter. The oil and butter should be bubbling. If you hear sizzling, the heat is too high. Adjust the heat as necessary, and stir the croutons often as they cook. Cook until the croutons are crisp and turn a beautiful rich golden brown on all sides, 15 to 20 minutes.

5. Move the croutons to one side of the pan and keep warm until ready to serve. Sprinkle with herb, if using. (Note: Do not drain on paper towels; you want the flavors of the oil intermingled with the other ingredients as you eat the croutons in a salad.) Torn croutons should be used the day they are made.
Torn Croutons Recipe © 2009 Thomas Keller. Photo © 2017 Pawling Bread. Co. All rights reserved. All recipes and photos used with permission of the publisher.
If you make this recipe, snap a photo and hashtag it #LeitesCulinaria. We'd love to see your creations on Instagram, Facebook, and Twitter.