Chicken is braised with saffron, cinnamon, and lavender. It can be made ahead of time for the best flavor, which makes it perfect for entertatining. Serve over rice, mashed potatoes, couscous, or polenta.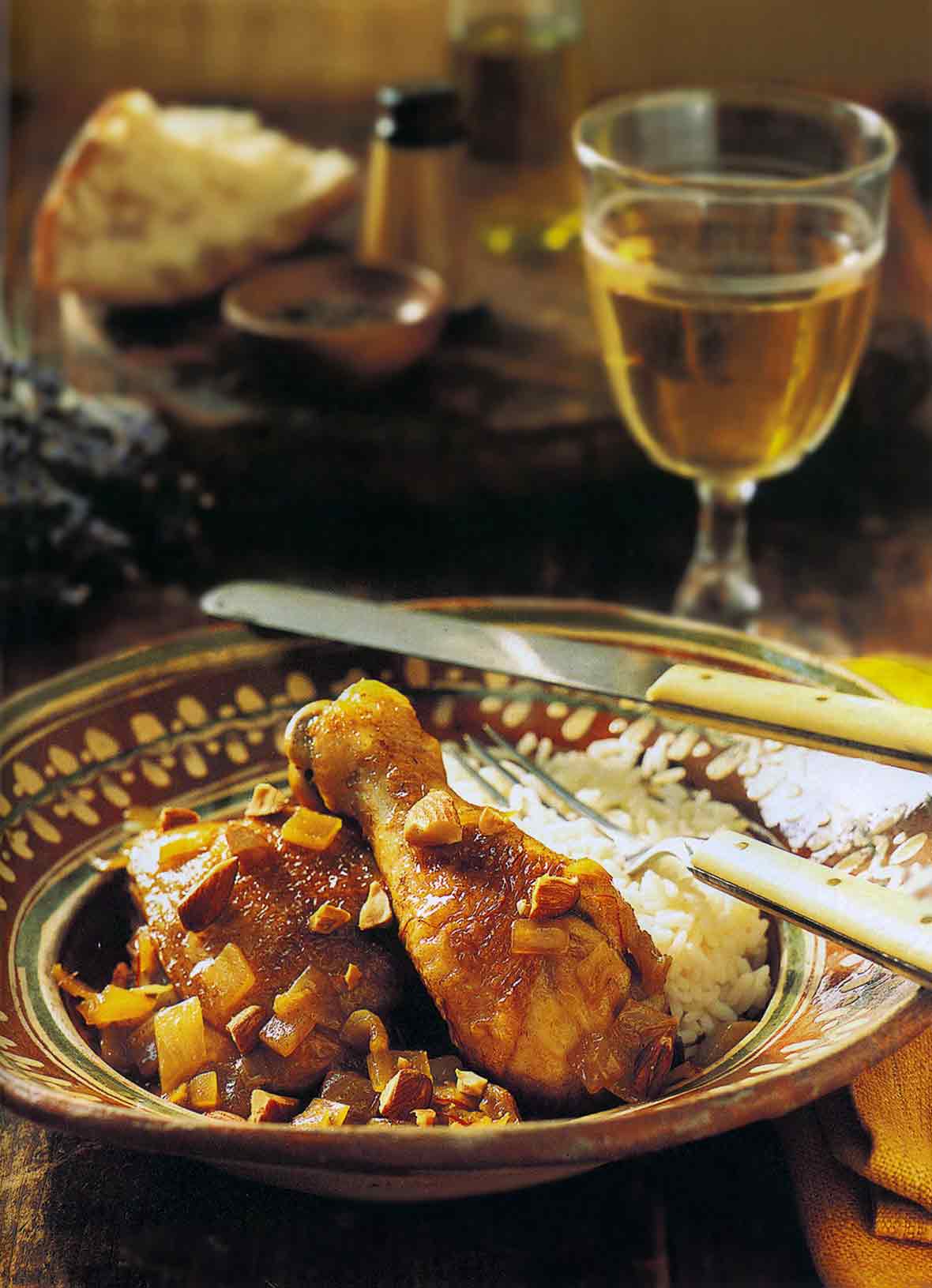 This lovely dish, as contemporary as it sounds, is inspired by an Andalusian cookbook dating back to the 13th century, offering insights into the manner in which spices were used in Islamic Spain, explains author Deborah Krasner. And making us think they dined better in the Middle Ages than we'd ever imagined. Originally published May 3, 2002.–Renee Schettler Rossi
Chicken Braised with Cinnamon
Quick Glance
45 M
2 H

Serves 4
Ingredients
Email Grocery List
2 tablespoons olive oil

4 whole chicken legs, thigh and drumstick separated or 1 whole chicken, cut up

2 small onions, chopped

1 teaspoon ground cinnamon

1 teaspoon ground coriander

Coarse sea salt and freshly ground black pepper, to taste

1/2 cup dry sherry or Marsala

1/2 teaspoon saffron threads, dissolved in 1 tablespoon very hot water

1/2 cup water

2 tablespoons balsamic vinegar

1/2 cup vodka

1/2 heaping tablespoon dried lavender buds

1 tablespoon honey

1 cup chopped toasted almonds
Directions
1. Heat a large Dutch oven or pot over medium heat until the pot's edges are warm to the touch. Then add the olive oil and let it warm until it's hot and shimmery and is beginning to thin and flow. Add the chicken, skin side down, until the bottom of the pot is filled. Don't overcrowd the pot. You will need to brown the chicken in at least 2 batches unless your pan is very large. As the chicken pieces brown, turn them and sear the other side. Transfer the browned pieces to a plate. When all of the chicken is seared, drain off all but a very thin film of fat and oil.

2. Add the onions to the pot and cook over low heat until limp and translucent, 5 to 10 minutes. Then add the spices and cook for another minute or two. Mix in the sherry, saffron water, and balsamic vinegar and return the chicken to the pot. Cover tightly and let cook slowly, over the lowest possible heat, turning once, until just cooked through, about 45 minutes.

3. Place the chicken pieces on a platter pour the excess fat into a defatting pitcher or scoop it off with a spoon. (If you are serving the braised chicken later in the day or the next day, you can chill the liquid and then remove the hardened fat with a spoon). There will be about 1 1/4 cups liquid.

4. About 20 minutes before serving time, heat the vodka to just below boiling in a small pan. Take it off the heat and add the lavender buds. Allow to steep for 15 minutes. Then strain out and discard the flowers, and add the vodka to the defatted pan juices. Heat the juices to cook off the alcohol, 3 to 4 minutes.

5. Return the braised chicken and its sauce to the pot and heat gently until warmed through. Pour the honey over the top, add the toasted almonds, and serve.
Recipe Testers Reviews
The divine medley of tastes from this dish is still sumptuously smacking on my palate. Tender chicken that succulently falls from the bone, boldly flavored with a unique spice blend and enlivened by the sweet toasty crunch of the honey and almonds, it brings to the table a very surreal and ultra-satisfying dining experience.
I served this for a small dinner party with a spinach and dried cherry salad, crunchy baguette with an herbed compound butter and a toasted-almond banana ice cream. My appreciative sated guests swooned. This dish is undoubtedly in the top ranks of my frequently made recipe list.
This recipe's long list of small amounts of ingredients had me wondering if they were all necessary and worth the bother (though only the lavender buds took any effort to track down). The resulting aromas and complex flavors of the dish convinced me that I wouldn't have wanted to leave out a thing. I was unable, however, to verify the headnote's contention that the dish improves over time because there was not a morsel left over. This is definitely going on my short list of potluck dinner dishes.
Chicken Braised with Cinnamon Recipe © 2002 Deborah Krasner. Photo © 2002 Ann Stratton. All rights reserved. All materials used with permission.
If you make this recipe, snap a photo and hashtag it #LeitesCulinaria. We'd love to see your creations on Instagram, Facebook, and Twitter.