This homemade Sriracha sauce, made with everyday ingredients including hot peppers, vinegar, garlic, and salt, is easy to make, incendiary in taste, and less salty than the traditional version.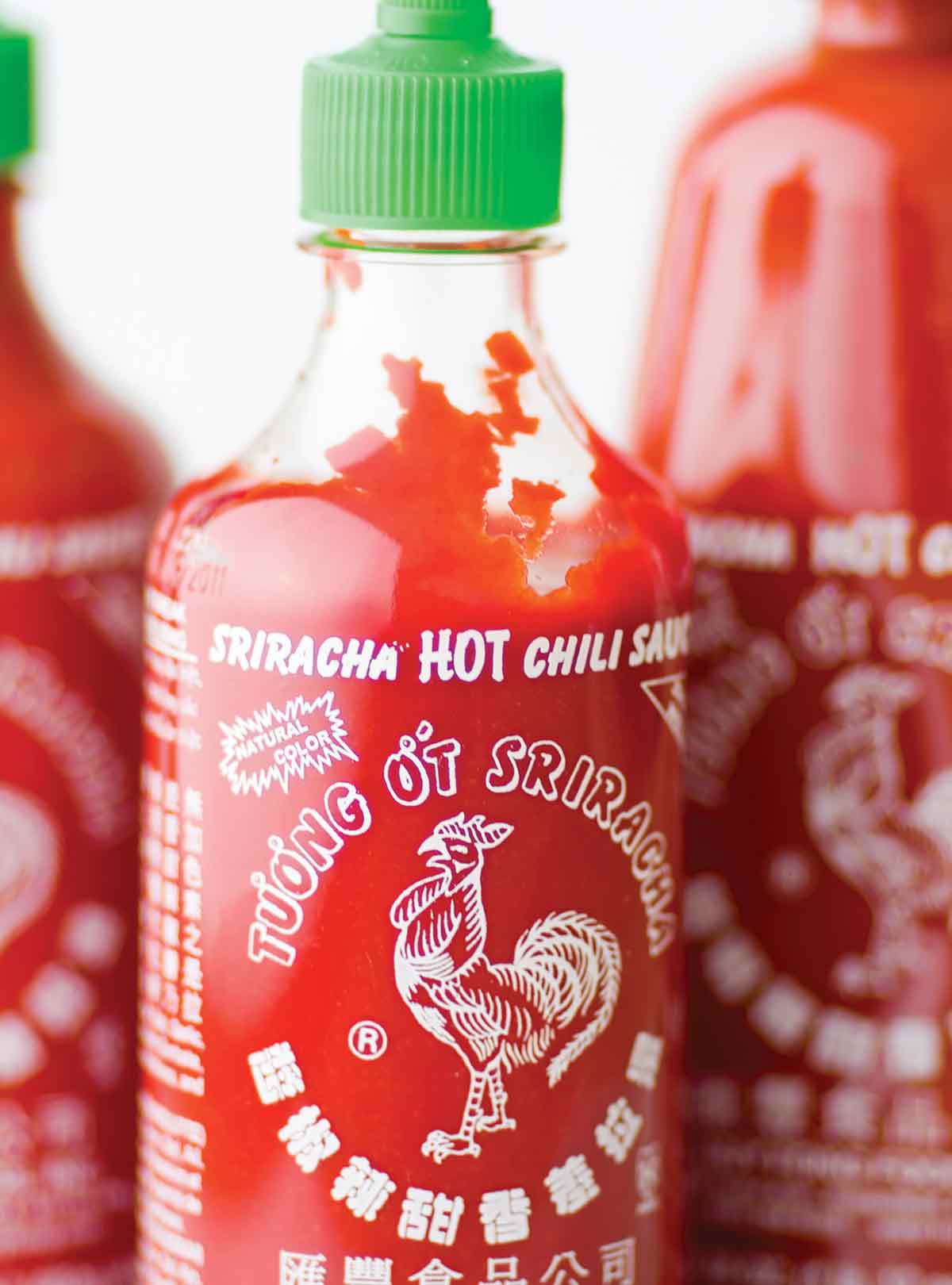 "There are those of us who love Sriracha, and then there are those of us who need Sriracha," observes Randy Clemens, author of this recipe. If, like Clemens, you find yourself in the latter category–which essentially means you rely on the not-quite-incendiary condiment as a tool in your kitchen arsenal–your culinary curiosity probably knows no bounds. But it should know how to make this hot sauce from scratch.–Randy Clemens
WHY DO YOU FERMENT HOT SAUCE?
Sure, you can just whiz up all those ingredients and start slapping it on everything. But a 7-day ferment does a couple of things. If you've been paying attention to the recent fermenting craze, you'll know that it adds another layer of flavor, extra depth, and complexity. Fermentation also tends to mellow out the heat of the peppers, so the sauce isn't just about the heat but about the melded flavors, too. And finally, there is the argument that fermentation is just better for you, your guts specifically. Patience is a virtue, indeed.
Homemade Sriracha Sauce
This homemade Sriracha sauce, made with everyday ingredients including hot peppers, vinegar, garlic, and salt, is easy to make, incendiary in taste, and less salty than the traditional version.
Ingredients
1 3/4

pounds

red jalapeño peppers

stems removed and halved lengthwise

3

garlic cloves

2

tablespoons

garlic powder

(optional)

2

tablespoons

granulated sugar

plus more as needed

1

tablespoon

light brown sugar

1

tablespoon

kosher salt

plus more as needed

1/2

cup

distilled white vinegar

plus more as needed

Water

as needed
Directions
To make the Sriracha, in the bowl of a food processor, combine the peppers, garlic, garlic powder, if desired, sugars, and salt. Pulse until a coarse purée forms.

After 1 week, pour the chile mixture into a small saucepan over medium heat. Add the vinegar and bring to a boil. Lower the heat and simmer gently for 5 minutes. [Editor's note: If you'd like to preserve the gut-friendly bacteria that has been brewing in your hot sauce, skip the simmering step and purée the pepper mixture and vinegar together in the next step.]

Let the mixture cool and then purée it in a food processor for 2 to 3 minutes, until a smooth, uniform paste forms. If the mixture is too thick to blend properly, add a small amount of water.

Pass the mixture through a fine-mesh strainer. Press on the solids with the back of a spoon to squeeze out every last bit of goodness you've been waiting a week to get.

Taste and adjust the seasoning and consistency of the final sauce, adding additional vinegar, water, salt, granulated sugar, or garlic powder to suit your taste. Transfer to a glass jar, close the lid tightly, and refrigerate for up to 6 months.
Show Nutrition
Serving:
2
tablespoons
Calories:
34
kcal
(2%)
Carbohydrates:
8
g
(3%)
Protein:
1
g
(2%)
Fat:
1
g
(2%)
Saturated Fat:
1
g
(6%)
Sodium:
442
mg
(19%)
Potassium:
175
mg
(5%)
Fiber:
1
g
(4%)
Sugar:
5
g
(6%)
Vitamin A:
472
IU
(9%)
Vitamin C:
71
mg
(86%)
Calcium:
10
mg
(1%)
Iron:
1
mg
(6%)
Recipe Testers' Reviews
For folks who like to prepare their own condiments, this is a distinctive, amazingly colored hot sauce. But watch for spills! Though you may enjoy them as blood-red badges of brewing honor, left on the counter or floor too long, they'll stain.
I used Fresno Reds, which are ripened green jalapeños. I halved the main recipe (using 12 to 15 peppers) and used dark instead of light brown sugar. I also wore latex gloves as I prepared the recipe (from experience, gloves save a lot of accidental ocular anguish). The recipe is simple to follow, since the processor and room-temperature storage do most of the work.
Processing didn't create a paste, however, as the recipe indicated, it was more of a slush. Take care when opening the glass jar to stir; whiffs of the stuff can make you cough and sneeze. (You'll also smell it for hours after you reseal the jar.) I bought a bottle of the original Sriracha with the rooster on the label to compare: The original tasted richer and aged but strong—a second of sweet pepper taste on the tongue, then a slow burn. I didn't adjust the seasoning on my homemade sauce; it tasted only a tad milder than the original.
Mixing the sauce with Trader Joe's organic ketchup was a nice balance for me, sweetening the sauce and bringing out flavor over heat. This would be great with fries or scrambled eggs. I tried it with hardboiled eggs, but the taste was lost. It's probably better as a fry or veggie dip.
I enjoy recipes that remind you of how easy it is to make something that you might not think about making. Compared to commercial Sriracha, my homemade version had more heat and more garlic flavor. I'm not a five-pepper, sweat-in-the-corner type of guy, but I enjoy a little pain on the tongue, and the sauce's heat in relationship to the flavor of the peppers was just right.
However, the garlic flavor was a bit too strong, and the aftertaste detracted from the overall flavor. I'd consider reducing the amount of powder next time or just using garlic cloves. The homemade sauce is also runnier, but that's expected because there's no gum in it like the commercial brand.
My other quibble is the need to use (and wash) a food processor twice. Would it really harm the recipe to puree the heck out of the mixture in the beginning, and then just strain it after adding the vinegar and cooking?
Originally published February 15, 2011
Recipe © 2011 Randy Clemens. Photo © 2011
Leo Gong
. All rights reserved. All materials used with permission.
If you make this recipe, snap a photo and hashtag it #LeitesCulinaria. We'd love to see your creations on Instagram, Facebook, and Twitter.