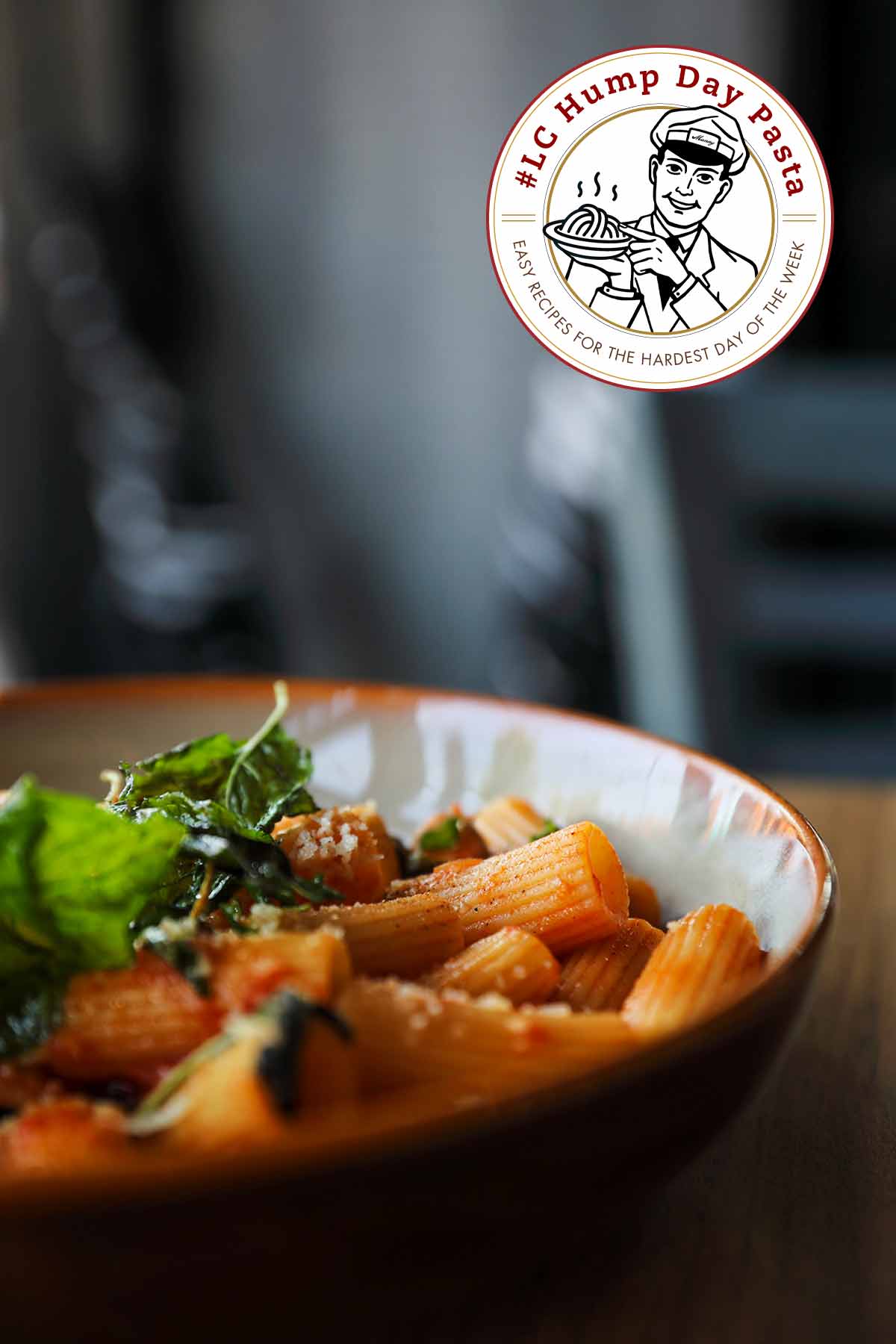 This is a dish I've had many times in Italy on the Amalfi coast. It's one of those dishes that tastes like home—it's comfort food, and it makes you feel good. The interesting thing about it is that the cow's-milk mozzarella is torn up and thrown in at the last minute, so that when you dig your spoon in you get melted, stringy bits of it, making it a real joy to eat. You can eat this as soon as it's made, or you can put it all into a baking pan with a little cheese grated on top and reheat it as a baked pasta dish the next day, if you wish.–Jamie Oliver
What is LC HUMP DAY PASTA?
I'm glad you asked. LC Hump Day Pasta (#LCHumpDayPasta) is a little something we cooked up to help you on the night of the week that you feel least like cooking. Wednesday was traditionally Prince Spaghetti Day (for those of you old enough to remember). We've revamped and updated that to Hump Day and included every type of pasta there is.
DO I HAVE TO SALT EGGPLANT BEFORE COOKING?
We know that it's probably been drilled into you that you need to salt your eggplant before cooking them, in most cases. But Jamie Oliver, the recipe author himself, has a thought about that saying that "some people prefer to season eggplant with salt and let it sit for a while in a colander to draw out the bitterness, but I don't really do this unless I'm dealing with a seedy, bitter eggplant. This dish is really best made using a firm, silky one". So, unless you're not 100% thrilled with your eggplant…you'll be fine without the extra step.
Rigatoni with Tomatoes, Eggplant, and Mozzarella
Rigatoni with sweet tomatoes, eggplant, and mozzarella is a deceptively easy pasta dinner that tastes much more difficult. Cheesy and filled with silky eggplant, tomatoes, and cream, it also bakes into a magnificent casserole.
Ingredients
1

firm ripe pink, black, or white eggplant

Extra-virgin olive oil

2

garlic cloves

,

peeled and sliced

1

onion

,

peeled and finely chopped

Two

(14-ounce) cans

good-quality plum tomatoes

,

(or substitute chopped homegrown tomatoes and their juices)

1

tablespoon

balsamic vinegar

Sea salt and freshly ground black pepper

1 to 2

fresh or dried chiles

,

chopped or crumbled (optional)

1

small bunch basil, leaves ripped, sprigs sliced

4

tablespoons

heavy cream

1

pound

rigatoni or penne

7

ounces

cow's-milk mozzarella

1

piece

Parmesan cheese

,

for grating
Instructions
Trim both ends of the eggplant and slice the eggplant into 1/2-inch-thick slices. Chop the slices into 1/2-inch dice.

Place a large saucepan over medium heat and drizzle in 4 to 5 tablespoons olive oil. When the oil is hot, add the eggplant and as soon as it hits the pan stir with a spoon so the pieces become delicately coated with the oil on all sides and not soaked on just a single side. Cook, stirring occasionally, for 7 or 8 minutes.

Add the garlic and onion and cook, still stirring occasionally, until they take on a little color. Add the tomatoes and vinegar, stir them around, and season with salt and pepper. At this point, if you want to give the dish a little heat you could add some chopped fresh or crumbled dried chille, but that's up to you. Add the basil sprigs and simmer the sauce nice and gently for about 15 minutes. By this time the eggplant will have cooked into a creamy, tomatoe-y pulp, which is just yum yum yum! If desired, fish out the basil sprigs. Stir in the cream.

Meanwhile, while the sauce is simmering, bring a large pot of salted water to a boil. Add the pasta and cook according to the package instructions, or until it's soft but still holding its shape. Drain the pasta, saving a little of the cooking water. I like to put the pasta back into the pot it was cooked in with a tiny bit of the cooking water and a drizzle olive oil and move it around so it becomes sorta dressed with the water and oil.

At this point, add the lovely tomato sauce to the pasta and season with salt and pepper to taste. When all my guests are sitting round the table, I take the pan to the table, tear up the mozzarella and the basil leaves, and gently fold these, tossing and stirring things about for 30 seconds. Then I very quickly heap out portions into bowls. By the time your guests start to eat, the mozzarella will have begun to melt, so it will be stringy and gorgeous and really milky-tasting and just lovely with the tomatoes and eggplant. Set out a block of Parmesan cheese and a grater so that everyone can help themselves.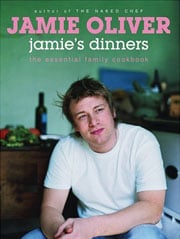 Nutrition
Serving:
1
portion
Calories:
796
kcal
Carbohydrates:
112
g
Protein:
31
g
Fat:
26
g
Saturated Fat:
11
g
Polyunsaturated Fat:
2
g
Monounsaturated Fat:
10
g
Cholesterol:
60
mg
Sodium:
604
mg
Potassium:
1223
mg
Fiber:
12
g
Sugar:
18
g
Vitamin A:
1132
IU
Vitamin C:
24
mg
Calcium:
381
mg
Iron:
5
mg
Nutrition information is automatically calculated, so should only be used as an approximation.
Recipe © 2004 Jamie Oliver. Photo © 2004 Oran Tantapakul. All rights reserved.
---