This recipe was originally developed by Ris Lacoste, our former sous chef. Ris is currently the chef of 1789 Restaurant in Georgetown. This tart makes a nice passed hors d'oeuvre or it can be served as a first course with a small salad garnish. The tart can be made in any type of tart pan or sheet pan and cut into portions, or it can be made as mini tartlets. As a passed canapé, the mini tarts provide a prettier presentation and are easier to eat as finger food. The trick to making this tart successfully is to cook the onions slowly so they become very brown and the natural sugars caramelize. It is the same procedure as for a great onion soup. Store-bought puff pastry can be substituted for the pâte brisée.–Bob Kinkead
LC Contrasting Yet Complementary Note
Contrasting yet complementary tastes and textures work their magic in this easy peasy yet oh so impressive first course. Actually, do they count as a first course if you stand at the stove and inhale them hot out of the oven, or is that considered a main course?
Caramelized Onion and Roquefort Tarts
Quick Glance
35 M
2 H

Makes 24 to 28 (2-inch) mini tarts
Print Recipe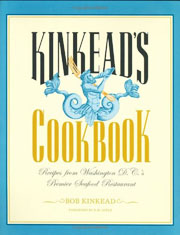 Ingredients
For the pâte brisée

18 ounces all-purpose flour

1 1/4 cups plus 1 tablespoon butter, chilled

1/4 teaspoon kosher salt

1/4 teaspoon cider vinegar

2 extra-large eggs

For the tarts

1 recipe pâte brisée

3 tablespoons unsalted butter

2 large yellow onions, halved and cut into julienne strips (about 7 cups)

1 cup heavy cream

1/4 cup crème fraîche

1 extra-large egg, plus 1 extra-large egg yolk

3/4 cup crumbled Roquefort cheese

1/4 teaspoon kosher salt

1/2 teaspoon cracked black pepper

1 cup walnut pieces, toasted and chopped
Directions
Make the pâte brisée

1. In the bowl of a food processor fitted with the metal blade, add the flour, butter, and salt. Pulse several times to form pea-sized lumps. Add the vinegar and eggs and pulse to form a moist, crumbly mixture. Do not overprocess.

2. Turn the dough onto a work surface and knead a few times by hand. Cut in half and roll into 1-inch-thick disks. Wrap the disks in plastic wrap and refrigerate. Will keep refrigerated for up to 3 days or frozen for 1 month.

Make the tarts

3. Preheat the oven to 325°F (160°C).

4. Remove the pâte brisée from the refrigerator and when warm enough to be pliable, roll out to about 1/8 inch thick. Form the brisée into 2- to 4-inch tart molds. Bake the shells for 10 to 12 minutes, until lightly golden. Let cool.

5. In a saute pan over medium heat, melt the butter. When bubbly, add the onions. Cook down for 45 minutes, or until the onions are very brown and sweet, stirring from time to time to prevent the onions from sticking. Let cool.

6. In a stainless steel bowl, combine the heavy cream, crème fraîche, egg, yolk, and cheese to make a custard. Stir in the salt and pepper and set aside. (You may want to use less salt, depending on the saltiness of the Roquefort.)

7. Increase the oven temperature to 375°F (190°C). Fill the tart shells about 2/3 full with the cooked onions. Top with the walnuts. Pour the custard mixture over the walnuts and onions. Bake for 10 to 12 minutes, until golden brown. Serve warm or at room temperature.
Recipe Testers Reviews

Loved it. I would have added salt and pepper to the onions as they were caramelizing, to add further dimension. I had lots of pastry dough left over and lots of custard, but not enough onions. I used exactly 7 cups (2 large) onions as the recipe called for, but needed maybe one more onion. I served it at a ladies luncheon and they loved it. The Roquefort with the walnuts and onions is just a wonderful combination, and the pastry was nice and flaky. Very easy and quite impressive.

This was a straightforward recipe that produced wonderful results. The interesting blend of flavors of sweet caramelized onions combined with the distinct taste of the Roquefort cheese was delicious. The walnuts added a nice texture, too.
Caramelized Onion and Roquefort Tarts Recipe © 2004 Bob Kinkead. Photo © 2004 Tim Turner. All rights reserved. All recipes and photos used with permission of the publisher.
If you make this recipe, snap a photo and hashtag it #LeitesCulinaria. We'd love to see your creations on Instagram, Facebook, and Twitter.