This lemon and thyme risotto, with its luxuriously creamy texture and lovely lilt of lemon, may seem as though it took all day to make. That couldn't be further from the truth. Shhhhhh. No need to tell anyone else that. It can be our little secret.
As author Richard Bertinet explains, there's an idea that risotto is complicated because you need to stand over the pan and stir. True, it does require stirring, although the complicated part couldn't be further from the truth. Although given the risotto's luxuriously creamy texture and lovely lilt of lemon, it may seem as though it took all day. Shhhh. No need to tell anyone the contrary. Originally published Apr 9, 2012.
–Renee Schettler Rossi
Lemon and Thyme Risotto
Quick Glance
30 M
30 M

Serves 4 to 6
Print Recipe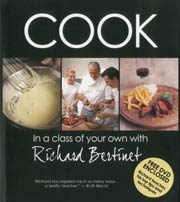 Ingredients
Email Grocery List
1 large onion

2 egg yolks

3 ounces Parmesan

2 smallish lemons, preferably organic

Bunch of thyme

1 1/2 quarts (6 cups) vegetable stock

4 tablespoons butter (2 oz)

1 tablespoon olive oil

Sea salt and freshly ground black pepper

14 ounces risotto rice, such as Arborio, Carnaroli, Vialone Nano, or the like

1/4 bottle white wine
Directions
1. Chop the onion into small dice—you want the onion to disappear into the risotto, so don't make the pieces too big. Place the egg yolks in a bowl. Grate the Parmesan. Zest the lemons and squeeze the juice. Reserve a few strips of lemon zest for the garnish. Pick the thyme leaves from their stalks, but leave a couple of sprigs whole for the garnish. Place your pan of stock onto the stove, bring to a boil, and then turn down to a simmer.

2. Place the butter, oil, onion, and a pinch of salt in a wide pan over medium heat. Cook the onion very gently for about 4 to 5 minutes, until soft but not colored. It is really important with a risotto not to brown and burn your onion. This is a delicately flavored dish and the bitterness of burned onion will flavor the whole thing. (Keeping the onion in the center of the pan, rather than spreading it out, runs less risk of scorching. Placing it in a cold pan, without heating the oil first, also helps.)

3. When the onion is soft, add the rice and stir very well to coat every grain. The pan will be getting quite hot and dry now, so add your white wine, sprinkling it in carefully around the pan—this evenly distributes the wine and helps it to reduce and evaporate more quickly. Add half of the lemon juice and half of the zest and cook for 1 minute. Keep stirring gently. You will hear the wine "singing" as some of it reduces in the pan. This will probably take about 2 minutes, and then the rice will look dry again.

4. Now you are ready to add your hot stock, a ladleful at a time. After every ladleful, stir well, really scraping the bottom of the pan, until the stock has almost disappeared into the rice. Then add another ladleful, keeping the rice moist all the time—don't let it get dry in between ladlefuls. After about 15 minutes of adding stock and stirring in this way, start to taste—be careful, since the rice will be very hot. The rice needs to be tender, but still have some bite to it. Your risotto should take no more than 20 to 25 minutes from start to finish.

5. When you feel that it is almost there, take the pan off the heat.

6. Quickly mix the cheese, as much thyme as you please, and the remaining lemon juice and zest into your bowl of egg yolks, and then beat this into your risotto as energetically as you can. The risotto should be nice and relaxed and creamy. If it feels a bit too thick, whisk in a little more hot stock. (Rice retains a lot of heat, so you can relax and not rush to finish it off.) It should be creamy and slightly soupy, so if you think it's too stodgy at the end, you can just add some more hot stock until you are happy with the consistency. Taste and season if you need to. However, remember that if you're using store-bought stock, it may be very salty anyway, as is the Parmesan, so you may not need much salt.

7. Spoon the risotto into wide bowls and garnish with the reserved lemon zest and thyme. [Editor's Note: Leftover risotto? One of our recipe testers forms the cold risotto into oblong little orbs of sorts, coats them in fine bread crumbs, and fries 'em up. Gotta say, we love that idea. And we think you will, too.]
Recipe Testers Reviews
Lemon and Thyme Risotto Recipe © 2010 Richard Bertinet. Photo © 2010 Jonathan Gregson. All rights reserved. All materials used with permission.
If you make this recipe, snap a photo and hashtag it #LeitesCulinaria. We'd love to see your creations on Instagram, Facebook, and Twitter.