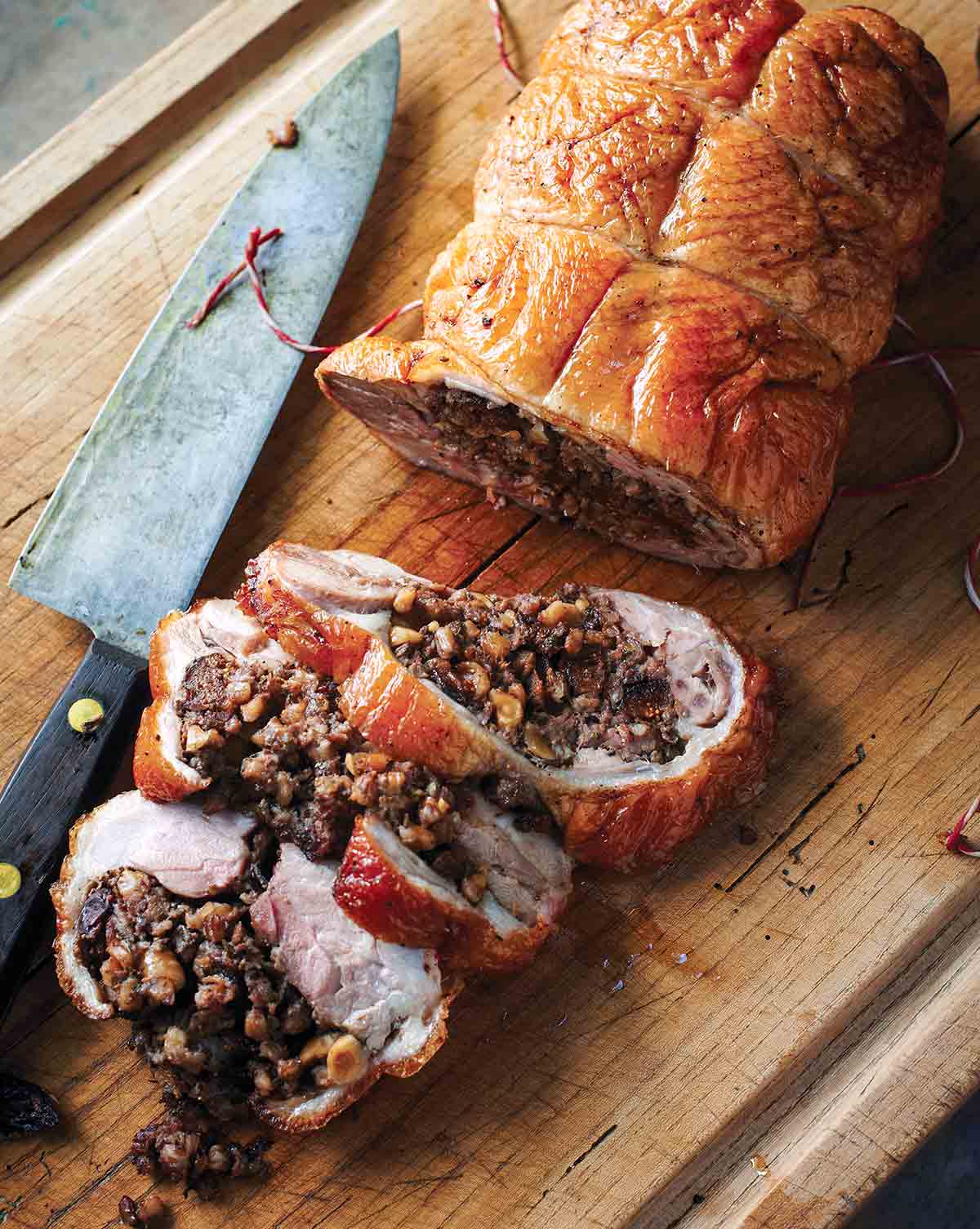 Farro, an ancient varietal of wheat popular in central Italy, is a favorite in the Fatted Calf kitchen, where we add it to hearty soups and rustic salads. When cooked, it has a firm but chewy texture that also makes it perfect for use in stuffings.—Taylor Boetticher | Toponia Miller
Roast Duck Stuffed with Farro, Figs, and Hazelnuts FAQs
How do I debone a duck?
If you're up for a small challenge, like our recipe tester Elie Nassar was, you can do the deboning yourself. It looks more daunting than it actually is. "If you're proficient with your knife and have 20 to 30 minutes, it's a really satisfying experience," Nassar explains, citing this how-to video for helping him get Sunday's dinner on the table. If you'd rather not, you can ask your butcher to debone the duck, although you best smile sweetly and ask well in advance of when you need it. Just be aware that there may be a rather steep charge for this courtesy.
Can I use a whole duck instead of one that's been deboned?
If you'd rather, you can simply roast the duck whole—bones and all—and turn the stuffing into dressing and bake it on the side. (See the Variation below for instructions.) You know, like a turkey or chicken.
Can I use farro, fig, and hazelnut stuffing in turkey?
You can! The authors of this recipe assert that although they like the toasty, nutty flavor of farro in combination with roast duck, this stuffing works equally well with roast quail, game hens, or other birds. Even turkey.
Roast Duck Stuffed with Farro, Figs, and Hazelnuts
Golden, crispy roast duck is a festive centerpiece for a celebratory meal, especially when stuffed with sage-scented sausage, red wine-soaked figs, toasted hazelnuts, and farro.
Ingredients
1 1/2

cups

dry red wine, such as pinot noir

2

tablespoons

granulated sugar

1

dried bay leaf

1

sprig

thyme

,

plus 2 tablespoons chopped thyme leaves

1/2

teaspoon

whole black peppercorns

1

allspice berry

Fine sea salt,

to taste

12

dried figs

,

(any variety)

One

(5- to 7-pound)

whole duck,

deboned (see LC Note above)

Freshly ground black pepper

,

to taste

1

pound

breakfast sausage

,

uncooked

2

cups

cooked farro

,

(or substitute wild rice, brown rice, or mixed whole grains)

3/4

cup

hazelnuts

,

toasted, skinned, and coarsely chopped

1/2

cup

chopped flat-leaf parsley leaves
Instructions
A day before dinner, in a small saucepan over medium-high heat, stir together the wine, sugar, bay leaf, thyme sprig, peppercorns, allspice, and a pinch of salt. Bring to a simmer and stir until the sugar dissolves. Remove from the heat, add the figs, and cover. Let cool to room temperature and then refrigerate overnight.

Trim any glands or blood vessels from the duck. Pat the duck completely dry with paper towels and place it on a cutting board, opening it like a book. Season it inside and out (that is to say, on both the meat and the skin) with salt and pepper. Turn the duck skin side down.

Drain the figs, trim the stems, and then quarter each fig lengthwise. In a bowl, combine the figs, sausage, farro, hazelnuts, chopped thyme, and parsley. Pat the stuffing into a cylinder about 3 inches in diameter and 3 inches shorter than the length of the duck. Place the stuffing directly in the center of the duck and roll the meat tightly around the stuffing, tucking the ends underneath. Tie the duck every 2 inches or so with a separate piece of kitchen string.

Using the tip of a sharp knife, lightly score the duck skin in a crosshatch pattern to facilitate the release of fat during cooking, being careful not to cut the string.

Place the duck on the rack and roast it, basting the duck with the drippings that accumulate in the pan 3 or 4 times, for about 60 to 90 minutes, until a thermometer inserted into the middle of the farro stuffing registers 160°F (71°C). If the skin starts to get a little too brown, you can lower the oven temperature to 325°F (165°C) so the duck finishes more slowly.

Remove the duck from the oven and let it rest for 10 minutes. Carve into slices about 1 inch thick, removing and discarding the string. Serve immediately.
Notes
Whole Stuffed Duck Variation
Can't get anyone to debone that duck for you? No problem. What you want to do then is roast it whole—bones and all. Yup. Just pat the duck dry, season it with salt and pepper, and shove it in the oven. [Editor's Note: If you lack a preferred technique for roasting duck, our recipe tester Elie Nassar roasted it on a rack in a roasting pan at 325°F (165°C) for 1 1/2 to 2 hours and it worked just dandy.]
You could stuff the bird with the farro and hazelnut and fig goodness or you could instead plop the stuffing in a small baking dish and slip that in the oven alongside the bird for the last little while. (When making the stuffing, you'll need to amend it slightly. Sauté the sausage until no trace of pink remains, then mix in the rest of the ingredients, spoon it into the cavity of the duck or an 8-inch square dish or small casserole covered with a lid or foil, and bake until warmed through, 30 to 60 minutes.) Easy peasy.
Nutrition
Serving:
1
serving
Calories:
498
kcal
Carbohydrates:
33
g
Protein:
16
g
Fat:
30
g
Saturated Fat:
8
g
Polyunsaturated Fat:
4
g
Monounsaturated Fat:
16
g
Trans Fat:
1
g
Cholesterol:
55
mg
Sodium:
487
mg
Potassium:
483
mg
Fiber:
5
g
Sugar:
13
g
Vitamin A:
499
IU
Vitamin C:
9
mg
Calcium:
65
mg
Iron:
3
mg
Nutrition information is automatically calculated, so should only be used as an approximation.
Recipe © 2013 Taylor Boetticher | Toponia Miller. Photo © 2013 Alex Farnum. All rights reserved.
---